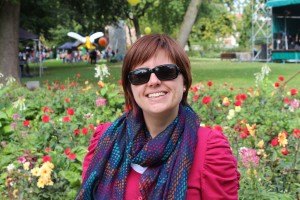 Toegegeven, reacties en mailtjes van onze lezers strelen onze ijdelheid. Herkend worden des te meer. Op Evelines sprookjeshuwelijk hoorde ik een paar keer: hé ben jij niet van de blog. En dat doet enorm plezier.
Eén van de meest enthousiaste reacties van de afgelopen maanden kwam van Joke van Little Happy Things die openlijk solliciteerde naar een plekje op onze blog. Gecharmeerd door haar bericht, contacteerden we haar om ons enkele leestips te geven.
Ik stel deze veelzijdige en belezen vrouw graag even voor.
Joke is in de eerste plaats echtgenote en mama van een zoon van zes. Ze is halftijds leerkracht Nederlands-Duits en vindt het beroep van leerkracht een van de mooiste beroepen die er is: 'Lesgeven kost je veel energie, maar je krijgt zo veel terug. En als je dan nog eens les mag geven over iets waar je graag mee bezig bent (taal), dan is het net de kunst om die passie door te geven.' Daarnaast is Joke halftijds pr- en communicatieverantwoordelijke voor de scholengroep en houdt ze van schrijven, communiceren, babbelen en kletsen.
Schrijfaspiraties heeft ze altijd gehad: 'in het lager onderwijs heb ik ooit nog de Junior-Journalistenwedstrijd gewonnen.' Ondertussen blogt Joke en gebruikt ze de kleine dingen uit haar dagelijks leven als aanleiding om er een kort, fictief verhaal over te schrijven. Ooit zou ze heel graag een kinderboek schrijven.
Joke heeft naar eigen zeggen nooit gespeeld.
'In het derde kleuterklasje leerde ik mezelf lezen en toen was ik vertrokken voor vele uurtjes met mijn neus in de boeken.'
Tegenwoordig is Joke begeleider van de kinder- en jeugdjury en is ze lid van een leesclub.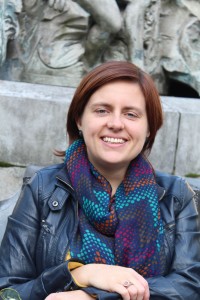 Welk boek zou iedere tiener volgens jou moeten lezen?
Joke: 'Bij het lesgeven zie ik een groot verschil tussen de boekenkeuze van jongens en meisjes. Als meisje moet je gewoon Dit is alles van Aidan Chambers gelezen hebben. Het is een dikke turf (meer dan 700 pagina's), maar het is een boek dat je in stukjes en beetjes kan lezen en herlezen, op je veertiende maar evengoed op je dertigste. Het boek wordt omschreven als een hoofdkussenboek, en dat kan je eigenlijk bijna letterlijk nemen.
Leg het naast je bed, en als je als veertienjarige, zestienjarige of volwassene het even niet meer weet en je niet meteen dagboekaspiraties hebt voor jezelf, kan je helemaal opgaan in het leven van Cordelia en Will.
Alle aspecten van volwassen worden, komen er heel mooi in aan bod.
Als jongen vind ik dan weer dat je Allemaal willen we de hemel van Els Beerten moet lezen. Daar zie je hoe je in een vriendschap heel veel verschillende fases hebt, maar dat echte vriendschap echt wel kan bestaan. Het boek toont ook heel mooi hoe sterk peer pressure kan zijn, en dat je heel vaak beslissingen in je leven moet nemen waarvan je niet altijd weet of het wel de beste is en hoe die ene beslissing uiteindelijk je hele leven op z'n kop kan zetten.
Als leerkracht probeer ik vooral het leesplezier aan te wakkeren. Ik geef dus wel een lijst om mijn leerlingen een beetje te leiden, maar als ze zelf interessante boeken aanbrengen, dan kan dit zeker. Ik probeer hen ook 'het andere boek' te leren kennen, met o.a. graphic novels zoals De aankomst van Shaun Tan of Het wonderkabinet van Brian Selznick, allebei pareltjes in hun genre.'
Welk boek over communicatie zou je de boekenmeisjes kunnen aanraden?
Joke: 'Als professionele schrijver vond ik Met woorden verleiden van Mark van Bogaert echt een heel handige gids. Ik kocht het boek nadat ik een workshop bij hem gevolgd had en tot op vandaag gebruik ik nog heel veel tips van hem. Een echte aanrader voor elke professionele schrijver.'
Wat is als mama jouw favoriete kinderboek?
Joke: 'Ik ben helemaal weg van Wie knipt de tenen van de reus? van Jan Smeekens. Het is een meegroeiboek vol leuke versjes en gedichtjes. Het is sowieso niet gemakkelijk om poëzie aan kinderen (en leerlingen) te 'verkopen', maar dit boek doet dit op een laagdrempelige manier. Als mama heb ik ook heel veel gehad aan Waarom je moeder en ik bijna altijd een kamerjas dragen van Wouter Deprez. Het zoontje van Wouter is ongeveer in de leeftijd van mijn zoon en de boekjes die Deprez schreef naar aanleiding van zijn vaderschap vond ik zo herkenbaar, zo ontroerend. Hij verwoordde echt wel mijn gevoelens en gedachten op dat moment.
En meteen wist je ook dat iedere ouder met bepaalde zaken worstelt en een kind krijgen voor iedereen heel ingrijpend is.'
Wie is jouw literaire voorbeeld als aspirant-schrijver? 
Joke: 'Ik bewonder mateloos elke kinder- en jeugdboekenauteur en daarbij ook de illustratoren, vanwege hun eindeloze fantasie, de thema's die ze al van jongs af aan durven aansnijden maar ook vanwege de stempel die zo moeilijk weg te wassen is en waardoor ze altijd moeten opboksen tegen de volwassenen die deze lectuur onterecht onderwaarderen. Ik leerde dit genre ook maar echt te waarderen door KJV-begeleidster te worden en verschillende leeftijdsgroepen te begeleiden. Echt, de pareltjes die ik intussen heb leren kennen, ze inspireren me mateloos.'
Over welk boek was jouw hele leesclub laaiend enthousiast?
Joke: 'Iedereen was helemaal ondersteboven van Sprakeloos van Tom Lanoye omdat het boek een mix brengt van herkenbare situaties, er humor in verwerkt zit maar het boek tegelijk ook een schrijnende beschrijving is van verlies en afscheid. We zijn ook met een paar leesclubbers gaan kijken naar de monoloog door Lanoye en ook dan werd het verhaal heel ontroerend gebracht. Zelf vind ik het beste boek ooit De vrouw van de tijdreiziger van Audrey Niffenegger. Het boek is een mix van verschillende stijlen (liefdesroman, fantasy, thriller) en heeft me echt wel geraakt. Alleen de verfilming kon me echt niet boeien.'
Wat vind je van This is how we read? 
Joke: 'Ik ontdekte jullie site toevallig via Twitter. Ik lees niet alleen heel graag en heel veel, ik lees ook graag over lezen. Wat ik zo waardeer aan jullie blog is de mix van onderwerpen, de tips, de recensies, de schrijfstijl, de persoonlijke toets…
Het is intussen een vaste gewoonte geworden om jullie site toch ten minste 1x per week te bezoeken!
Misschien één tip: ik mis nog atypische interviews met schrijvers: een interview vanuit een andere invalshoek dat een bepaald aspect behandelt, niet de interviews die je overal heel vaak te lezen krijgt.'
Staat genoteerd Joke! Bedankt voor je tips en de feedback.
Heb jij nog blogtips voor ons, laat het dan zeker weten!