Column: Wakker of woke schrijven?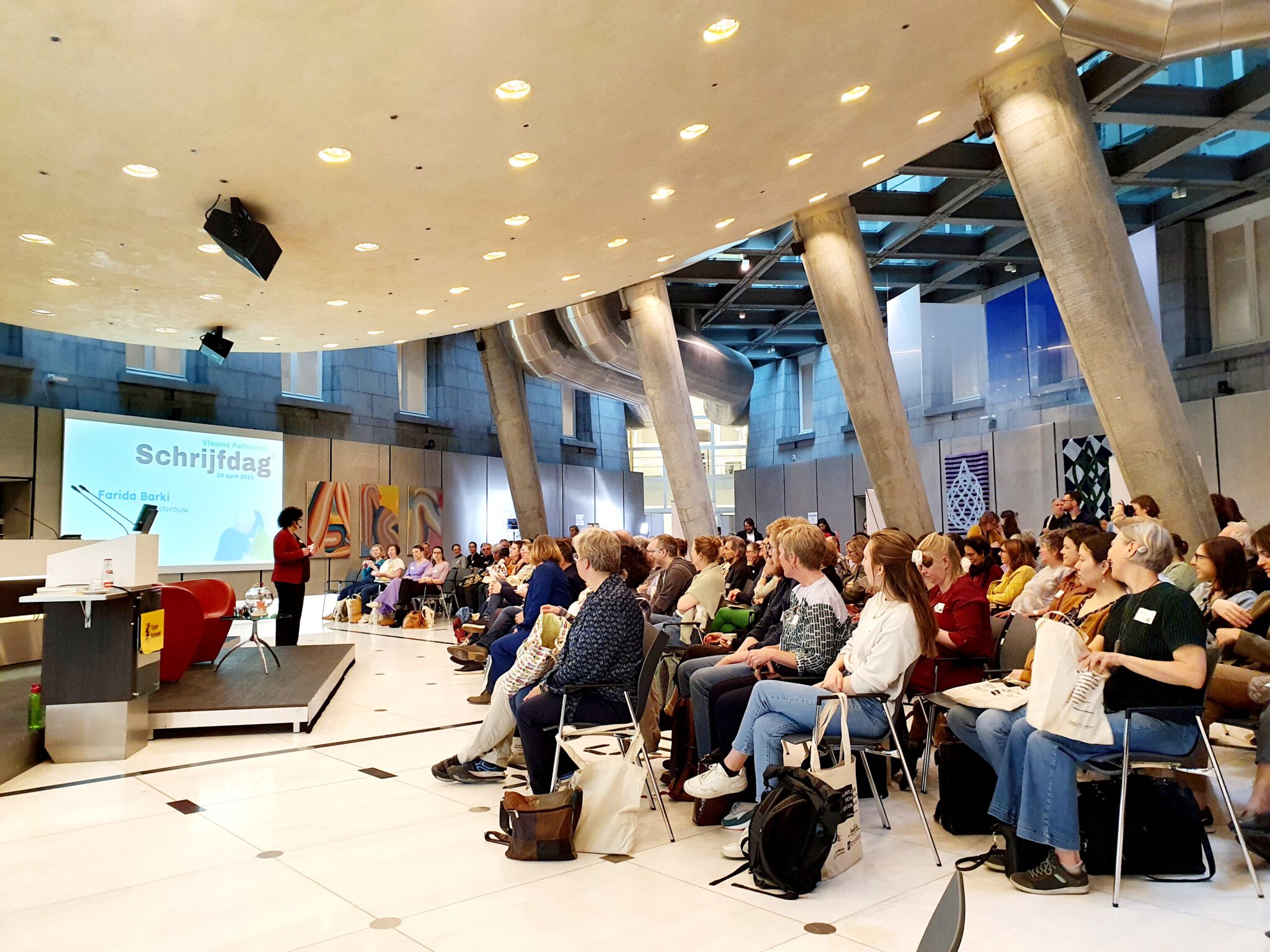 De lezers van deze blog zijn vaak ook schrijvers. Het ideale doelpubliek dus voor deze bespiegeling door Bart Vermeer over vrijuit schrijven en jezelf heruitvinden. Of: waartoe een debat op de Schrijfdag van Creatief Schrijven al niet kan inspireren… Veel leesplezier!
Mensen houden van extremen, zolang ze zelf niet te betrokken zijn. Het trekt hun aandacht en opent discussie. Gebalde woorden en gedurfde uitspraken verkopen beter. En toch, geef mij maar de nuance, fijnmazig en gevoelig.
Geen sensitivity readers
Na een luchthaven security check kon ik binnen, veilig in het huis waar filibusteren alledaags is. Voor twintig jaar Creatief Schrijven mocht de Schrijfdag iets bijzonders zijn en werden we als schrijvers en boekenliefhebbers uitgenodigd in het Vlaams Parlement. Vanuit De Schelp dropten de begeleiders ons in trosjes naar onze beleefplek. Eén sessie bleef de afgelopen periode malen in mijn hoofd.
De kop luidde "Woke wakker worden, waar ligt de grens?" Ik wilde meer weten, omdat ik nog wel bomen en wat plantjes zie, maar al helemaal niet meer het bos herken. Het was met een filosoof (Floris van den Berg), een schrijver (Christophe Vekeman*) en een specialiste rond diversiteit (Rachael Moore).
Zowel de schrijver als de filosoof vonden het allemaal onzin.
Zij vinden dat een schrijver moet kunnen schrijven wat hij schrijft en dat men moet afblijven van wat werd geschreven. Zij pleitten voor het afschaffen van de sensitivity readers.
Al snel werd het een hij-zij debat met twee mannen tegenover een dame die trachtte nuance te brengen in hun defensieve discours. Ik onthield vooral dat de term "Woke" ontstaan is in de Afrikaans-Amerikaanse gemeenschap als uitdrukking voor: "Let op, hier is sprake van onderdrukking" en dat het een uitgehold begrip is geworden dat te pas en onpas wordt gebruikt. Daar leken alle partijen het over eens.
Dus? Er is een literaire vrijheid die we horen te koesteren; een schrijver moet zich kunnen inleven in de mooiste en ergste personages die je kan verzinnen en de vrijheid hebben om te schoppen tegen heilige huisjes. Maar dan wel bewust: om een debat te openen, om een taboe te doorbreken of om de heersende politiek aan te klagen, en niet vanuit gedateerde patronen. Als er dan behoefte is aan een herdruk met correcties – die het verhaal niet schaden – mag dit wat mij betreft. Daarbij lijkt het me vanzelfsprekend dat je toestemming vraagt aan de auteur of nabestaanden. Indien niet mogelijk, zie ik liefst dat men de roman met een voorwoord in een bredere context plaatst.
Wat mag je nu nog wel en niet schrijven?
Een tekst is nooit echt af. Je laat het wel los als schrijver op een bepaald moment. Afhankelijk van de tijdsperiode en degene die interpreteert, begint literatuur een nieuw leven te leiden.
Het kan een sterke tekst zijn die ooit vernieuwend was of die in prachtige taal een verhaal schetst dat in essentie tijdloos is – maar dan nog zal elke generatie het met een andere bril bekijken. Dat is wat tijd met woorden doet.
Dus ja, je mag nog vrijuit schrijven en dit met een groeiend bewustzijn voor wat zich in jouw wereld afspeelt. Het is zelfs van alle tijden en net een zege voor de literatuur en de schrijver. Vind jezelf opnieuw uit, vind nieuwe personages uit die omgaan met wat er nu leeft en heerst. Het is geen fnuiken van je schrijverschap, maar net een uitdaging. Met de nodige doe ik het wel goed – angsten, maar die heeft iedere schrijver.
Stemmenvangers
In dit debat gaat het uiteindelijk over het spel dat gespeeld wordt om te polariseren. Jammer genoeg worden naar sensatie zoekende stemmenvangers en sommige schrijvers en filosofen daarin meegezogen. Zelfs ik reageer er nu op. Want dat triggert mensen. Om zo op korte tijd zo veel mogelijk likes te genereren, de klikjournalistiek. Meer is het niet.
Dus beste collega-schrijvers, neem een sterke koffie, word bewust wakker, schrijf zoals je liefhebt en laat het begrip "woke" over aan de tijd en de klikjournalisten.
Vanaf nu laat ik het los, terug naar het bos en de bomen zoals ze zijn.
Quote:
When I see your face, there's not a thing I would change, cause you're amazing, just the way you are – Bruno Mars.
* Daags voor deze sessie publiceerde Christophe Vekemans trouwens op zijn facebook dat het de laatste keer was dat hij het nog over Woke zou hebben. Ook hij laat het los.
Bart Vermeer studeerde film in de eeuw dat er nog echt knip – en plakwerk voor nodig was. Dat ambachtelijke is hij blijven koesteren. Zo knutselt hij met kleine restjes als verzonken ego's zinnen vol, om vandaaruit rode draden te spinnen. Tussendoor slaat hij letters aan diggelen in de vorm van poëzie op een ouderwetse typemachine.