Griet Op De Beeck is weer even overal. Haar nieuwe roman, 'Het beste wat we hebben', ligt in de winkel. Haar tv-optreden bij DWDD kreeg veel aandacht en de persvisies van de film van 'Vele Hemels boven de Zevende' zijn volop aan de gang.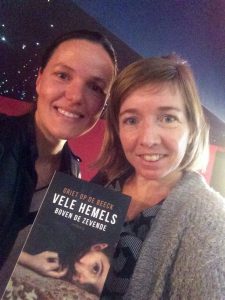 Dat je Katrien en mij gemakkelijk warm krijgt voor een filmpje op een doordeweekse voormiddag, dat is geen geheim. We tekenden gisteren graag present in Cinema Aventure in Brussel, waar we Vele Hemels Boven de Zevende mochten bekijken, ruim voor de film op 8 november in de Belgische zalen komt. Dat we hebben genoten, willen we al wel kwijt. Maar voor de rest hebben we aan de Caviar-persverantwoordelijke beloofd dat we onze lippen stijf op elkaar gaan houden tot vlak voor de première… Een meer gestoffeerde post, waarin we boek en filmversie van Griet Op De Beecks debuut vergelijken, is dus voor over enkele weken. Maar omdat Griet Op De Beeck weer even overal is dezer dagen, diep ik een artikel op dat ik eind 2015 schreef voor Boeken Magazine en waarin ik enkele superfans van Griet interviewde.
Wat is het toch dat Griet Op de Beeck losmaakt bij ons? Waar liggen de wortels van haar succes?
"Griet gaf mij een andere kijk op de wereld en een andere kijk op mezelf", steekt Rita Van Callenberghe (68) van wal. "Ik vond haar debuut Vele hemels boven de zevende een sterk boek, maar Kom hier dat ik u kus overdonderde me compleet. Die roman is zo levensecht en zo mooi geschreven. Ik kreeg echt een schok van herkenning bij de passages over Mona die als jong kind een zorgende rol en grote verantwoordelijkheid moet opnemen en daar eenzaam van wordt. Ik herken dat uit mijn jeugd en Griet brengt het in een eenvoudige, beknopte en originele stijl tot leven. Heel knap. Ze schrijft met mededogen over haar personages en dat werkte aanstekelijk.
Ik ben milder geworden sinds ik Kom hier dat ik u kus las.
Griet zegt: 'Mensen zijn ook maar geworden wie ze zijn door omstandigheden, thuissituaties, relaties…' Daar denk ik regelmatig aan. Ik ben van nature open, maar kwam daar met de jaren op terug omdat ik voelde dat de mensen oordelen. Griet inspireert me om me opnieuw kwetsbaar te durven opstellen – zoals zij doet in haar romans."
350.000 BOEKEN
Zeggen dat Griet Op De Beeck verwoede fans heeft, is een understatement. Kom hier dat ik u kus is een boek dat al minstens één leven heeft gered. Een lezeres bekende Griet Op De Beeck ooit dat ze van plan was zelfmoord te plegen, maar tijdens het lezen van gedachte veranderde. Zeggen dat de fans van Griet Op De Beeck met veel zijn, is ook een open deur. Tot vandaag gingen er al 350.000 exemplaren van Griets romans over de toonbank. Voor Kom Hier dat ik u kus staat de teller op 200.000. Hallucinante cijfers zijn dat, in tijden dat heel wat geslaagde romans het moeten stellen met een handjevol lezers. Dit voorjaar verschijnt de nieuwe, derde Griet Op De Beeck, Gij Nu.  Daarin volgt de schrijfster vijftien personages op een bepalend moment in hun leven. Allemaal willen ze gezien worden, allemaal willen ze het goed doen. Ze weigeren op te geven, ook al maakt de heftige wereld het hen soms onmogelijk.
Uiteindelijk gaat Gij Nu vooral over hoe verloren mensen zijn, tenzij ze de moed vinden om zichzelf te redden.
Niemand twijfelt eraan dat Gij Nu opnieuw een verkoopkanon en een zeer graag gelezen boek zal worden. Griets succes is quasi verzekerd, al kunnen critici het niet helemaal verklaren. Het is een mix van objectieve kwaliteiten zoals authenticiteit, herkenbaarheid en een vlotte, bondige schrijfstijl met sympathieke Vlaamse klanken… Maar Griet heeft ook een je ne sais quoi, dat aan lezers die subjectieve zucht ontlokt: 'Wow, wat een topboek! Deze roman springt eruit…'
DE TRILOGRIETEN
Volgens superfan Nathalie Houfflijn (39), redacteur bij uitgeverij Die Keure, speelt de persoonlijkheid van de schrijfster een rol: "Ik lees veel en houd vooral van romans die mij inspireren of inzicht geven. De personages moeten ook goed uitgediept zijn. Zo ben ik fan van het werk van Isabel Allende en Marianne Fredriksson. Griet Op De Beeck heeft voor mij nog dat tikkeltje meer omdat ik haar ontmoet heb tijdens een lezing in Oudenaarde. Ze is heel enthousiast en passioneel en tegelijk stelt ze zich heel toegankelijk op. Ze is bescheiden maar heeft uitgesproken meningen.
Ze spoort haar lezers – of mensen in het algemeen – echt aan om te kiezen voor hun geluk en te doen waar ze van dromen.
Dat maakt haar in mijn ogen bijzonder. Toen ik eerder dit jaar met enkele vriendinnen uit de ouderraad een boekenclub begon, kozen we als clubnaam De Trilogrieten – een knipoog naar Griet Op De Beeck. Vele hemels boven de zevende was de eerste titel die we samen lazen en iedereen was enthousiast. Zo eensgezind zijn we later – over romans van Brusselmans en Paulo Coelho – nooit meer geweest.  Er was een beetje discussie over het einde van Vele hemels… Een paar van ons hadden liever een happy end voor Eva gezien. Maar we hadden allemaal het gevoel dat Op De Beeck soms onze eigen gedachten beschreef, maar dan extra mooi en helder verwoord."
SCHONE POGING
Precies dezelfde indruk heeft Isabel De Mulder (39), een leerkracht Nederlands en mama van twee kinderen van negen en elf. Isabel: "Ik ben lid van de Facebook-groep Iedereen leest. Regelmatig zie je daar dat iemand een citaat van Griet gebruikt om zijn of haar stemming te beschrijven. Zelf doe ik dat ook. Zo postte ik onlangs, na een relatiebreuk: 'De schoonheid zat altijd in de poging.'  Andere zinnen uit haar romans die me vaak door het hoofd schieten, zijn 'Gelukkige mensen maken nooit anderen ongelukkig' en 'Het is altijd wel ergens nacht'. Als leerkracht Nederlands lees ik heel wat boeken en nodig ik regelmatig jeugdauteurs uit op school. Het is altijd boeiend om de mens achter het boek te leren kennen. Maar mijn ontmoeting met Griet Op De Beeck op de Boekenbeurs was extra speciaal. Ze nam echt haar tijd bij het signeren en maakte ook een babbeltje met mijn kinderen. Uiteindelijk schreef ze in mijn exemplaar: 'Voor een fijne vrouw, sommige dingen zie je zo. Leef hard, droom harder.' Dat advies is op mijn lijf geschreven. Ik durf niet altijd, op dat vlak kan ik van Griet zeker leren. Zij verstaat de kunst om het leven te tonen zoals het is en daarmee mensen te raken.
Soms lees ik dat haar personages niet voldoende zijn uitgediept, maar dan denk ik: 'Zo gaat het toch in het leven? Je kent iemand niet meteen door en door.'
Haar personages modderen maar wat aan in hun zoektocht naar geluk en liefde. Ik vind hen juist authentiek in hun onvermogen om zich te uiten. Griet Op De Beeck maakt eenzaamheid tastbaar in haar schrijven, en dat is vandaag nog vaak een taboe."
WIJVENBOEK
Hoge bomen vangen veel wind en dat is in het geval van Griet Op De Beeck niet anders. Hoe meer romans ze verkoopt, hoe vaker je hoort fluisteren dat ze 'typische vrouwenboeken' schrijft, voor lezers die haar zien als een soort van goeroe. Daar is Jan Gheysen (57), chef nieuws bij de Krant van West-Vlaanderen, het alvast niet mee eens. Jan: "Ik heb de twee romans van Griet Op De Beeck gelezen. Natuurlijk ben ik als man ook nieuwsgierig naar hoe vrouwen denken en schrijven." Jan is een gepassioneerde lezer, die 's ochtends om vijf uur opstaat om de kranten en wat literatuur te lezen voor de rest van het huis ontwaakt: "Ik vind Griet een aangename, nieuwe literaire stem. Ze heeft een aanstekelijke vertelstijl en gevoel voor humor. Ze schrijft gevat, verrassend, met zinnen die blijven hangen en karakters met wie je een koffie zou willen drinken, omdat het mensen zijn zoals je er kent." Eind 2014 was Jan Gheysen op een literaire avond georganiseerd door Das Mag, waar Griet Op De Beeck in gesprek ging met twintig lezers die net Kom hier dat ik u kus hadden gelezen. Jan: "De meesten waren enthousiast, maar niet iedereen viel in katzwijm.
Als er kritiek kwam, aanvaardde Griet die ook. Ze kon goed uitleggen waarom ze bij het schrijven bepaalde keuzes had gemaakt,  maar gaf lezers de ruimte om er het hunne van te denken."
OP DE BRES
Terwijl de schrijfster kritiek dus best kan relativeren, springen haar superfans voor hun idool op de bres. Rita Van Callenberghe: "Het raakte me, toen een familielid naar een voordracht van Griet was geweest en achteraf geen goed woord over de schrijfster kon zeggen. Haar romans waren te negatief, haar décolleté te diep… Ik heb haar toen verdedigd, al heeft zoiets weinig zin. Griet schrijft heel eerlijk en voor sommige mensen is dat wellicht confronterend. Of misschien zijn ze gewoon jaloers op haar schoonheid, talent en lef?"