Vandaag trakteren we jullie op een kort verhaal van gastredacteur Luc Geeraert. Voor al wie graag leest in pyama. Al dan niet in het openbaar.
Nachtruiter
Het was een gewone nacht, niet te warm en niet te fris. Hij was een gewone man. Slapen deed hij al jaren alleen.
Hij schoof de gordijnen opzij en keek naar de grote notelaar die weliswaar in zijn tuin stond maar wiens takken zich ver over de muren van de buurtuinen strekten. Het was een imposante boom die elke herfst overvloedig vrucht droeg. Kijken naar de notelaar had hem steeds een zekere gemoedsrust gebracht. Maar die nacht deed het hem niets. De tuinen waren donker en stil, de nacht was geschiedenisloos, en de notelaar was een boom.
Hij ging zitten op de rand van zijn lege tweepersoonsbed, trok zijn kousen en pantoffels aan, en verliet de kamer.
In de hal beneden twijfelde hij en dat was onverwacht. Hij kon tv kijken zoals hij van plan was geweest, de opwinding van een erotisch laatavondprogramma zou waarschijnlijk de spanning uit zijn lijf verdrijven. Of hij kon, en die gedachte vond hij plots zoveel prikkelender, in pyjama de stad intrekken.
Hij aarzelde nog even, zette dan zijn hoed op en verliet het huis.
Hoewel het met zijn blauwwitte ruitmotief best een mooie pyjama was, voelde het onwennig om ermee over straat te lopen. Maar het ijzeren rolluik van de boetiek van de buren was neergelaten, de gordijnen van de horlogewinkel even verderop in de straat waren gesloten, en zelfs in het café op de hoek brandde geen licht meer. Dat gaf hem moed, en zijn tred werd zekerder.
Hij liep een straat in die leek op de zijne, met soortgelijke rijwoningen waarvan ramen open stonden om kamers met slapende mensen te verluchten, en waar de enkele handelszaken evengoed de rolluiken neergelaten hadden. Hij koos een zijstraat die hij slechts zelden nam, sloeg daarna een nog onbekendere straat in, nam vervolgens een hem bijna totaal onbekende straat, enzoverder.
Na een flink eind lopen, belandde hij in een laan met linden en zitbanken en chique huizen met erkers, het soort straat dat zelfs overdag uitgestorven is. De stoeptegels lagen oneffen omdat de boomwortels ze hier en daar opgetild hadden, hij moest goed opletten waar hij zijn voeten plaatste. Een misstap was snel gebeurd, zeker met pantoffels aan de voeten.
'Goedenavond.'
Hij keek op naar de bank waar hij net voorbijgelopen was. Daar zat een gewone vrouw, even oud als hij zelf. Ze had bruine krullen, een erg scherpe neus en dunne lippen. Over haar schouders had ze een gehaakte cape gedrapeerd. En daaronder, zo zag hij met een schok, droeg ze een flanellen pyjama bedrukt met turkooizen bloemetjes.
Hoewel hij een beleefde man was, vergat hij haar een goedenavond terug te wensen.
Ze bekeek zijn pyjama. 'U bent een nachtruiter,' zei ze.
Hij tuurde naar zijn pantoffels op zoek naar een woordspeling die minstens even spits was, maar hij wist dat hij niets zou verzinnen.
'Indien u toch blijft staan, kan u even goed hier op de bank komen zitten.'
Hij twijfelde, maar na deze uitnodiging was gewoon verder lopen geen optie meer. Hij liet zich op de bank zakken.
De wind streek door de kruinen van de linden.
Na een tijd zei hij: 'U draagt een mooie pyjama.'
'Alles lijkt 's nachts blauwer wanneer er geen maan is.'
Hij bestudeerde de hemel en knikte.
'U moet me helpen,' zei de vrouw. Ze nam zijn hand, beroerde even zijn vingers.
Hij voelde hoe hij plots opgewonden raakte. Het was jaren geleden dat hij intiem geweest was met een vrouw.
Ze kwam overeind, gaf een rukje aan zijn arm, en hij kwam in beweging.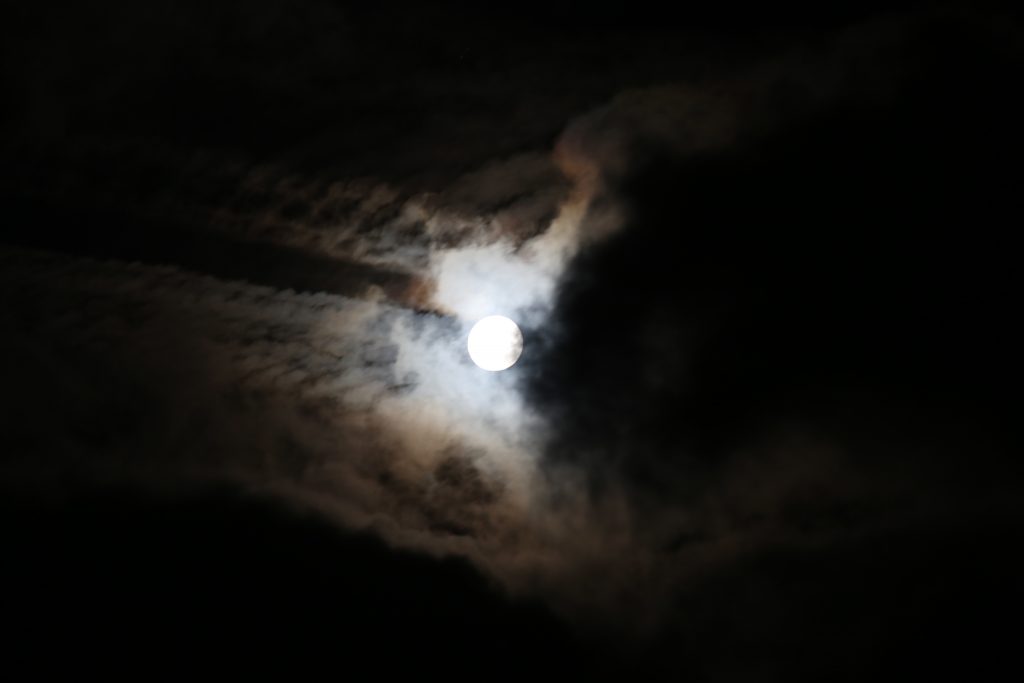 Hand in hand liepen ze door de slapende stad. Langs huizen en straten die leken op plekken die hij kende.
Voor een donker burgerhuis stopte ze. Het was een huis zoals er veel in de stad stonden, een huis als het zijne. Het woonkamervenster naast de voordeur, twee vensters boven, daarboven nog twee vensters, dan de dakgoot. De winkel onderaan het buurhuis was gesloten. Maar hij had niet veel tijd om de omgeving nauwkeurig in zich op te nemen, de vrouw trok hem gehaast naar binnen.
In de hal was het donker, hij hoorde er een ver gesnurk. Uit gewoonte legde hij zijn hoed op de hoedenplank.
'Kom,' fluisterde de vrouw in zijn oor. Daarbij raakten haar lippen zijn oorlel.
Ze leidde hem de duistere trap op, ging hem voor naar een kamer aan de achterzijde van het huis. Het gesnurk dreunde door de gesloten deur.
Ze keek hem aan. 'U grijpt hem, ik druk het kussen.' Ze opende de deur en trok hem mee de kamer in, de gordijnen waren wat opzijgeschoven.
Ze gaf een kneepje in zijn hand, liep naar het hoofdeind van het tweepersoonsbed en nam het hoofdkussen dat op de onbeslapen kant lag. Toen gebaarde ze hem in actie te komen.
Wanneer een vrouw hem iets vroeg, was het onmogelijk dat te weerstaan. Hij liep naar het bed en hield de man in bedwang. Eerst met beide handen, maar daarna met inzet van zijn hele lijf. Hoewel het snurken al lang gesmoord was, bleef de vrouw het kussen neerdrukken. De man spartelde steeds heviger. Tot hij stilviel.
'Zo,' zei de vrouw. Ze sloeg het beddengoed weg. Op de matras lag een man in een blauwwit geruite pyjama.
De vrouw rolde de man uit het bed. Met een plof raakte het lichaam de slaapkamervloer.
Toen deed ze haar pantoffels uit, schudde even de hoofdkussens op en ging neerliggen. 'Komt u lekker bij me liggen,' zei ze, 'de plek naast me is nog warm.'
Hij liep naar het raam. In de tuin van het huis stond een grote boom. Hij keek naar die boom en ademde enkele keren diep in en uit. Ten slotte sloot hij de gordijnen, trok pantoffels en kousen uit en kroop op de plek naast de vrouw. Het was er inderdaad nog warm.
'Slaapwel,' zei de vrouw en ze keerde zich van hem af.
Luc Geeraert schrijft wetenschappelijke teksten en onwetenschappelijke verhalen. In zijn verhalen die kort of lang kunnen zijn, probeert hij de mens te vatten op de grens tussen fantasie en werkelijkheid. Een vorige verschijningsvorm van 'Nachtruiter' werd gepubliceerd in het zomernummer 123 van Gierik & NVT.
PS: Lucs connectie met This Is How We Read? In de herfst van 2017 volgde hij bij mij (Barbara) de Wisper Literatuur-cursus 'Hoe Leest een Schrijver'. In z'n eerste thuisopdracht knipoogde Luc naar Nabokov. Het bekende vlindereffect trad in werking en publicatie hier kon niet uitblijven…