2018 wordt het jaar van mijn appartement make-over. Een nieuwe keuken en extra dakraam staan gepland voor april en mijn Pinterest-album voor de renovatie van mijn badkamer smeekt om een concrete uitvoering. Dringend gezocht by the way: badkamer installateur die out of the box durft te denken en geen schrik heeft om – zoals hieronder – een antiek kastje om te bouwen tot wastafel.
Hoewel mijn eigen Handige Harry gehalte vrij laag ligt (denk: preventief alle elektriciteit uitschakelen om een lamp te vervangen), ben ik altijd wel te vinden voor een creatief DIY-project. Enter: Insta Interieur van interieurstyliste Anne-Catherine Gerets. Terwijl het sfeervolle boek boordevol tips staat over hoe je tot die ultieme Scandinavisch look of dat minimalistische Marie Kondo interieur komt, blader ik meteen door naar de concrete creatieve projecten. Wegens – en dat is wellicht beter voor mijn eigen veiligheid – geen zaagmachine in huis vallen ambitieuze plannen als een houten magazinerek of desk organizer meteen af. Marmeren FIMO-schaaltjes lijken me wel een haalbare kaart. Na een snelle stop bij de AVA voel ik me al snel weer dat tienjarige meisje dat playdough poppetjes met spaghettihaar maakte. Ik rol worstjes van witte, blauw-zilveren en zwarte FIMO, meng de kleuren met de deegrol voor een gemarmerde look, snij cirkels met een kommetje… En heb na 30 minuten in de oven deze prachtige nieuwe onderzetters.
Even nostalgisch word ik van de macramé plantenhangers. Het vriendschapsbandjes knopen zit duidelijk nog in de vingers. Knoopjes maken, hop een paar kralen er doorheen en mijn ordinaire cactus wordt meteen een hipster plant. Heel ontspannend bovendien, combineert uitstekend met een avondje Big Little Lies bingewatchen (mocht je deze op een roman van Liane Moriarty gebaseerde topserie nog niet hebben gezien, je kan Big Little Lies nog tot het einde van de maand op Canvas bekijken).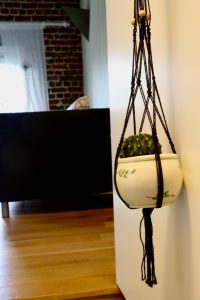 En – om in het boekenblog thema te blijven – maak ik tot slot nog deze bladwijzer met kwastjes. Gemakkelijk, en een leuke manier om een boekencadeau te personaliseren.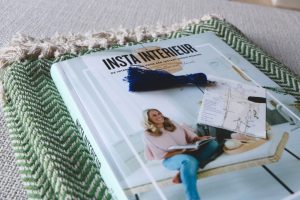 Misschien wordt 2018 niet alleen het jaar van de make-over van mijn appartement, maar maak ik maar eens wat meer tijd vrij om creatief te zijn met mijn handen. Goed voornemen nummer 1 kracht bijzetten: ik schrijf me in voor dit Wisper-weekend in de voetsporen van schilder Edgar Tytgat!
PS. Wist je dat je This Is How We Read ook kan volgen op Instagram?