Komt dat zien! Huiskamertoneel en prijsuitreiking columnwedstrijd 22/9
In 2015 begonnen drie vriendinnen een boekenblog, in 2016 richtten twee vrienden een intiem theatergezelschap op. Binnenkort – meer bepaald op 22 september – slaan zij de handen in elkaar voor een avond theater en columns in de Leuvense boekhandel Barboek. Wij kijken ernaar uit om jullie daar te ontmoeten voor een gevarieerde en prikkelende literaire avond in het gezelschap van de boekenmeisjes en de Rhobarberkerels.
Hoe ziet het programma eruit?
Theatergezelschap Rhobarber treedt op in huiskamers. De knusse zithoek in Barboek vormt hiervoor het uitgelezen decor. Bart en Bernard spelen er Twee vrienden, naar een tekst van de Antwerpse auteur en illustrator Paul Verrept.  In Twee Vrienden komt een vriend onverwacht op bezoek bij zijn vriend. Ze kennen elkaar niet. Maar ze zijn blij dat ze elkaar eindelijk gevonden hebben.
Hun nieuwe vriendschap is als een jojo. Afstotend aantrekkend. Beiden zijn ze bang dat Niemand thuis op hen wacht. Een vriend vinden is één ding. Een vriend houden daarentegen…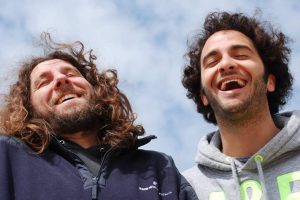 Een greep uit de reacties na de try-outs bij vrienden en familie.
"Het allerleukste aan de voorstelling vind ik de herkenbaarheid. Of het nu het universele thema is of het feit dat mijn eigen living als decor wordt gebruikt, daar ben ik nog niet over uit."

"Je zit zo kort op de acteurs, dat je elke zweetdruppel of emotie kan bevatten. Dit maakt theater supertoegankelijk".

"Eén van de eerste voorstellingen was op een mooie lenteavond in mei. De gastvrouw had een hele tafel vol hapjes voorzien. We speelden binnen in de woonkamer waar ze een bonte verzameling van stoelen had verzameld. Na afloop werden die allemaal naar buiten verhuisd en werd er urenlang gekeuveld tot de zon onderging. Magie die je maar moeilijk teweegbrengt in een grote theaterzaal."
Na afloop mogen de acteurs en tekstschrijver Paul Verrept gezellig met de boekenmeiden in de sofa voor een nagesprek. Het wordt meteen hun eerste ontmoeting. Benieuwd wat Verrept zal vinden van de huiskamerversie van Twee vrienden!
Afsluiten doen we met de prijsuitreiking van de tweede This Is How We Read columnwedstrijd. Uit bijna 100 inzendingen kozen wij acht genomineerden. Deze verschenen in juli en augustus op de blog. Een bekende columnist (vorig jaar An Olaerts) kiest hieruit de winnaar. Deze maken wij op 22 september bekend en krijgt van ons een spectaculaire cupcaketaart en boekenpakket!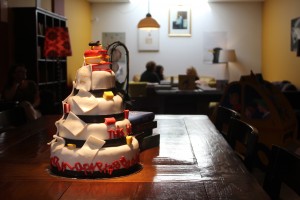 Achteraf is er tijd om met een glas wijn of bubbels na te babbelen! Komt dat zien, wees erbij & make our day… want wij verwachten jullie natuurlijk.
Praktische informatie
Deze culturele avond vindt plaats in Barboek (Schrijnmakersstraat 17, Leuven) op 22 september 2016 om 20u. De deuren gaan open vanaf 19u30. Het programma eindigt rond 21u30. Toegang is gratis (exclusief dranken). Schrijf in via dit event of bevestig je komst via info@thisishowweread.be. Zo weten wij hoeveel stoelen wij in onze huiskamer voorzien.