Zo, het schooljaar is nog maar net begonnen, en Thisishowweread komt alweer aanzetten met een literair reisverslag. Bekijk het zo: het is nooit te vroeg om je volgende vakantie te plannen. En ter mijner verdediging: Slovenië is alle adjectieven en superlatieven dubbel en dik waard.
Dus, hier komt ie, literair Slovenië in een notendop:
Slow reading in Bled
Eerste stop voor een literaire reis door Slovenië: het prachtige Bled, gelegen aan het gelijknamige meer. De natuur is er picture-perfect, de toeristen niet al te dik gezaaid en de idyllische leesplekken talrijk. Mijn tip? Trek een dag uit voor een wandeling rond het meer. Met een omtrek van ongeveer zes kilometer doe je er een dik uur over, met enkele leespauzes erbij maak je er een dagje van. Stop even vlakbij de aanlegsteiger van de roeiclub bijvoorbeeld, of langs het water met zicht op het eilandje en het imposante kasteel hoog op de rotsen.
Dag twee kan aangevuld worden met nog meer leestijd. Op het water. Voor een handvol euro's huur je een roeibootje om het meer te verkennen. En aangezien jij en ik weten dat roeien niet combineert met gemanicuurde nagels, ben je het vast eens met de boekenmeisjes strategie: tien lange slagen richting midden van het meer en dan dobberen en lezen maar.
In de namiddag is een bezoek aan het kasteel bovenop de rots aan te raden. Sportievelingen wagen de steile klim te voet. Zij die buggy's, slechte knieën of een aversie tegen zweet meetorsen, kunnen de toegangspoort bereiken met de auto. Het kasteel beschikt over een prachtige oude drukkerij, compleet met authentieke manuele drukpers. Slovenië's eerste boek werd er in 1550 gedrukt door Primož Trubar. Op zijn foto spot ik een lange, golvende baard. Hoe dat combineert met een zware pers vol genadeloze rollen, is me een raadsel.
Pracht en praal in Ljubljana
Ljubljana is één van de meest leefbare steden in Europa. Veel groen, weinig verkeer en een ontspannen levensritme voeren er de boventoon. In de hoofdstad mag een bezoek aan de bibliotheek niet ontbreken. Ze werd ontworpen door Slovenië 's bekendste architect Jože Plečnik, die zijn ontwerp baseerde op een Italiaans Palazzo. Uiteraard bewonder ik Jože's genie en de architecturale pracht en praal, maar het zijn vooral de 1,3 miljoen boeken die de doorslag geven.
Grote hoogtes op de Vršič Pas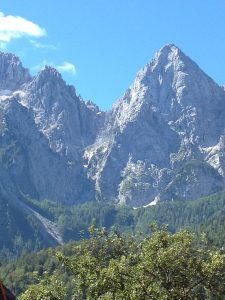 Het is laveren tussen de fietsers, moto's en andere auto's die de steile klim naar de adembenemende top van de Vršič Pas ondernemen. De pas klieft op 1611 meter hoogte door de bergen, een tocht met meer dan vijftig misselijkmakende haarspeldbochten. Deze weg, die begint in Kranjska Gora, heet de Russian road, genoemd naar de Russische krijgsgevangenen die de weg tijdens de Eerste Wereldoorlog aanlegden. Italië en Oostenrijk-Hongarije leverden toen een bittere strijd in de Julische Alpen. Onderweg naar het dal aan de zuidelijke kant van de pas stop je bij het standbeeld van schrijver en klimpionier Dr Julius Kugy. En voor een picknick bij het wonderlijk blauwe water van de Soča.
Literaire wandeling
Bovec, Kobarid en Most na Soči, de kleine en charmante dorpen in de Soča vallei, lokken elk jaar wandelaars, natuurliefhebbers, kayakers, rafters en andere avonturiers. Als je na een white water avontuur nog energie over hebt, kan je je literaire hart ophalen tijdens de Simon Gregorčič wandeling, in de voetsporen van de auteur aan wie de wandeling zijn naam ontleende. Leg daarna je vermoeide voeten te rusten in het Hemingway House in Kobarid, het dorpje dat vereeuwigd werd in A Farewell To Arms. (En nee, dat raften gaat ook niet samen met gemanicuurde nagels, maar is oh-zo-plezant.)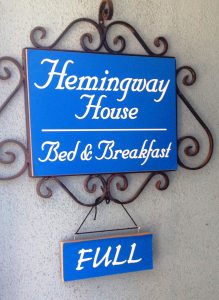 De Sloveense Robin Hood
Geen meer uitgelezen plek om je te verdiepen in de vele Sloveense sprookjes dan het kasteel van Predjama. Het kasteel van Erazem Lueger, de Sloveense Robin Hood, staat half in een grot middenin een hoge rotswand. Erazem –een kleurrijk figuur- stal van de rijken om aan de armen uit de delen. Deze voormalige rijken konden hier niet mee lachen, maar ze kregen hem niet uit de onneembare burcht gelokt.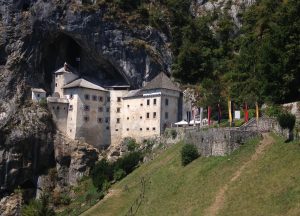 Erazem slaagde er zelfs in ze nogmaals te bestelen, dankzij een netwerk van geheime gangen in de grot van het belegerde kasteel . Nog eens, de man had gevoel voor humor. Het lachen is hem vergaan nadat hij mot had met de Oostenrijkers, die hem trakteerden op een kanonskogel toen hij op toilet zat. Welk boek hij daar zat te lezen weet niemand. Jammer.
Bezoek dus het kasteel, bewonder de grotten en nestel je op een terrasje met zicht op de vallei voor een portie sprookjesachtig leesplezier.
P.S.: Ook zin gekregen in een reis naar Slovenië?
P.P.S.: Nog literaire tips nodig? Probeer dan Portugal of Kopenhagen?