Dit is een bijdrage van onze vaste gastredacteur Kurt Van Gasse die deze week overuren draait.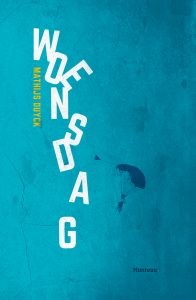 Het was feest in de Tinnenpot. In dit gezellige theater in het Gentse Prinsenhof stelde Mathijs Duyck vorige woensdag zijn eerste worp voor. En hoe. Voor een nokvolle zaal vertelde hij hoe het boek het levenslicht zag, gaf hij een speech die zelf ook gerust de drukpers eens mag zien, liet hij zijn maat een stuk uit zijn boek acteren, om dan doodgemoedereerd sax te gaan spelen in de live set van Homelands. De zeskoppige formatie speelde muziek die kietelde op plaatsen waar voorheen alleen Dani Klein aankon.
Woensdag werd geschreven in stukjes tijd die Mathijs op steeds grotere schaal jatte van zijn omgeving. En van zijn nachtrust. Dat het bij de uitgever de andere ingezonden manuscripten het nakijken gaf, is te danken aan de anonieme passagier die op een vlucht naast Duyck zat en gezegend was met een ochtendmuil alsof er een kikvors onder zijn tong had liggen rotten. Het inspireerde Mathijs tot een oneliner die binnenkort ongetwijfeld tot het dagelijks taalgebruik behoort:
Zijn adem rook alsof er een ziek paard tegen zijn huig had gescheten. 
Meer was er niet nodig om de aandacht van de uitgever in de een houdgreep te nemen, die met stijgend enthousiasme doorlas en het manuscript prompt van de slushpile redde.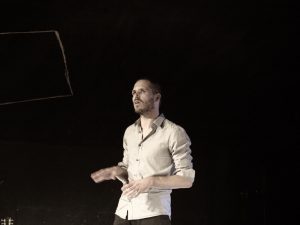 In Woensdag laat Mathijs een stel jongvolwassenen opdraven die weliswaar hun coming of age achter de rug hebben, maar de bijbehorende onvrede met de wereld niet van zich hebben kunnen afschudden. Zoals Fred, bijvoorbeeld, een reclamescenarist die alleen met actieve hulp van de farmaceutische industrie overeind blijft in de ratrace. Of in de zeepkistenrace naar het crematorium, zoals de auteur het noemt. En er is zijn maat Hans, een stand-up comedian die stijl graag laat primeren op tact wanneer hij de onnozelheid van anderen ongevraagd van commentaar voorziet.
De stap van student naar werkende mens was wezenlijk niets anders dan een wissel in gebreken. 
Fred en Hans hebben met hun diploma een leven gekocht en bulken nu van de buyer's remorse. De droomjob waarvoor Fred zo hard heeft gestudeerd is in werkelijkheid een slavenbestaan tussen hersenloze ellenbogenwerkers.  Het droomlief met wie hij de rest van zijn leven wordt geacht door te brengen -Marjan- knijpt hem fijn met haar stilzwijgen en is al gauw zijn ex-lief. Zowel Fred als Hans zien de bokkesprongen van hun medemens met lede ogen aan, maar terwijl Fred langzaam verzuipt in zijn frustratie, gebruikt Hans zijn talent om vanop het podium op ongeziene manier met zijn omgeving af te rekenen.
Godverdomme Walter, niet op de kat! 
Om de verschillende manier waarop Fred en Hans omgaan met hun onvrede op de spits te drijven, kwakt Duyck ze samen met een stel routinevrienden rond de tafel voor een nummertje verplichte lol op oudejaarsavond. Het is voor Hans een uitgelezen gelegenheid om zijn verbale artillerie te richten op het platte materialisme van de gastvrouw, op haar vergeefse poging om dat op te poetsen met wat kleffe quotes aan de muur en op haar pretentieus feestmenu uit het betere vrouwenblad. Fred daarentegen, wordt stiller en stiller naarmate het gezelschap luider wordt, alsof hij nog nauwelijks aanwezig is. Met leesbaar plezier laat Duyck de avond In De Gloria-gewijs ontsporen, om nog even bij The Young Ones aan te kloppen voor een onwaarschijnlijke finale.
(…) intussen liggen ieders verscheidene voorkeuren vreedzaam te gisten onder de warme zonnestralen van de menslievendheid, tot men ze niet meer kan onderscheiden, allemaal bijeen gesmolten, ranzig bruin en geurend naar het putteke.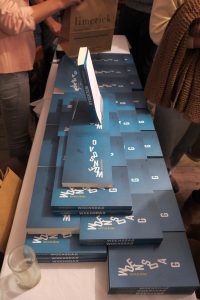 Na de dramatische afloop van de parachutesprong die Fred en Marjan via -hoe kan het ook anders- een cadeaubon op de bewuste oudejaarsavond hadden gekregen, gaat Hans door met de première van zijn gewaagde zaalshow. De vriendenkring tekent uiteraard present. Vanop een met gebroken wijnglazen bezaaid podium laat Hans een stortbui van onverbloemde eerlijkheid over zijn weerloos publiek hagelen. Dat het optreden van Hans het sterkste stuk uit Woensdag is, bewijst Andy Van Kerschaver door met verve het eerste deel live op te voeren. Inclusief de scherven op de grond. De meedogenloze analyse van hoe het verstrijken van de tijd een relatie langzaam aan gruzelementen walst is in real life even schrijnend als in het boek.
Een boek is wind op de molen van je verbeelding. (Mathijs Duyck)
Je zou er intriest van worden, maar Mathijs reikt in zijn openingsspeech de remedie aan tegen de onnozelheid die volgens hem het menselijk ras definieert als diersoort: verbeelding. Diezelfde creatieve verbeelding die sommigen aan de dag leggen om de wereldeconomie op te lichten, kan evengoed gebruikt worden om een betere realiteit te maken, zegt hij. Fictie kan de wereld redden. Dat, en ermee kunnen lachen. Er is dus hoop. Ze heet Woensdag en ligt in je boekhandel.
Dit verslag werd weer net op de deadline afgeleverd door onze vaste gastredacteur Kurt Van Gasse, een notoir party crasher die dat ook Philippe Diepvents en Lucien Van Impe al eens flikte. We houden hem graag druk bezig, anders spuit hij gif of gaat hij voetgangers belagen.