21/9 verzamelden een 100-tal professionals uit de literaire wereld bij deBuren in Brussel om na te denken over de kruisbestuiving tussen de verschillende literaire actoren. Met vertegenwoordigers uit de literaire kritiek, van de faculteiten letterkunde, uitgevers en boekhandelaars bogen we ons over literair-synergetische vragen als… Hoe kan academisch literatuuronderzoek meer impact hebben op de modale bezoeker van de Boekenbeurs? Zijn professoren in de letterkunde wel mee met trends als leesclubs en podcasts? En kunnen recensenten en academici mee het literatuuronderwijs op peil houden?
This Is How We Read was erbij, keerde bijzonder enthousiast naar huis en wil de organisatoren van de PLISA-dag graag dit bericht sturen!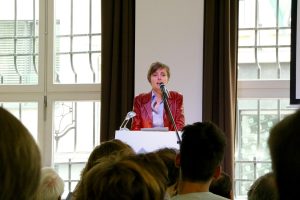 Beste PLISA-organisatoren,
Ik heb genoten! Echt. Ik ben in een roes de trein opgestapt om 18u terwijl het in mijn hoofd krioelde van de ideeën, de treinrit naar huis heb ik onafgebroken geschreven, ik heb de afslag naar mijn huis gemist omdat ik de ene ingeving na de andere kreeg! Ik heb een glas wijn moeten (dit was niet zo erg) drinken om te stoppen met jubelen.
TED-talk-gewijs mochten 18 sprekers 's ochtends het publiek inwijden in hun literaire project en een idee pitchen.
Ze hebben me ontroerd! Dichter des Vaderlands Charles Ducal liet niemand onberoerd met het verhaal over een begeesterde leerkracht uit Ath die met zijn leerlingen uit het beroepsonderwijs een dichtbundel schreef in de voetsporen van Rimbaud en achteraf het deksel op de neus kreeg van zijn directeur. Docent Jordi Casteleyn kreeg de lachers op zijn hand met het relaas van de stage van twee van zijn (duidelijk Antwerpse) studenten in Borgerokko ('hoe zijn jullie tot de interpretatie van dit gedicht gekomen', 'oep reigel zeive'). En uitgever Harold Polis onthulde hoe hij zichzelf als achtergestelde jongere (zijn vader ging tot zijn 13de naar school) kon ontwikkelen dankzij het onderwijs. Volgens 'oppervlakkig onderzoek' van filosoof Ger Groot bleek in de slottoespraak bovendien dat we in het boekenvak misschien allemaal wel een beetje Harold Polis zijn, achterstandskinderen die het ver gebracht hebben.
Ze hebben me doen nadenken! Ja, er moet meer aandacht zijn voor literatuur op televisie. Zeggen we dat niet allemaal? Maar dan was er VRT-journaliste Annelies Beck die nuchter opmerkte: 'Kan literatuur op televisie meer mensen aanspreken dan u die er op wacht?! … Alleen, u kijkt wel niet!' En dan heb ik het nog niet over Vanessa Joosen, een professor Engelse letterkunde die schrijft voor De Standaard der Letteren. Een inspirerende vrouw die constant zoekt naar de balans tussen het intellectuele en het toegankelijke zonder haar integriteit op te geven.
Ze hebben me nieuwe projecten leren kennen! In Muntpunt zijn ze in de traditie van The great American novel op zoek naar een canon van Europese boeken. Binnenkort trekken ze naar de Europawijk om daar het Europese publiek te bevragen over hun ultieme Europese roman. Geen gemakkelijke opgave lijkt mij, maar ik ben wel benieuwd naar wat er uit de bus komt. Bijzonder grappig waren ook de cartoons over de literaire canon van de Koninklijke Academie voor Nederlandse Taal- en Letterkunde (scrol over de covers en je ziet de tekeningen!).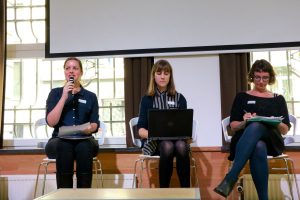 PLISA-organisatoren, in de namiddag gaven jullie ons een zeer vage opdracht. In kleine groepjes moesten we komen tot een voorstel. Baf! Zo vaag was het. Het leek op een brainstorm in het ijle. Alles was mogelijk maar in welke voorstellen zouden we elkaar als totaal onbekende spelers uit het literaire veld kunnen vinden? Over heel wat punten konden we wel tot een consensus maar waren we niet opnieuw het warm water aan het uitvinden?
In een plenaire zitting stelde elk groepje zijn ideeën voor. Wat bleek… hoe vaag de brainstormopdracht ook was, elk groepje had min of meer dezelfde ideeën bedacht. Waren we gebrainwasht? De conclusie van zo goed al iedereen: er bestaat al heel veel, maar we kennen het niet! Via platformsites moeten we het aanbod beter ontsluiten. Mijn groepje zag het zo: Ben je een boek van Peter Verhelst aan het lezen, dan kan je op die platformsite recensies vinden uit kranten en van lezers, je krijgt een overzicht van literaire events waarin hij te gast is en wie weet vind je wel een link naar bibliotheken waar zijn boeken beschikbaar zijn of naar wetenschappelijk onderzoek rond zijn werk. Andere groepjes wilden met platformen leesclubs en lezers dichter bij elkaar brengen, anderen vervingen de platformsites door troubadours die met het literaire aanbod scholen zouden afschuimen.
Onder welke vorm dan ook, PLISA, het ontsluiten van informatie is iets waarin ik geloof. Nog meer na woensdag! Ik heb immers gesproken met doctorandi die nog nooit van leesclubs hadden gehoord en met docenten die geen login hebben op Goodreads. Ik heb specialisten in online literatuurkritiek gehoord voor wie de Reactor het meest playful medium ooit lijkt te zijn. En ik moet zelf toegeven. Ik heb er geen flauw benul van hoe academici naar de literatuur van vandaag kijken. Inventariseren wat er al is had kunnen voorkomen dat we tijdens het brainstormen in herhaling vielen, maar zou vooral kunnen leiden tot fantastische samenwerkingen en zou een basis leggen om echt tot nieuwe ideeën te komen.
Wie die database moet maken, daar waren we het nog niet over eens. Maar in afwachting heeft This Is How We Read wel wat voor jullie. Kruisbestuiving is our middle name. Wij interviewen niet alleen obscure Russische schrijfsters maar crashen evengoed literaire feestjes. Hoge en lage literatuur, wij maken geen onderscheid. Wij laten uitgevers, schrijvers en lezers aan bod. Wij weten wat er leeft. Vorig jaar deelden wij iedere vrijdag literaire links, we schuimden boekenclubs af, van Das Mag tot Italiaanse eetleesclubs en deden verslag van literaire events. This Is How We Read als de Jambers en de Terzake van de literatuur! Snuister wat rond, PLISA, en voel hoe de literatuur leeft!
Hartelijke groeten,
TIHWR
PS En, dit wil ik toch even zeggen. Het was 11u30 toen Gert Brouns van Limerick fijnzinnig opmerkte dat het woord boekhandel tot dan toe nog niet was gevallen. Wel, over blogs ben ik om 14u00 zelf begonnen.
PPS Rebellettrie, ik heb er in mijn werkgroep voor gepleit. Voor ontmoetingen tussen wereldvreemde onderzoekers en Montefiori lezers, tussen Iedereen Leest hobbyisten en journalisten van literaire tijdschriften. De term bedacht ik ter plaatse.  To be continued…