Het slechte nieuws: sinds het schrijven van deze blogpost (begin oktober) ging er een nieuwe lockdown van start. De cinema's zijn met andere woorden weer dicht en de release van 'Kom hier dat ik u kus' werd uitgesteld.
Het goede nieuws: nu hebben jullie allemaal tijd om – voor je de film bekijkt – nog snel het boek te (her)lezen. Hopelijk maakt onze filmreview je daarvoor warm. Here we go!
Katrien: Dat het in ons 'gliteratuur'-leven de afgelopen coronamaanden stilletjes was, dat is een understatement. Het is dan ook met twee handen, in matching groene rokken en op pumps dat Barbara en ik de uitnodiging voor de persvisie van de boekverfilming van Griet Op de Beecks Kom hier dat ik u kus aannemen.
Als we nog eens uit ons kot mogen, doen we dat in stijl én volgens een dresscode, zo blijkt.
Barbara: In Brussel-Centraal passeren we nog snel bij Starbucks (geen paid advertisement – wij zijn verstokte fans) voor twee lattes en ik neem er zelfs een plak geglazuurde citroencake bij. Laat die bittersweetness maar komen.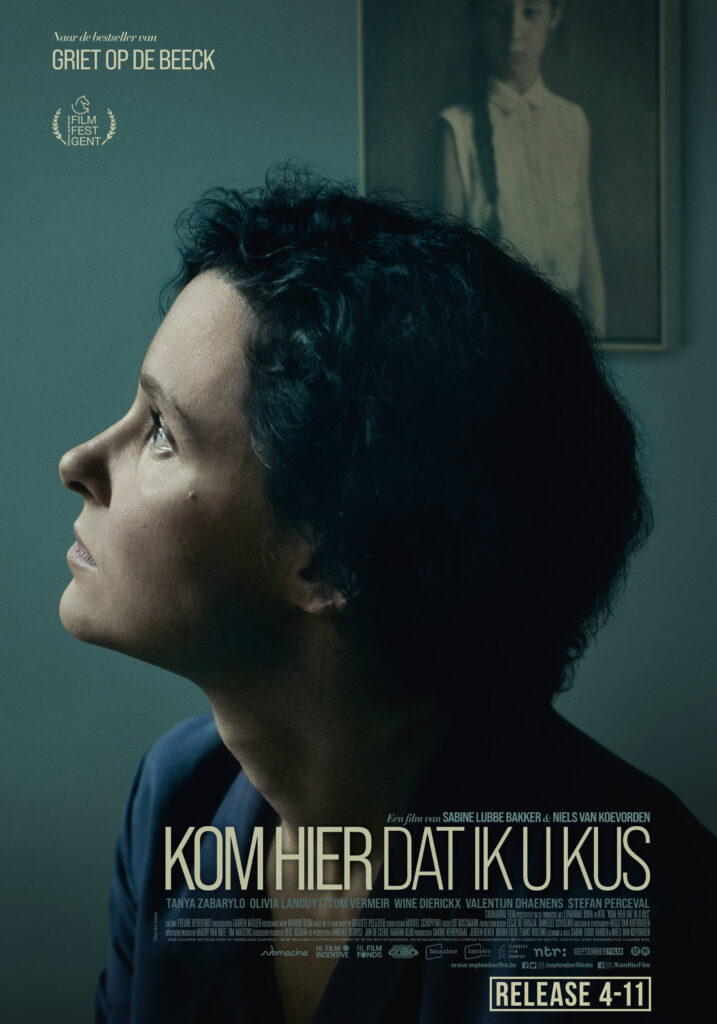 Katrien: Het is alweer drie jaar geleden dat we samen de verfilming van Griets Vele hemels boven de zevende zagen en die filmdate in Cinema Aventure staat in onze herinnering gebeiteld als 'eentje met rode ogen'. Vandaag staan we op dezelfde plek voor het 'vervolg', of zo voelt het toch, want de twee boeken zijn niet gelinkt en de regie ligt dit keer niet opnieuw in handen van Jan Matthys maar wel in die van het duo Sabine Lubbe Bakker en Niels van Koevorden (gekend van de documentaire Ne me quitte pas).
Barbara: De link is natuurlijk dat het in beide
boeken van Griet Op de Beeck draait om meisjes en vrouwen die zo hard hun omgeving willen pleasen dat ze er zelf ongelukkig van worden.
De (stille) ster in Kom hier dat ik u kus is Mona, een kind vol goede bedoelingen. Als haar moeder vraagt of Mona melk wil, zegt ze nee, waarop de moeder een glas volschenkt. Als Mona veel te snel na de plotse dood van haar mama een inwonende stiefmoeder krijgt, zet ze haar flinke gezicht op, "want het is niet gemakkelijk om voor andermans kindjes te zorgen". En haar vader, een tandarts, weet precies wanneer hij Mona moet vragen om die stiefmoeder voortaan met 'mama' aan te spreken: wanneer Mona met wijdopen mond in zijn tandartsstoel ligt en niet kan antwoorden. Zo maakt de film in 3 korte scènes duidelijk dat niemand erom maalt wat Mona denkt, zegt of voelt. Awtsj! En Olivia Landuyt (die de jonge Mona speelt) oogt nog zo dapper, naturel en aandoenlijk. Hoe gaan we die zakdoek hier met dat mondmasker combineren?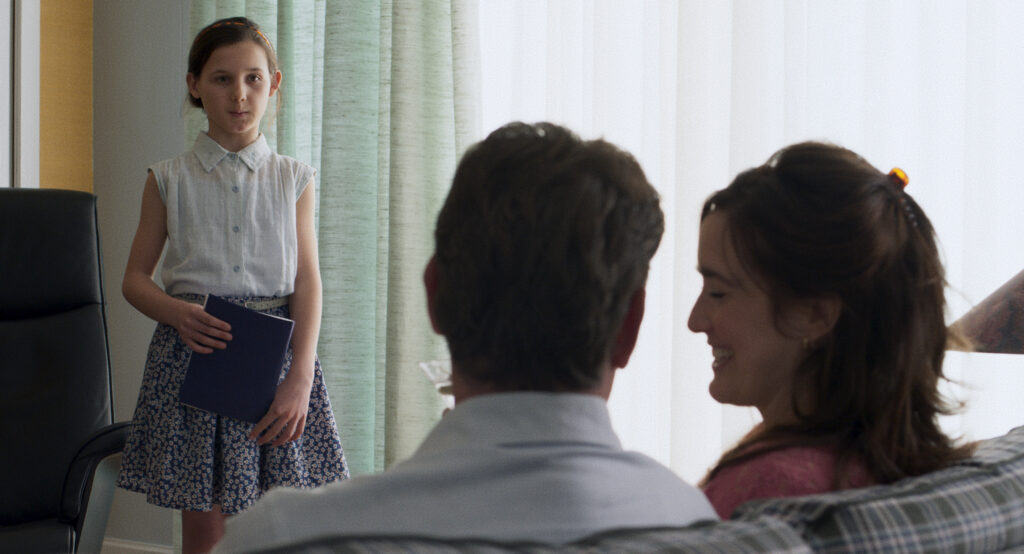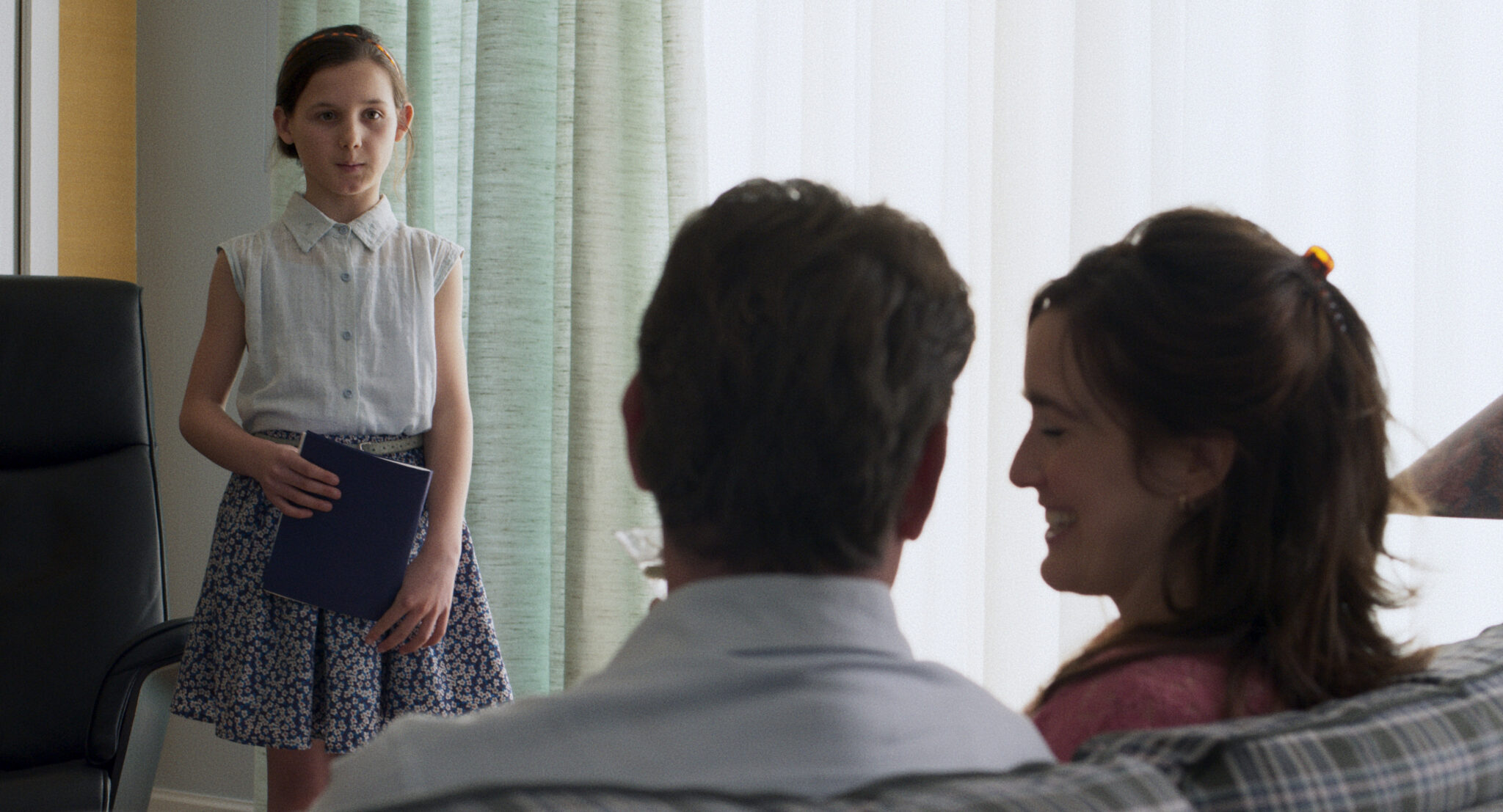 Katrien: Of ik het boek gelezen heb, fluistert Barbara nog snel voor de lichten uitgaan. Ja, zeg ik, maar dan begint de generiek al. Thuis neem ik mijn exemplaar er nog even bij. Enfin, niet 'even' want mijn boekencollectie is al ingepakt voor mijn verhuis. Gelukkig was ik neurotisch genoeg om de dozen met boeken te labellen. Bij 'fictie O' heb ik dus meteen prijs. En gelukkig maak ik aantekeningen in mijn boeken. Zo valt mijn oog al snel op deze woorden:
'Zij zei op een gegeven moment dat ze een hekel heeft aan de term "disfunctionele families". Omdat precies dat type gezinnen volgens haar net buitengewoon functioneel is. Niet gericht op mensen die zich individueel mogen ontplooien en goed voelen, maar op een systeem dat in stand moet gehouden worden, een systeem waar iedereen zijn rol vervult, ook als dat ten koste van hem- of haarzelf gaat.'

Het in stand houden van een disfunctionele familie, dat is precies waar het in Kom hier dat ik u kus om draait. Een veel te jong overleden moeder, een emotioneel afwezige vader en een egocentrische, tragische stiefmoeder (een schitterende vertolking van Wine Dierickx met precies genoeg pathos) … et voilà de context waarin Mona, als oudste van drie kinderen, opgroeit. De kijker ontmoet haar op drie momenten in haar leven: als kind, als twintiger en als dertiger wanneer haar vader op sterven ligt. Mona is een binnenvetter die zich plooit naar de grillen van haar omgeving waardoor we veel verstilde blikken en ingehouden lichaamstaal krijgen van de twee actrices, Olivia Landuyt (Mona als kind) en Tanya Zabarylo (Mona als volwassene). Die zorgen, mede dankzij de vele close-ups, voor een indringende sfeer.
Barbara: Het probleem is dat meisjes die over het hoofd worden gezien in hun gezin, niet gemakkelijk opgroeien tot vrouwen die in liefdesrelaties op hun strepen staan. Mona valt voor de charmes van een veel oudere schrijver: ze kent hem nog maar drie minuten of ze neemt al een sigaret van hem aan, "ook al rook ik eigenlijk niet". Ze had net zo goed kunnen zeggen: "Oh, ik cijfer mezelf wel even voor je weg." Het is een geluk dat Valentijn Dhaenens, die de schrijver speelt, perfect is gecast als de aantrekkelijke, artistieke klootzak. Ja, hij zet zichzelf altijd ongegeneerd op de eerste plaats. Maar nee, je vindt hem als kijker zeker niet meteen onuitstaanbaar. Duivels charisma heet dat zeker?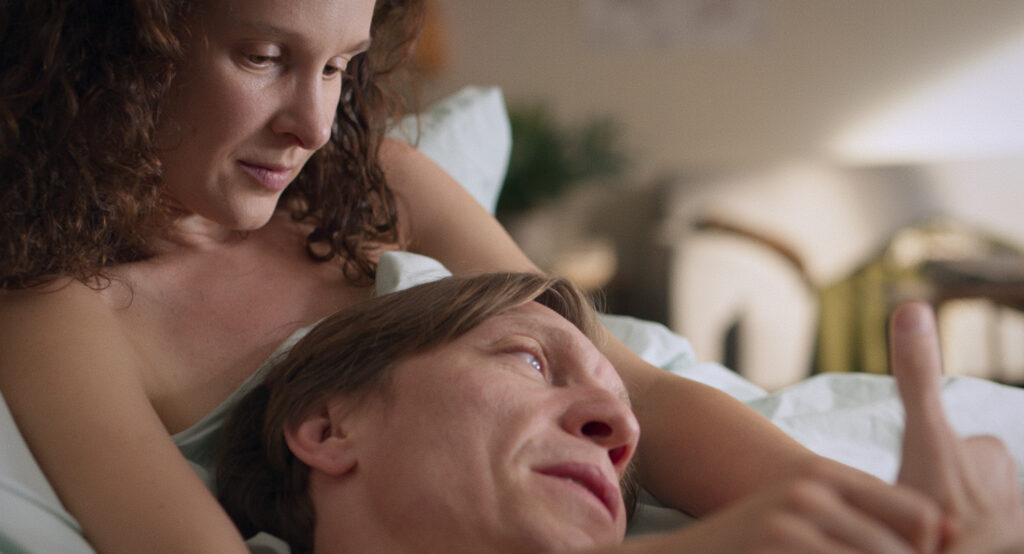 Katrien: Hoewel ik het boek zes jaar geleden heb gelezen, duurt het eerlijk gezegd toch even vooraleer ik de plot echt herken. Please, denk ik, zeg me dat dit normaal is als je zoveel boeken leest als ik. Gelukkig brengt Google raad en lees ik hoe onder meer The New Yorker en The Atlantic dit proces van lezen en vergeten uitgebreid beschrijven. Wat wel meteen herkenbaar voelt, is de ongemakkelijke sfeer. Bij Vele hemels boven de zevende maakte ik de vergelijking al met Thomas Vinterbergs Festen. Ook hier wil je van sommige scènes als kijker gewoon weglopen.
Barbara: Mona wil voor iedereen goed doen, ook in haar werk als dramaturge voor een tirannieke regisseur: ze troost zowel de actrices die hij voor schut zet als de man zelf, wanneer hij instort na een negatieve kritiek. Krijgt ze daar liefde en waardering voor terug? Of slaagt ze zelfs maar in haar opzet? Het antwoord laat zich (helaas) raden. Er zit iets moedeloos in dat terugkerende patroon: keer op keer stoot Mona op dezelfde muren, telkens opnieuw stoot ze zich aan dezelfde steen. De regisseurs hebben een heel filmische manier gevonden om de rondjes van die emotionele carroussel weer te geven. Elk deel eindigt met een kerstscène in de woonkamer van Mona's ouderlijke huis, met een bedrieglijk vrolijke Christmas-song op de achtergrond. Het gezin functioneert niet, maar het systeem van familietradities houdt koppig stand – check het citaat dat Katrien hoger geeft.
Respect voor Lubbe Bakker en van Koevoorden dat ze een roman met zoveel psychologische duiding hebben bewerkt tot een film die eerder 'showt' dan vertelt.
Katrien: Dat films en theaterstukken vaak een aanleiding vormen om het over ons eigen leven te hebben, merken we bij de lunch achteraf. Heel filmtechnisch wordt het vandaag niet bij de soep, maar het verhaal vormt wel de perfecte trigger om het 'fenomeen' oudste dochter – wat ik ben, Barbara is de jongste – uitgebreid te bespreken. Zelfs als het niet rechtstreeks over ons filmuitje gaat, geeft de plot ons gesprek wel input en richting. Fingers crossed voor cultuur tijdens de lange coronawinter, denk ik dan!