Van computerlinguïst naar misdaadauteur
'Yves Peirsman wint Fintro Prijs Spannend Boek 2020 en debuteert met De burgemeester.' Dat bericht trok meteen de aandacht van de redactie. Yves is immers een studiegenoot Germaanse Talen. En dan zijn wij nieuwsgierig natuurlijk! Toch vroegen we voorzichtig een exemplaar aan. Wat als wij het boek – over de verdwijning van de Antwerpse burgemeester – maar niks zouden vinden? Een beetje vervelend om een oude bekende teleur te stellen. Die vrees bleek gelukkig al snel ongegrond. De burgemeester is een spannend opgebouwd misdaadverhaal met onverwachte maar logische plottwists, een sympathiek hoofdpersonage – het had een bevriende jaargenoot kunnen zijn – én een bijzonder actuele setting! Wij stelden Yves meteen enkele vragen: over debuteren, inspiratie en de rol van taaltechnologie bij het schrijven, in het dagelijkse leven is Yves immers computerlinguïst.
Yves, vóór De burgemeester had je al een paar ongepubliceerde manuscripten geschreven. Hoe hield je de motivatie hoog?
Yves: 'Ik schrijf al meer dan twintig jaar, maar altijd in bevliegingen: sommige maanden erg intensief, dan weer een half jaar helemaal niet. Je weet hoe dat gaat: je gaat studeren, je vindt een job, er zijn altijd wel andere dingen die je aandacht opeisen. Als ongepubliceerde auteur was het niet altijd even eenvoudig om gemotiveerd te blijven, want de kans op een publicatie blijft klein. Maar de drang om te schrijven bleek sterker.
Ook ouder worden helpt: de laatste jaren schreef ik weer meer omdat ik het gevoel kreeg dat het stilaan tijd werd om die droom te realiseren.'
Met De burgemeester was het wel raak. Welke tips heb jij voor andere aspirant-debutanten om hun manuscript gepubliceerd te krijgen?
'Nu ik terugkijk, denk ik dat de Schrijfdag van 2016 een erg belangrijk moment was. Op dat evenement gaf Creatief Schrijven ongepubliceerde auteurs de mogelijkheid om hun manuscript te pitchen bij een uitgeverij. Ik stelde toen een vorig manuscript voor bij Uitgeverij Houtekiet, en kreeg daar een tijd later erg waardevolle feedback op die me stevig op weg heeft gezegd voor De burgemeester.
Ik zou andere aspirant-debutanten dus aanraden zoveel mogelijk feedback te verzamelen, niet alleen van vrienden en familie, maar vooral van professionals in het boekenvak, die weten hoe lezers denken en hoe uitgeverijen naar manuscripten kijken.'
Wat vormde de concrete aanleiding voor dit verhaal?
'Ik begon aan De burgemeester in de tijd dat Europa regelmatig af te rekenen kreeg met terreuraanslagen, zoals die op Brussels Airport in 2016. Het trof me dat anonieme burgers telkens het slachtoffer werden, en zelden bekende politici. Ik begon me dus af te vragen wat er zou gebeuren als een controversieel politicus vermoord zou worden, of zou verdwijnen, en zo was het zaadje van De burgemeester geplant.'
De kunst van een goed misdaadverhaal is om af en toe hints te lekken richting de ontknoping, maar toch niet te vroeg te veel verklappen. Hoe heb je de balans gevonden?
'Dat evenwicht is inderdaad een van de moeilijkste opgaven voor een misdaadauteur.
Je moet je op elk moment afvragen wat de lezer al weet, en hoeveel je op voorhand over de ontknoping mag prijsgeven.
Sommige hints die voor jou als auteur te duidelijk lijken, ontsnappen misschien volledig aan de aandacht van de lezer. De burgemeester is op dat vlak sterk geëvolueerd. In de allereerste versie werd de burgemeester in het eerste hoofdstuk vermoord en ging het boek over de zoektocht naar de dader. Ik heb er uiteindelijk voor gekozen de politicus bij het begin van het boek enkel te laten verdwijnen, zodat lezers het hele verhaal lang in het ongewisse blijven of hij vermoord is of niet.'
De burgemeester is niet alleen een misdaadverhaal maar ook een roman over deze tijd. Alles zit erin: van het klimaat, over polarisering tot relaties in de 21e eeuw. Volg jij het nieuws met het notaboekje in de aanslag?
'Ik denk dat ik het nieuws volg zoals de meeste mensen: zonder notitieboekje, maar wel via veel verschillende kanalen — binnenlandse kranten, buitenlandse pers, Twitter, enzovoort. Mijn belangrijkste inspiratie vind ik vaak niet in concrete gebeurtenissen, maar meer in bepaalde evoluties in onze maatschappij. Voor De burgemeester was dat bijvoorbeeld de politieke polarisering die jaar na jaar lijkt toe te nemen. Ook in mijn volgende boek wil ik een aantal actuele thema's aanraken, zoals privilege, de zogenaamde 'cancel culture' waarbij mensen al dan niet het zwijgen worden opgelegd omwille van hun mening, en de invloed van geluk op succes.'
Wil je met je roman een geëngageerde boodschap meegeven?
'Niet rechtstreeks, ik wil vooral een detectiveverhaal schrijven dat zich afspeelt in de wereld waarin wij leven, in een maatschappij die met dezelfde uitdagingen te maken krijgt als de onze. Daarbij is het meegenomen als ik mensen kan doen stilstaan bij een aantal van die uitdagingen. Zo kreeg ik al te horen dat het boek tot een paar gezonde discussies aan de keukentafel had geleid. Als dat gebeurt, is mijn missie geslaagd.'
Alleen corona ontbreekt, want je schreef het boek voor de coronacrisis. Jammer, of niet?
'Jammer vind ik het niet echt. Ook bij mijn volgende boek heb ik ervoor gekozen om corona niet te gebruiken. Ik kan me wel voorstellen dat de crisis en de lockdown sommige misdaadauteurs inspiratie kunnen geven, maar tegelijkertijd denk ik dat veel mensen ondertussen hun buik vol hebben van corona. Misschien krijgt het in de toekomst een plaatsje, maar voorlopig pas ik liever.'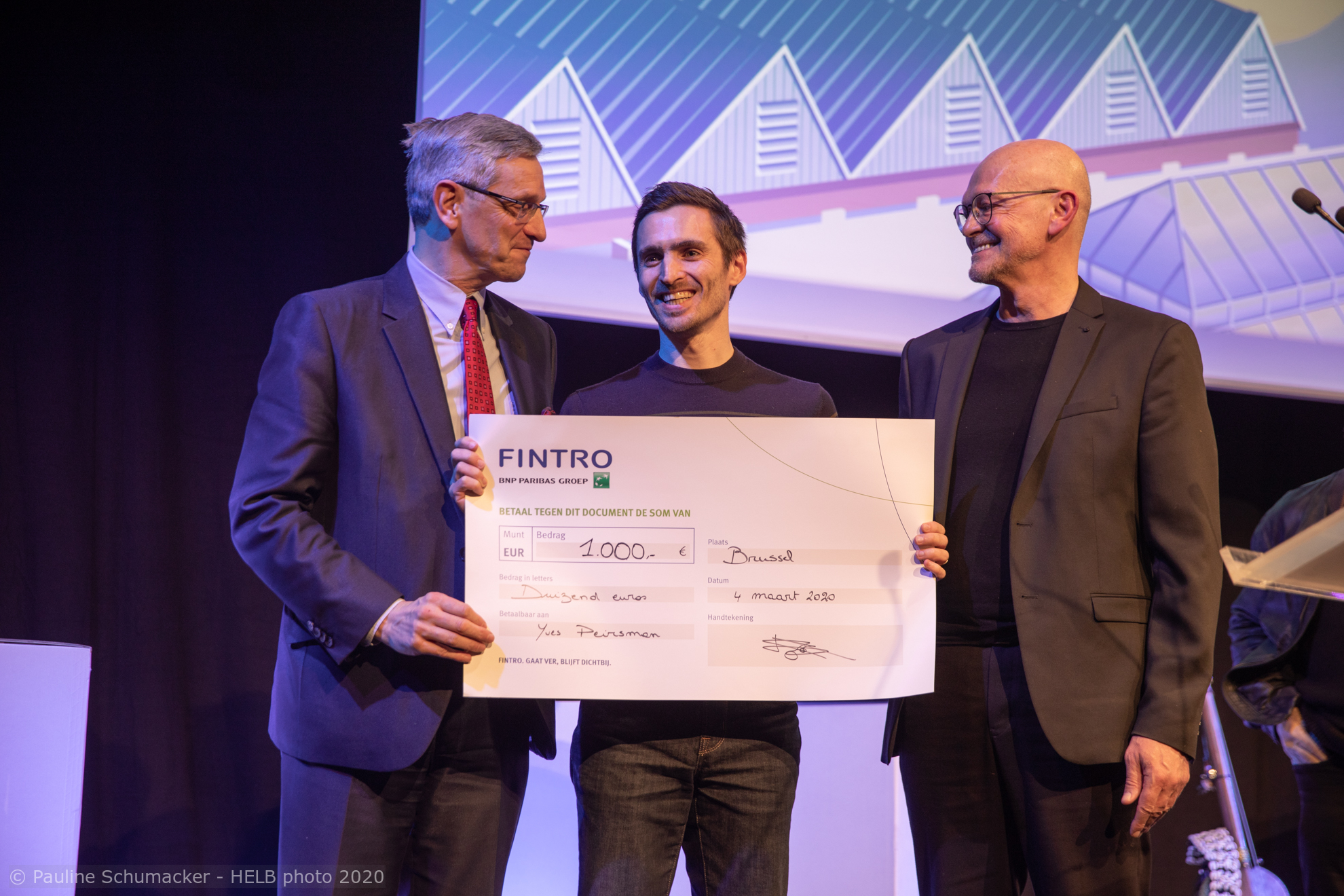 Bij de hedendaagse Vlaamse misdaadauteurs zitten drie computerlinguïsten. Is dat toeval?
'Het is inderdaad opvallend dat op amper anderhalf jaar tijd zowel Michaël Kestemont en Dirk Speelman als ikzelf debuteerden: alledrie hebben we een heel gelijkaardige achtergrond qua opleiding en interesses. Toeval zal er zeker voor iets tussen zitten, maar als computerlinguïsten delen we sowieso een passie voor taal.
Misschien heeft onze interesse voor misdaadliteratuur ook iets te maken met een fascinatie voor technische puzzels, zoals ook taaltechnologie een technische oplossing is voor een complex probleem?'
Heb je met die taaltechnologie geëxperimenteerd tijdens het schrijven van De burgemeester, met andere woorden heb je de computer wel eens een stukje laten schrijven?
'De laatste jaren is er veel vooruitgang gemaakt op het vlak van software die automatisch teksten kan schrijven. Hoewel hele romans momenteel nog wat te hoog gegrepen zijn, kan software nu al foutloze teksten van een paar paragrafen over een onderwerp naar keuze schrijven. Bij het schrijven van De burgemeester heb ik af en toe met dergelijke technologie geëxperimenteerd, maar daar kwamen niet echt bruikbare resultaten uit. De computer genereert wel grammaticale zinnen, maar weet niet precies wat je wil zeggen, of in welke stijl, zodat je achteraf nog zoveel moet aanpassen dat je de tekst even goed zelf kan schrijven…
Nu, als auteur sta ik zeker open voor software die kan helpen bij het creatieve proces, maar tegelijkertijd vrees ik ook de dag dat computers hele romans zullen kunnen schrijven. Die mag wat mij betreft nog even op zich laten wachten.'