Interview met Valeria Luiselli
In 2015 tolkte de Mexicaans-Amerikaanse schrijfster Valeria Luiselli (36 jaar) voor een immigratierechtbank in New York. Sindsdien trekt ze zich het lot aan van de onbegeleide minderjarige vluchtelingen uit Centraal-Amerika die ieder jaar de grens tussen Mexico en de Verenigde Staten oversteken. Ze schreef er zowel een geëngageerd essay (Vertel me het einde, 2017) als een persoonlijke roman (Archief van verloren kinderen, 2019) over. Ik sprak haar in juni voor Knack.be. 
Je tolkte als vrijwilliger bij de immigratierechtbank omdat je niet mocht werken in afwachting van je green card. Was het toeval dat je betrokken raakte bij deze vluchtelingencrisis?
Valeria Luiselli: "Ik denk niet dat het alleen maar toeval was. Niets komt vanzelf in het leven. Als je je ontvankelijk opstelt, komen de dingen in beweging. Ik las voor het eerst over de kinderen in de vluchtelingencrisis in de zomer van 2014. Dat shockeerde me diep, net zoals zoveel andere zaken, maar iets onbestemds in mij bleef extra alert over deze crisis. Dan hoorde ik toevallig dat mijn green card advocaat zou gaan werken voor een organisatie die zich bekommerde om kinderen uit Centraal-Amerika. Ik vroeg hem wat ik kon doen en zo begon ik te tolken. Het onderwerp is me dus niet in de schoot gevallen, het was een combinatie van toeval en vrije wil."
Trof de crisis je harder omdat je zelf een moeder bent met Mexicaanse roots?
VL: "De kinderen voor wie ik tolkte waren niet Mexicaans maar kwamen uit Honduras, Guatemala… Als Mexicaanse voel ik me net beschaamd hoe mijn land de vluchtelingen uit Centraal-Amerika behandelt. Er heerst daar veel racisme, iets waar men zich in Europa niet altijd bewust van is. Die schaamte vergrootte mijn betrokkenheid wellicht. 
Ook als moeder ben ik misschien meer ontvankelijk voor het lijden van kinderen, maar je moet geen moeder zijn om met kinderen te sympathiseren en niet alle moeders zijn empathisch tegenover deze kinderen.
Volgens mij is het ook niet bevorderlijk om te zoeken naar redenen voor empathie, want dan ga je empathie gelijkstellen aan herkenbaarheid en dat is gevaarlijk. Dat zou betekenen dat we enkel kunnen sympathiseren als we onszelf in de spiegel zien. Is dat niet net het tegenovergestelde van empathie?"
De verhalen die je te horen kreeg als tolk waren vaak fragmentarisch. Hoe schreef je die neer zonder de waarheid onrecht aan te doen? 
VL: "Ik wist dat bepaalde elementen een zaak meer verdedigbaar konden maken in de rechtbank. Als tolk was het een kunst om net die details te vinden in het verhaal van de jongeren met wie ik sprak. Ik kon echter niets verzinnen of hen geen woorden in de mond leggen, hoe verleidelijk dat soms ook was, want dat zou op lange termijn tegen hen werken. Ik moest dus de juiste vragen stellen en hun vertrouwen winnen, wat niet gemakkelijk is met kinderen die onderweg hebben geleerd niemand te vertrouwen."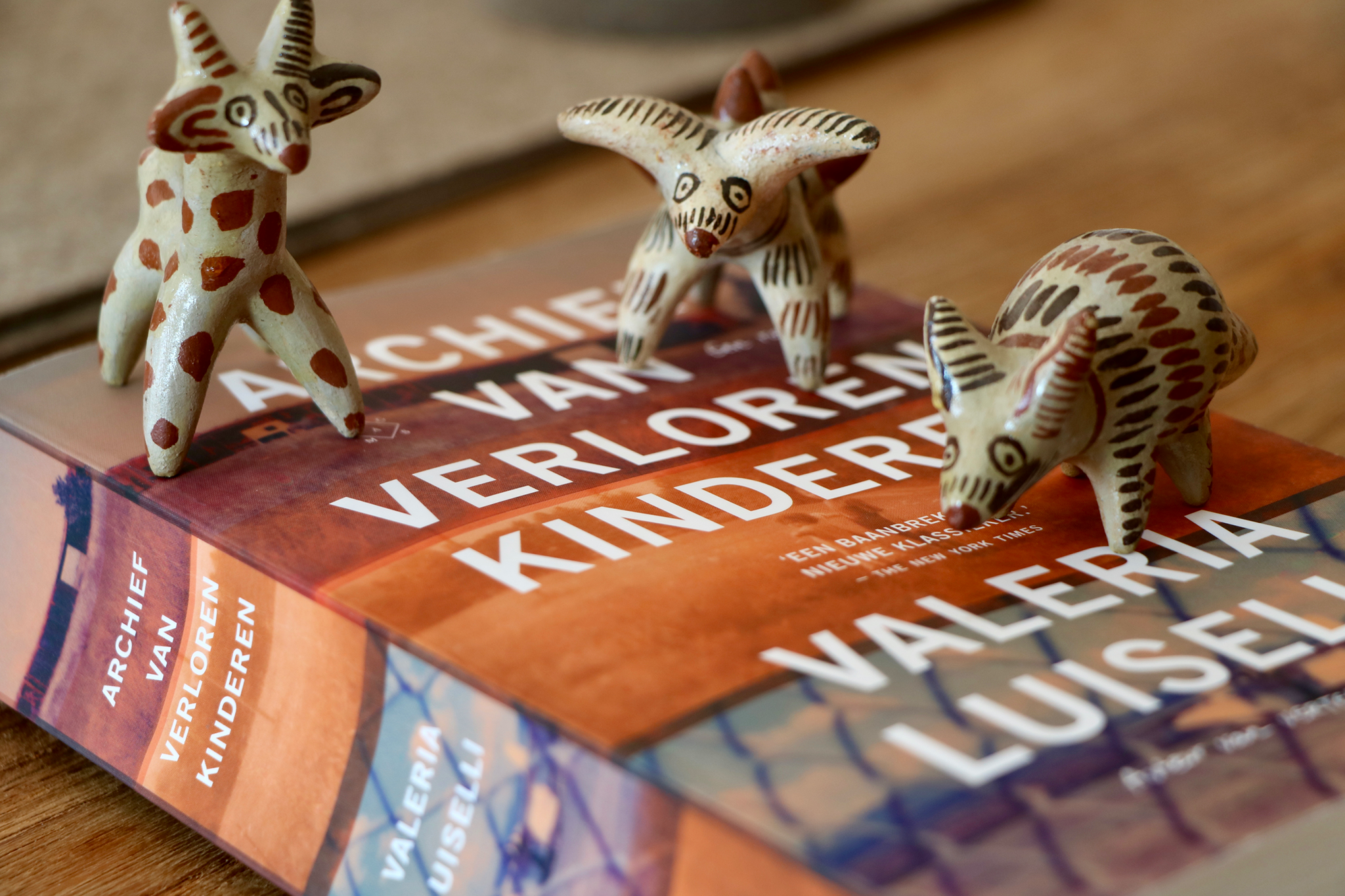 Na het tolken wilde je de wereld op de hoogte stellen van de gruwel die deze kinderen hebben meegemaakt. Je was al bezig aan een roman over de crisis, maar je onderbrak die voor een essay. Hoe ging dat?   
VL: "In mijn roman, Archief van verloren kinderen maakt een gezin een roadtrip van New York naar de grens met Mexico, de omgekeerde route die de vluchtelingen afleggen dus. Het was een persoonlijk verhaal. Op een fictieve manier schreef ik mijn observaties uit de rechtbank daar doorheen. Sinds ik aan het tolken was, voelde ik immers een grote urgentie om informatie te delen over de crisis. Die directe informatieverstrekking hielp echter mijn roman om zeep en tegelijkertijd deed de roman ook geen recht aan de hele kwestie. Ik heb mijn roman dan aan de kant gelegd om het essay te schrijven vanuit één duidelijk doel: de crisis weer on top of mind brengen in de media. Toen dat achter de rug was, kon ik terug naar mijn roman. Die is ook politiek geëngageerd maar doordat de sense of urgency weg was, lukte het me om opnieuw meer contemplatief te schrijven."
Jij schrijft duidelijk niet vanuit een verheven bron inspiratie maar vanuit woede. Niet iedereen vindt dat een goede vertrekpositie voor een verhaal. Jij wel? 
VL: "Heel rauwe woede is misschien niet de beste plek om vanuit te schrijven, maar ik vind mijn toon op het moment dat de temperatuur van mijn woede begint te fluctueren.
Voor mij begint het altijd met een combinatie van onrecht zien en onmacht voelen.
Van daaruit ga ik handelen, dat is mijn politiek kapitaal en zo heb ik Vertel me het einde geschreven. Bij Archief van verloren kinderen was ik trouwens niet minder kwaad, maar ben ik op zoek gegaan naar een andere soort van helderheid, meer introspectief."
Hoe gruwelijk de vluchtverhalen ook zijn, toch zijn de kinderen in jouw boeken heel sterke figuren. Is dat bewust zo? 
VL: "Vluchtelingen worden in de media en ook in de literatuur vaak voorgesteld als slachtoffers, alsof ze niet autonoom kunnen handelen en alsof vluchten geen bewust proces is. Voor heel kleine kinderen is dat misschien anders maar de moeders en tieners die ik sprak zijn niet weerloos. Ze hebben een politieke opvatting, ze willen niet dat hun kinderen of zij zelf in handen gaan vallen van de bendes die hun leven domineren.
Veel migratieverhalen laten dat bewust handelende aspect achterwege. Ze representeren de vluchtelingen als lichamen die lijden. Dat is gevaarlijk. Het maakt de anderen anders."
Op welke manier engageer je je tegenwoordig?
VL: "Ik blijf een activist, maar ik kom niet op straat. Ik zit in een geprivilegieerde positie, want ik kan mijn stem laten horen in de krant of op de radio. Daarnaast ben ik gestart met een creative writing program voor kinderen en tieners in opvangcentra. Eerst gaf ik zelf les, maar dat voelde alsof ik emmers water naar zee droeg. Nu leid ik andere vrouwen op om hetzelfde te doen. Collectieve actie is heel belangrijk in dit soort crisis. Op deze manier hoop ik die kinderen een instrument te geven om hun verhaal te doen. Als er maar een paar van hun generatie daar over twintig jaar in slagen, kan dat een zekere historische closure betekenen, toch?"
In je schrijfklassen geef je de kinderen woorden om hun verhaal te doen, maar hoe belangrijk is het dat die kinderen de juiste verhalen meekrijgen van volwassenen? Je alter ego in Archief van verloren kinderen legt de wereld alvast in al zijn complexiteit uit aan hen.
VL: "Kinderen maken voortdurend hun eigen narratief zonder dat wij altijd weten hoe ze de wereld begrijpen. En dat geeft niet, maar als ze dan iets pijnlijks hebben meegemaakt, zoals deze vluchtelingen, dan moet je hen soms helpen met dat verhaal. Geen verhaal aanbieden is immers riskant, dan zouden ze immers een verhaal kunnen creëren dat hun angst aanjaagt. Je moet hen dus de situatie uitleggen, wetende dat ze hun eigen hertelling zullen maken. Dat is waar intergenerationele storytelling over gaat, ook in een breed historisch perspectief. Wij hebben nu onze versie van de wereld, en hoewel een volgende generatie die weer zal uitdagen, is het onze plicht om ons narratief door te geven. Anders is er niets om op verder te bouwen.
De werkelijkheid is immers efemeer, verhalen zijn een stand-in voor de realiteit. Zij zijn hetgeen er overblijft, zelfs al zijn ze niet honderd procent accuraat of waar."
Je schrijft om verhalen te redden van de vergetelheid. Voel je ook de noodzaak om je eigen leven te documenteren?
VL: "Als dochter van een ambassadeur ben ik in vele landen opgegroeid. Als outsider moest ik voortdurend observeren om te kunnen overleven. Als ik de gedragscodes niet vond, bleef ik immers een outcast. Observeren en documenteren is mijn natuurlijke identiteit geworden. Voor mijn eigen leven geldt dat niet. Autofictie interesseert me niet. Wel schrijf ik met het materiaal dat ik voorhanden heb. Dat kan iets uit mijn eigen leven zijn, maar evengoed gebruik ik stukjes die een vriendin me vertelde of die ik ergens las. 
Ik houd wel vrij rigoureus een dagboek bij, niet om mijn leven te documenteren maar omdat ik denk met mijn pen. Dat is mijn manier om aan introspectie te doen en de dingen helder te krijgen."
Zou je in toekomst opnieuw een apolitieke roman kunnen schrijven?
VL: "Ik hoop het echt, maar voorlopig lijkt het onmogelijk. Als jonge schrijver was ik zeker niet apolitiek maar mijn engagement valt niet te vergelijken met nu. Is het de leeftijd of zijn het de tijden waarin we leven? Ik weet het niet, maar ik  kan me geen apolitiek boek meer voorstellen. Ik kan niet 'niet aan dingen denken', maar ik weet wel dat ik me niet wil beperken tot één politieke case. Voorlopig is er echter geen haast voor een volgend boek. Ik wil niet schrijven zonder ervaringen te accumuleren en een gevoel van hoogdringendheid."
PS. Dit interview verscheen eerder op Knack.be.