Potjesboeken: in 1, 2, 3 op het potje
Denk niet dat ten huize Boekenknecht-boekenmeisje enkel hoogdravende discussies gevoerd worden over literatuur met de grote L. De voorbije maanden ging het vooral over kaka met de grote K. Onze zoon startte na de kerstvakantie op school en dus werd er werk gemaakt van 'Het Potje'. En van potjesboeken.
Geen mijlpaal in het leven of we slepen er wat boeken bij. Ook voor het potjesverhaal leuren we bij zoonlief met boeken over luiers, potjes en de grote wc. En met succes, want op school en thuis zijn de ongelukjes zeldzaam. De gesprekken over kaka blijven echter bestaan: "Heeft hij vandaag nu al…". Een bloemlezing van potjesboeken: de tried and tested tips van twee potjestrainende ouders.
Wat gebeurt daar toch beneden?
Mag ik eens in je luier kijken, Guido Van Genechten
Muisje is heel nieuwsgierig. Hij haalt zijn treintje uit elkaar om de binnenkant te ontdekken en wil in elke molshoop koteren. Ook de luiers van anderen interesseren hem erg: hij piept in de luier van geitje, hondje, haasje en vele andere diertjes. Alles van keuteltjes tot drolletjes en… potjes!
Een potje?
Een geweldig cadeau, Guido Van Genechten
Olifantje krijgt een cadeau. Maar hij weet niet zo goed wat het is. Is het een hoedje? Een zwembad voor de goudvis? Een hele grote drinkbeker? Nee hoor, het is een potje. Mama en papa leggen met hand en tand uit waarvoor het potje dient.
Het potje tout court
Karel en zijn potje, Liesbeth Slegers
Op je potje, Karel
Met je billen bloot
Jij zit daar flink
Wat ben jij groot!
Wat hoor ik nou?
Dat is een plas
Hoera, hoera
Bravo voor jou!
Op het potje gaan is soms een moeilijk verhaal. Door je peuter voor te lezen en te ontdekken hoe Karel op het potje gaat, krijgt je peuter een mooi voorbeeld aangereikt.
With a little help van de knuffel
Op het potje, Konijn, Kathleen Amant
Alles al in de strijd geworpen om toch maar enkele druppeltjes in dat potje te krijgen? Dan is de knuffel misschien het antwoord. Anna wil dat Konijn op het potje gaat, maar het lukt maar niet. Dan doet ze het zelf maar voor? Konijn is reuze nieuwsgierig.
Onderbroeken en ongelukjes
Milan op het potje, Kathleen Amant
Milan gaat onderbroeken kopen voor papa. En kijk , er zijn ook onderbroeken voor kinderen. Samen met mama kiest Milan enkele mooie onderbroeken uit voor zichzelf, net zoals papa. Eenmaal thuis mag de luier uit en de onderbroek aan. En zo leert Milan hoe hij flink op het potje gaat.
Hoe het werkt…
Kas op het potje, Pauline Oud
Kas heeft een potje. Maar er komt geen pipi. Geen zorgen, zegt mama, terwijl ze babyzusje een luier aantrekt, dat komt wel. Kas gaat weer spelen. O jee, Kas voelt nattigheid. Hij heeft pipi gedaan op de grond. Mama geeft hem een propere onderbroek. Volgende keer iets sneller. En ja hoor, daar is een plas. Snel loopt Kas naar het potje. Oef, net op tijd!
Met een potjesposter en beloningsstickers
Hoogdringend, Guido Van Genechten
Ai! Hond moet heel dringend! Maar kleine zus zit al op zijn potje. Want Muis zit op haar potje. En Kikker zit op het potje van Muis en Zebra zit … Een hilarisch verhaal over Hond die van het ene potje naar het andere holt… EN dan maar op de grote WC eindigt.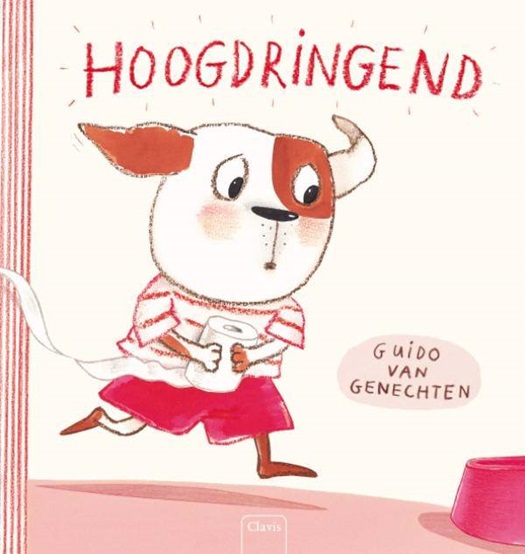 Voor de overstap naar de grote WC
Op de grote WC, Kathleen Amant
Shh, niets verklappen, Anna wil vandaag niet op het potje. Stiekem sluipt ze naar de grote wc. Want daar gaan ook mama, papa en grote broer op. Hond Mimi niet, die moet in de tuin. Anna kan het al helemaal zelf, op die grote WC gaan.
De echte WC, met flapjes
Naar de echte WC, Anita Bijserbosch
Konijn neemt haar potje overal mee naartoe. Maar op een dag kan ze haar potje niet meer vinden. Ze gaat aankloppen bij giraf, tijger en koe, maar die zitten allemaal op de WC. Voor peuters die per se altijd de WC deur willen open doen als mama of papa even rustig een plasje doen.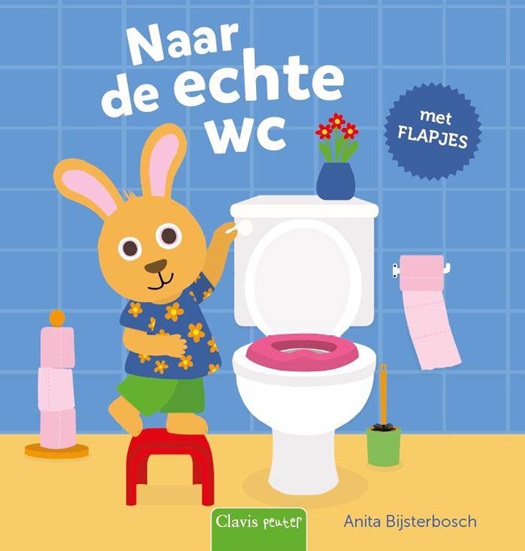 En voor de sfeer…
Potjesmuziek, Guido Van Genechten
Klaar voor ons potjesconcert? Een prachtig geluidenboek vol muzikaliteit en deuntjes die aanzetten tot grote en kleine boodschappen op het potje. Wie goed luistert, hoort de protjes, scheetjes en straaltjes in de muziek. Opgelet, niet voor gevoelige zielen met kleine blazen!
Voor meer inspiratie bij mijlpalen voor peuters, kan je steeds inspiratie opdoen op de website van Clavis. Veel succes met de potjestraining!