Coöperatief uitgeven? Huh?
Op 6 mei presenteert Hilde De Smedt haar verhalenbundel, Dagen zonder woorden, in boekhandel De Groene Waterman. In deze gastpost vertelt ze over haar pad naar publicatie, literair debuteren en schrijven als een vorm van 'zoekend spreken'.
(Vooraf – Barbara): Timing is alles. In dezelfde week dat het persbericht over de debuutbundel van Hilde De Smedt (uitgegeven bij de 'coöperatieve uitgeverij' Fluxenberg) in mijn mailbox valt, lees ik op LinkedIn een interessante post van Liesbet Depauw, jarenlang redacteur bij Houtekiet. Liesbet legt uit waarom uitgeverijen ongevraagde manuscripten doorgaans afwijzen met een standaardmail: (1) ze zijn bang om debutanten uit te geven – want dat brengt niets op en (2) persoonlijke feedback doet vaak meer kwaad dan goed. Je wil mensen geen valse hoop geven…
Een ontnuchterend bericht uit de coulissen van de uitgeefwereld, dat schril afsteekt bij het vrolijke nieuws over 'Dagen zonder woorden', een verhalenbundel en (jawel) een debuut. Tijd om twee vragen voor te leggen aan Hilde De Smedt.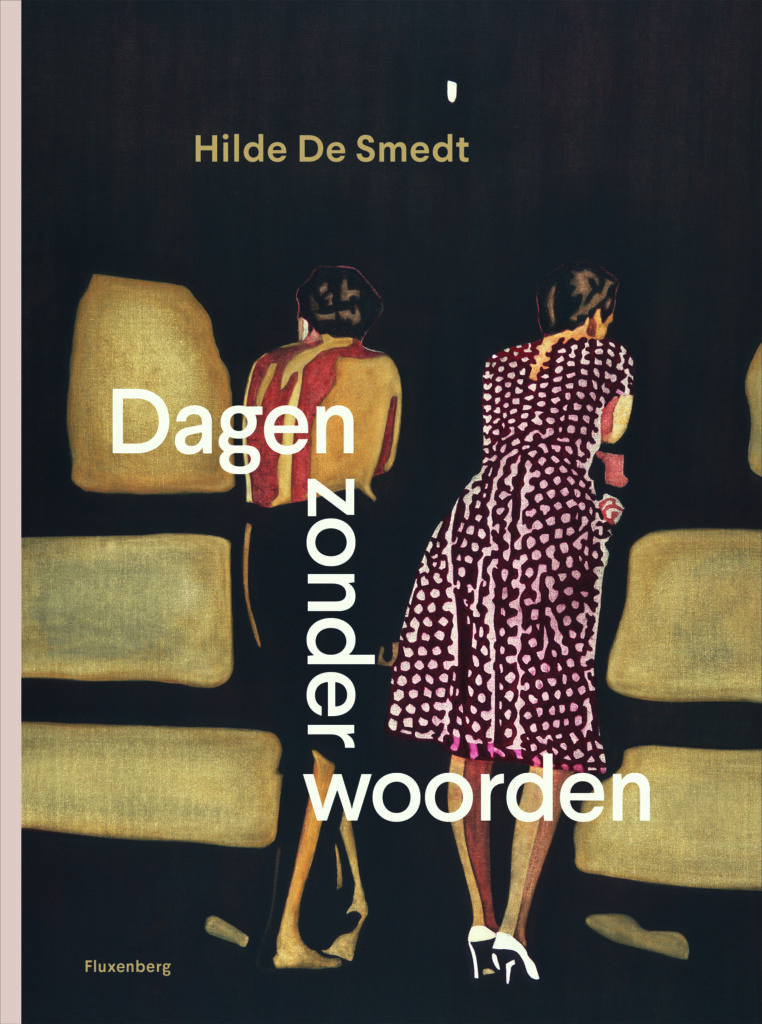 Heb jij die angst voor debutanten bij de klassieke uitgeverijen gevoeld?
Hilde De Smedt: "Ik herken het wel. Ik begon rond mijn dertigste met schrijven. Drie jaar na elkaar (in '95, '96 en '97) nam het tijdschrift De Brakke Hond een kort verhaal van mij op. Dat moedigde me aan om verder te gaan maar opende geen deuren. Misschien had ik wat meer branie moeten hebben om dit als troef in te zetten? Ik stuurde nu en dan wel een selectie verhalen naar uitgeverijen maar kreeg geen of een afwijzend antwoord. Dat heeft me niet doen stoppen met schrijven maar
op een bepaald ogenblik ging mijn pen er toch wat van trillen, van altijd weer dat deksel op de neus. Ik zocht toen naar alternatieve manieren om met mijn verhalen aan de slag te gaan:
Ik hield voorleesavonden en combineerde mijn verhalen met de poëzie van een vriendin en een streepje muziek. Samen met (amateur) schilders werden alle kamers van mijn huis 'beleefruimtes' en mijn verhalen verstopten zich in kijkdozen, mooie zinnen stonden op de muren of op het servies. En ik maakte een monoloog waarmee (amateur)dansers aan de slag gingen. Al die kleine projecten waren voor mij belangrijk. Ik bereikte lezers en toehoorders en hun reacties waren mijn stimulans om te blijven schrijven. De stap naar een eerste verhalenbundel bleef groot, misschien vooral omdat ik zelf moest leren geloven dat ik het zou kunnen."
Je verhalenbundel verschijnt nu bij de coöperatieve uitgeverij Fluxenberg. Wat moet ik me daarbij voorstellen?
Hilde: "Ik geef de bundel uit in eigen beheer maar met de steun van de kleine uitgeverij Fluxenberg. Die steun omvat het hele proces om tot uitgave te komen: finale reading, formele zaken, toeleiding naar de vormgever. Fluxenberg werkt samen met EPO en helpt zo ook bij de verspreiding. Coöperatief uitgeven betekent wel dat ik alle kosten zelf draag en ook zelf kopers/lezers probeer te bereiken. Dus ik ga opnieuw op zoek naar mogelijkheden om voor te lezen en dit keer ook wel naar plaatsen om over het schrijven zelf te vertellen." (Interesse? Contacteer Hilde via dagenzonderwoorden@gmail.com)
Een schrijver die enthousiast met eigen werk de wereld intrekt? Wij maken er graag plaats voor op This Is How We Read! Hieronder vertelt Hilde nog wat meer over haar verhalen en schrijfproces. En ze deelt gul fragmenten. Veel leesplezier.
Hilde De Smedt: Recent verscheen mijn eerste verhalenbundel: 'Dagen zonder woorden'. Zo'n publicatie is voor mij een nieuwe ervaring. Anderen stellen me nu vragen over een rode draad, over wat ze als 'mijn stijl' aanvoelen of over de titel. Zo ga ik zelf meer nadenken over het schrijven.
De titel 'Dagen zonder woorden'
'Haar ogen volgen het kind wanneer het tot bij de arbeiders gaat. (…) Ze weet dat het kind, net zoals zij, met hen over de schepen praat. Ze is bang dat de arbeiders de liefde van het kind voor schepen en verre reizen nog groter zal maken. Soms bekijkt ze de arbeiders met ogen alsof ze vreest dat ze, elk ogenblik, het kind van haar vandaan zullen halen. Dat het kind met hen zal meegaan en dat ze het niet zal kunnen weerhouden omdat ze het kind niets kan weigeren.'
Fragment uit 'Gematigd en zangerig'.
Het eerste verhaal 'Gematigd en zangerig' is het meest verbonden met de titel. Daarin is de liefde voor het kind zo groot dat de moeder op sommige dagen zonder woorden blijft. Maar als er stille dagen zijn, worden woorden misschien wel weer meer naar waarde geschat en worden ze op andere momenten en in de andere verhalen juist erg belangrijk.
'Nu de broer eenmaal heeft gedurfd het woord in gedachten te laten terugkeren, kan hij zich ook de klank van haar stem herinneren: haar lage stem maar vooral ook de lichtheid waarmee ze het zei, alsof het een alledaags woord was dat ze al zo vaak had uitgesproken en dat ze zich plots herinnerde. Zoals een kind dat houdt van toverspreuken en liedjes in een onbestaande taal die het zingt uit louter plezier. Hij vormt het woord nu ook met zijn tong en lippen. Hij maakt geen geluid: 'Miradormiclos.' Het woord dat al zijn begeerte heeft opgewekt.'
Dit is een stukje uit het verhaal 'Miradormiclos' en daarin scheppen broer en zus een nieuw woord om hun relatie uit te drukken.
'Schrijf ik autobiografisch?' vragen lezers me wel eens.
Heb ik het leven heb geleid van de personages in mijn verhalen? Nee, ik ben geen relatie begonnen onder een donsdeken in een hotel maar ik heb wel alleen gereisd en ik heb in de ontbijtzaal naar de mensen gekeken. Ik ben niet verliefd op mijn broer maar ken wel het gevoel overmand te worden door liefde zonder me af te vragen in welk plaatje die liefde past.
Ik duik op en verberg me. Dit is een leuk aspect van het schrijven maar niet het belangrijkste om een goed verhaal te schrijven.
Schrijven is zoekend spreken
'Je schrijft over datgene waarmee je worstelt' stelt filosofe Martha Claeys en dat herken ik. Praten gaat vaak snel, woord en wederwoord. Ikzelf durf vaak niet te aarzelen, te zoeken naar het juiste woord, ik durf geen woorden van tafel te vegen of opnieuw te proberen. En in mijn verhalen mag ik dat wel, zoekend spreken. Dialogen bepalen dan ook sterk de sfeer in de verhalen.
– Ik weet wanneer ik u het best gamba's serveer of de warme mozzarellabroodjes. Soms ken je het verlangen.
– Eten en drinken? Bij het kind is dit net zo.
– Soms heeft verlangen taal nodig, het schreeuwt om woorden.
– Het schreeuwt om woorden en wist ze uit.
– Behalve wanneer het wordt gezongen.
– In een taal die je niet begrijpt.
Uit 'Gematigd en zangerig'.
Het beeld van de cover en het decors van de verhalen
De cover van een boek wil de lezer verleiden om het boek vast te nemen. Mijn cover is een werk van Bruno Vekemans. Hij trok naar Congo en Cuba en keerde terug met foto's om in zijn atelier te schilderen. Ik merk dat ook mijn verhalen vaak groeien vanuit een plek die ik heb gezien.
Toen ik door de tuin Giardino Giusti in Verona wandelde, wist ik meteen dat zich hier een verhaal zou afspelen. Het verhaal gaat ook over een grot in die tuin maar ik twijfel: was er echt een grot of heb ik die verzonnen?
'De Giardino Giusti is een mooie werkplek. Het Palazzo van de familie Giusti is één van de enige oude gebouwen in een rustige straat. Een poort geeft toegang tot een gaanderij met links aan het uiteinde de kleine conciërgewoning van Toni en rechts mijn lokaal met brede toegangsdeur. Daar verkoop ik al twintig jaar toegangstickets voor de tuin en voorzie de toeristen van een plattegrond. Niet dat je verloren zou lopen maar toeristen hebben nu eenmaal graag het gevoel dat ze ook deze kleine expeditie onder controle hebben en geen hoogtepunt zullen missen.'
Uit 'Giardino Giusti'.
Voor sommige verhalen bouw ik zelf een decor. Ik denk aan een verhaal dat ik recent schreef. Centraal staat een gebouw en daar heb ik in mijn hoofd weken aan gebouwd: de vorm, de kamers, de trappen, het uitzicht. En dan vloeide het verhaal daaruit voort.
Tenslotte, debuteren betekent ook spannend uitkijken naar een eerste recensie. Die kwam van Jooris van Hulle (Mappalibri) en zo sluit hij zijn bespreking af:
''Met een doordachte afwisseling van verhalen en summiere impressies ontwerpt Hilde De Smedt in haar debuut, Dagen zonder woorden, een taallandschap dat haar positie als schrijver moet afbakenen. Woorden zijn er voor haar niet in de eerste plaats als betekenisdrager, maar als ruimtescheppend element waarbij de suggestie voorop komt te staan.'
Meer over mijn schrijven:
Fluxenberg.be
Instagram: dagenzonderwoorden