Column op woensdag: #zomer
Tijdens de zomervakantie presenteert This Is How We Read elke woensdag één van de genomineerden van onze columnwedstrijd. Eind augustus bekronen we de eindwinnaar met vijf boeken en een spectaculaire taart.
Vandaag worstelt Lies Gallez met de zomer in haar hoofd.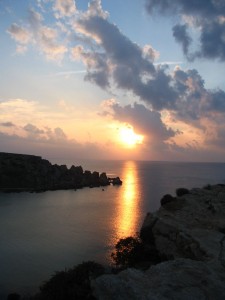 #zomer
De zomer heeft er een gewoonte van gemaakt haar intrede wekenlang aan te kondigen. Het seizoen van zon, zee, strand en ongelukkige zonnebrand, van versnellingen verlagen en het leven vertragen, van palmbomen om bij weg te dromen, van vrouwenbladen die ons onmogelijke diëten voorschrijven en dat zo kunnen verkopen dat we steevast op die goede afloop gaan hopen. Of moet het zijn: wanhopen?
Er waren onder andere richtlijnen over hoe we de perfecte zwemkleding konden kiezen voor onze vormen, of je nu een peer-, appelvormig of een zandloperfiguur hebt. En als dat lichaam er dan nog niet uitzag zoals we wensten, konden we een beroep doen op alle soorten van onelegante buik –en bilspieroefeningen. Rugpijn en consorten hoorden daar bij, maar 'no pain, no gain' verdiende dan steeds een trots of bemoedigend hashtagje. We haalden modewoorden boven, als superfoods, die 100% natuurlijk én gezond zijn. Dat ze ook ongelofelijk veel kosten en stinken naar een rare combinatie van gras en aarde namen we erbij. Het doel heiligt de middelen, lijken we toch minstens één keer per jaar te geloven.
Ondertussen zijn we er klaar voor. Met foute zomerhits, een cocktail in de hand, een barbecue onder een open hemel, een sensuele selfie aan zee worden dagen vanzelfsprekend mooier. En natuurlijk begin ik elke dag ook gewoon voor de spiegel. Tandenpoetsend, haren kammend, gezicht wassend. Niet te lang blijven kijken en elegant ontwijken.
'O, niet veel zon voor mij,' zeg ik elke keer als de dag in volle bloei komt te staan.
Ik doe er een glimlachje bij en zoek de schaduw op van een vergeten boom. Soms valt die schaduw samen met die in mijn hoofd.
Zeven jaar lang heb ik al geen nieuwe bikini meer gekocht. Negen jaar probeer ik die eetstoornisstem te temmen. De ene poging al wat oprechter dan de andere.
Met elke nieuwe zomer kent die stem ook haar nieuw geluid en gaat ze krijsen in plaats van praten, gaat ze opnieuw zoeken naar geslagen hiaten.
Door al dat lichamelijk naakt dat een vreemd soort lichamelijk vergelijken veroorzaakt, door al die collectieve aandacht op dat gezondheidsfront dat bij mij als een wankele kano al snel omslaat naar iets ongezonds, door de angst niets meer te kunnen controleren en dat toch almaar te gaan proberen.
'Kom, kom,' sus ik mezelf, 'wees vandaag eens groot en sterk.' Ik sla de vrouwenbladen dicht, verstop ze onder kranten. Ik trek een bikini van mijn zus aan, verstop dat lichaam onder een te grote handdoek. Ik staar gewichtig voor me uit, de horizon afzoekend naar een nieuwe portie moed om de stem vandaag enkel te laten fluisteren.
Ik denk: laat het lekker zomeren van zwoele avonden met wijn, van gesprekken over de liefde en wat er niet van begrijpen, van fietsen door velden en picknicken langs verlaten wegen.
Ja, ik ben volledig zomers klaargestoomd en gedroomd, zoek de zon opnieuw op en ik denk nog: laat het dan godverdomme ook eens zomeren in je hoofd.
Lies Gallez is een fulltime dromer, een doorwinterde pelgrim en volledig klaar voor die quarterlife crisis die er zit aan te komen. Schrijven doet ze nooit zonder thee, Chopin en een oprechte dosis eerlijkheid. Straks laat ze de wereld even achter om in Ijsland aan haar roman 'Achterhoofdgeluk' te werken.
PS: Ook genomineerd: Biowinkel, Duik, Kampioen, Nasi goreng met chloor, Fietscalvarie en Nusa nog wat