Ongeveer een jaar geleden zag ik op facebook een oproep passeren. Of er nog iemand zin had om zich in te schrijven om verstoppertje te gaan spelen in de Ikea. Euhm… Hell yeah. Zo gezegd, zo gedaan. Een week later sta ik met 20 anderen wat onwennig te trappelen voor de poorten van het woonparadijs. Klokslag 11 uur krijgen we de spelregels te horen van Elise De Rijck, bijna dertiger en initiatiefnemer.
Elise sloeg lichtelijk in paniek bij het zien van de naderende mijlpaal en gooide een bucketlist op de blog 30 voor 30 om een beetje aan het idee te wennen. Verstoppertje spelen in de Ikea staat ook op het lijstje en de blauw-gele managers waren zo vriendelijk om… tja… het spel mee te spelen.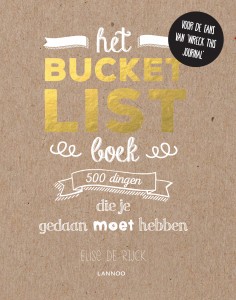 Ondertussen is er Het bucket list boek. Een grappig boek waarin je meer to do's kan aanvinken dan je denkt (ik moet enkel nog in de Noordelijke Ijszee en de Zuidelijke Oceaan gaan zwemmen, de rest is al afgevinkt) en niet al te brave ideetjes kan opdoen (leg een pak XXL maandverband in de winkelkar van een wildvreemde bijvoorbeeld. #DelhaizeWillebroek.)
Elise heeft ook enkele literaire bucket items, wij voelen ons alvast geroepen om een handje te helpen.
141: lees een boek van Shakespeare.
Voor de vlijtigen onder jullie, deze site biedt het complete oeuvre van Shakespeare aan.
152: een gedicht schrijven.
Mag het ook een column zijn Elise? Dan hebben wij de geknipte uitdaging met onze column op woensdag wedstrijd.
280: lees het boek voordat de film uitkomt.
Wij willen De naaister uit Parijs en Terug in Amerika lezen voordat de film er is.
303: korte briefjes achterlaten in bibliotheekboeken voor de lezer na jou.
Hier alvast enkele van de vreemdste, mooiste en meest creepy briefjes die werden gevonden…
352: Laat iemand je een verhaal voorlezen voordat je gaat slapen.
Voorlezen.be hoorde de boodschap luid en duidelijk en organiseert in november een voorleesweek, voor kinderen van 0 tot 99 jaar.
400: een boek kopen en laten signeren door een auteur.
En net nu Ish Ait Hamou door Vlaanderen toert met zijn nieuwe boek Cecile… Check!
Voor de andere 444 items op de bucket list verwijzen we u graag door naar Het bucket list boek. Een vlot bouwen en ermee varen (127) en uit een taart springen op een feest (420) zal u zelf moeten uitvoeren en afstrepen.
Oh, ja, en het ikea-spelletje? Ik breng een uur door in een bak met Busa kruiptunnels (niks met literatuur te maken, maar hey, het is een linklijstje), check ondertussen mijn mails (eens een zelfstandige, altijd een zelfstandige), bezorg twee shoppende papa's en een kleuter van drie een hartinfarct en overleef een oppervlakkige zoekactie van tegenspelers… Na een uur bevrijd ik mijzelf uit de hoop kinderspeelgoed ( resultaat: twee oma's met een kleine hartverlamming) en begeef me naar de verzamelplaats. Ik heb gewonnen en krijg een hot dog. Mijn dag is goed. Nog 444 dagen te gaan…
Het bucket list boek, Elise De Rijck, Lannoo, 2015