Glitteratuur in Brussel: Taschen en De Belgen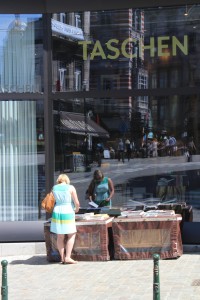 Of we niet overdressed zijn, vragen we ons af als ik de auto laveer op de Wetstraat en we de voorbijgangers zien voorbij sjokken in short en t-shirt.
Maar hé, wij gaan naar Brussel voor een dosis (g)lit(t)ratuur. Eerste halte op deze zonnige zaterdag is de TASCHEN Store aan de Zavel, de foto- en kunstboekenwinkel van de gelijknamige en gerenommeerde uitgeverij. TASCHEN heeft winkels in trendy steden als Miami, New York en Londen en sinds 2008 ook in Brussel. Voor de inrichting deed TASCHEN beroep op Philippe Starck, de huisdesigner van de uitgeverij.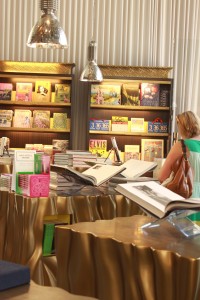 Bij TASCHEN vind je zowel betaalbare boeken, zoals naslagwerken over kunstenaars als gelimiteerde edities waarbij vaak originele foto's of kunstwerken worden geleverd en die duizenden euro's kunnen kosten.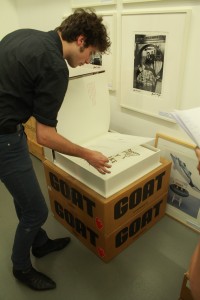 In de kelders van TASCHEN toont medewerker Benjamin ons de exclusieve werken zoals G.O.A.T. A tribute to Muhammad Ali. Dit iconische boek verscheen in 10 000 exemplaren die allemaal werden gehandtekend door Jeff Koons en Muhammad Ali. Een salonboek van 50 cm x 50 cm dat maar liefst 34 kg weegt en minstens 4000 euro kost.
Wie koopt die boeken vraag ik me af.
'Sommigen doen het echt voor de kunst', vertrouwt Benjamin me toe, 'maar voor velen is het een belegging'.
Hij toont me een grafiek die aantoont hoe de prijzen van prestigieuze fotoboeken evolueren in de tijd. In 1999 was het fotoboek SUMO van modefotograaf Helmut Newton 1500 euro waard, ondertussen betaal je er 12500 euro voor.
Gelukkig bestaan er van de limited editions telkens pocket versies waarvoor je ongeveer 50 euro neertelt! Ook als modale burger kan je dus terecht bij TASCHEN. In goed gezelschap bovendien want volgens Benjamin slaan ook kunstenaars als Arne Quinze, Wim Delvoye en Raf Simons hier hun boeken in.
Naast de winkel is er bovendien een kleine expositieruimte waar regelmatig werk uit de TASCHENboeken wordt tentoongesteld.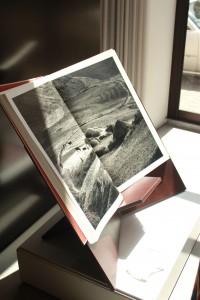 Interesse? Momenteel staan deze twee boeken in de kijker in de winkel:
Genesis van Sebastião Salgado, een Braziliaans fotograaf die zich na enkele omwegen in de oorlogsfotografie toelegt op ecologische en antropologische fotografie.
Full moon van Darren Almond. Hij nam de foto's om middernacht bij volle maan. Dankzij een lange sluitertijd lijken de foto's wel bij daglicht te zijn genomen.
TASCHEN Store Brussels, Rue Lebeaustraat 18, 1000 Brussel
Openingsuren: ma-za van 11 tot 19u, zo van 12 tot 18u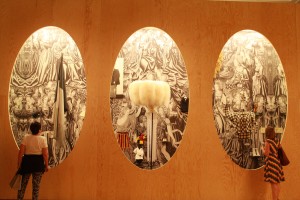 Tweede halte: mode-expo De Belgen in Bozar. Waar is de literaire link hoor ik u al zeggen? Daar zorgde de Belgische schrijver en fotograaf Jean-Philippe Toussaint voor. De meester van bekoring, lust en schijn schreef de literaire bezoekersgids De Seizoenen en fictionaliseerde zo Raf Simons ('die bekend staat om zijn voorliefde voor pauwenstaarten, exotische vissen en iriserende weerschijn'), Martin Margiela ('de onzichtbare man uit de roman van H.G. Wells, die verdwijnt naarmate hij zich van zijn kleren ontdoet') en Walter Van Beirendonck ('een barok en baanbrekend grimeur'). Bozar gaf dan weer ruimte aan Marie de Montalte, de mode-ontwerpster uit Toussaints romans Vluchten, Liefde bedrijven en naakt en bracht zo een fictief personage tot leven. Een boeiende wisselwerking die jammer genoeg een beetje verdwijnt in deze monumentale overzichtstentoonstelling.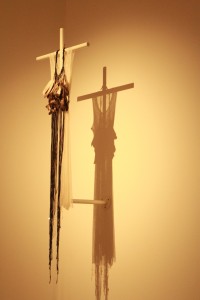 De tentoonstelling geeft een historisch overzicht van Belgische mode van de Antwerpse Zes, over Martin Margiela en Raf Simons tot Jean-Paul Lespagnard en Christian Wijnants. Ze staat stil bij het belang van de Belgische modescholen en bij de biografische link tussen de ontwerpers en hun collectie. Ze toont hoe de Belgen hun underdog-imago van zich hebben afgeschud in de internationale modewereld en geeft voorbeelden van de uitwisseling tussen de Belgische mode en andere kunstdisciplines. Naast iconische kledingstukken zijn ook vijf kijkdozen die je onderdompelen in het universum van een ontwerper tentoongesteld.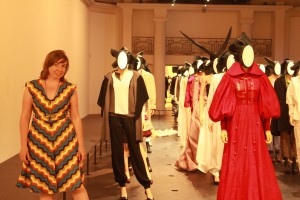 Helemaal aan het einde kom je terecht in de tentoonstellingsruimte de The Honey Dress (één van de ontwerpen van Marie de Montalte) waar Toussaints nieuwe kortfilm wordt geprojecteerd. In deze scène zie je een model met The Honey Dress (letterlijk ingesmeerd met honing) vallen op de catwalk:
'Door die minieme aarzeling ging alles mis, stortte alles in, de betovering werd verbroken en ze wankelde op de catwalk, stortte ineen op de grond, meteen voelde ze de luide adem van de bijen in haar hals, en toen, op hetzelfde ogenblik, vielen de bijen aan, staken haar overal, in haar rug, op haar schouders, op haar borsten, in har nek, in haar ogen, in haar geslacht binnen in haar geslacht…'
Een zinnelijke en beklijvende scène die het einde van de tentoonstelling extra karakter geeft. Of zijn het de drie enorme naaktfoto's van de 68-jarige Vivienne Westwood die op het netvlies van de bezoeker zullen blijven hangen net voor het buitengaan?
De Belgen. Een onverwacht modeverhaal.
BOZAR, Paleis voor Schone Kunsten, Ravensteinstraat 23, 1000 Brussel
5 juni – 13 september