Normaal sturen we jullie het weekend in met een portie literaire links. Omdat het afgelopen vrijdag 1 mei was, draai ik de zaken om. Een fijne aftrap van de week gewenst met deze hapklare boekenweetjes: 
Nog tot 10 mei te winnen op onze Facebookpagina: Sandro Veronesi's Zeldzame Aarden – een stoofpotje van morele dilemma's volgens Katrien.
Ook tot 10 mei, maar dan in Gent: de tentoonstelling In My Head over (jeugd)boekenillustrator Carll Cneut, goedgekeurd door 'n collega booklover. Ik ben gek op de tekeningen die Cneut maakte bij De Blauwe Vogel van Maurice Maeterlinck (De Eenhoorn).
Vandaag is het de eerste maandag van de maand, dus tijd voor de verkiezing van de allermooiste boekomslag.
Nog mooier: deze moderne Engelse bard valt uitsluitend op lezende meisjes.
Storm van reacties op pleidooi van schrijver om romans in vertaling te lezen. Juist fijn toch dat er auteurs zijn met meer vertrouwen in vertalers dan 'onze' Ljoedmila – Ik heb oren als schoteltjes en ben gevoelig voor volstrekt unieke uitdrukkingen, de meeste vertalers niet –  Petroesjevskaja?
'Ooit was ik in Berlijn. Ik herinner me er niks meer van…' – en dan volgt alsnog een leuke tekstflard.
Volgende week zitten de boekenmeisjes op maandag in Amsterdam. Yup, we gaan één van onze wilde plannen uitvoeren: het crashen van een prestigieuze literatuurprijs. Libris, here we come!
Ah, Amsterdam. Je kunt er boeken kopen, die je hier ook op Internet vindt… Maar naar een hip hotel als The Exchange is het in de regio groot-Keerbergen toch net iets langer zoeken. Ik kijk al uit naar onze overnachting!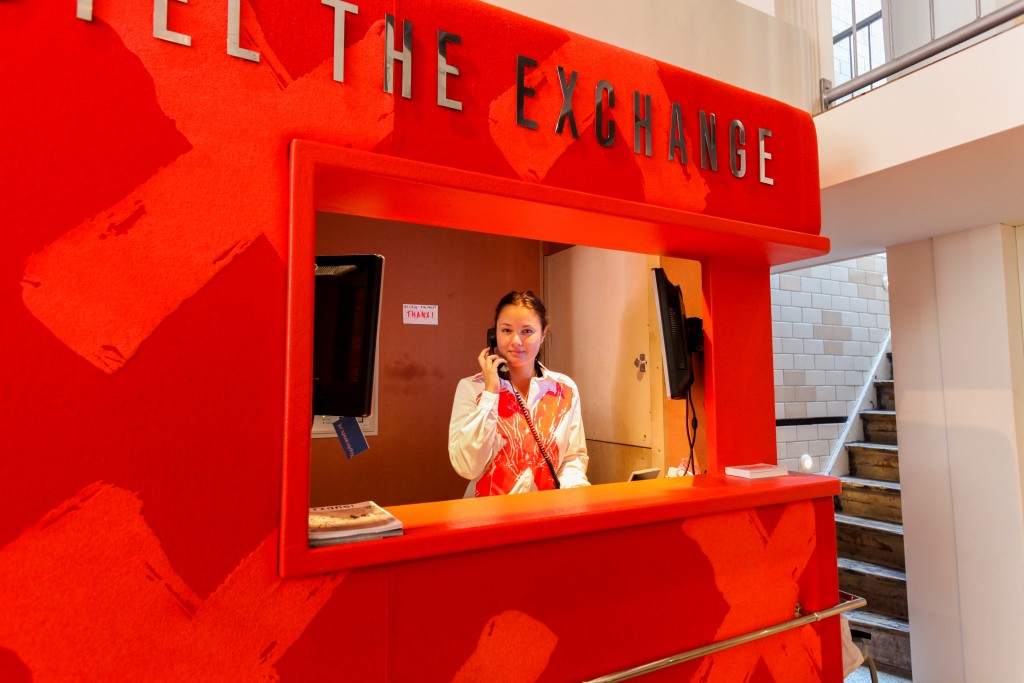 Ook op het programma van de Amsterdam-trip: lunch in het Café Americain, waar een tafeltje aan het raam de naam van Harry Mulisch draagt, omdat hij er in de jaren 1950 als beginnende schrijver vaak zat. We beloven een selfie te tweeten vanaf die plek, met een knipoog naar de Literaire Toerist.
I come from Des Moines, someone had to & in juni verschijnt bij Atlas (opnieuw) 'Een kleine geschiedenis van bijna alles'  van Bill Bryson. Wij tellen af…
Een fijne week gewenst iedereen en meer informatie over ons literaire pretreisje naar Amsterdam volgt!
PS: Photo credit hotellobby van The Exchange – Inga Powilleit