Veel mensen zien Brugge als een historische en romantische stad. Dat klopt, maar het is ook een unieke bestemming voor 24 uur me-time en eigentijds genieten. Hotel Sablon is daarbij de ideale uitvalsbasis. Onder het motto: als de Franse dichter Paul Verlaine hier logeerde, proberen wij het ook graag.
Eind juni mag ik auteur Sofie Leyts interviewen in Brugge. Onze gezinsvakantie is nog niet meteen in zicht en ik kan een boost gebruiken om de drukke maand juli (veel deadlinestress, veel dochters thuis…) te overbruggen. Ik plak dus een hotelnacht aan de avondklus. Een mini-citytrip en 24u met mezelf. Heerlijk!
Dinsdag, 14u – Locatie, locatie, terrasjes
Lach me maar uit, maar bij het woord 'Sablon' denk ik spontaan aan de Brusselse Zavel. Terwijl ik mijn auto parkeer in de Brugse parking 't Zand begint het me te dagen. In Brugge is 'Sablon' natuurlijk een knipoog naar de hoge zandrug, waarrond de stad zich in de 3e eeuw (toen de zee tot aan het noorden van Brugge kwam) ontwikkelde.
Hotel Sablon ligt op 5 minuten wandelen van het stadsplein vol terrasjes 't Zand. En op 5 minuten van de Grote Markt met terrasjes en het Belfort. En op 5 minuten van de O.L.V.-kerk met de Bourgondische praalgraven en in de buurt enkele … terrasjes.
Ik ben nog maar net in de stad en ik voel de stress al van me afglijden. Ik ben klaar voor een middag slenteren, vertragen en mensen of kunst kijken. Maar eerst even inchecken.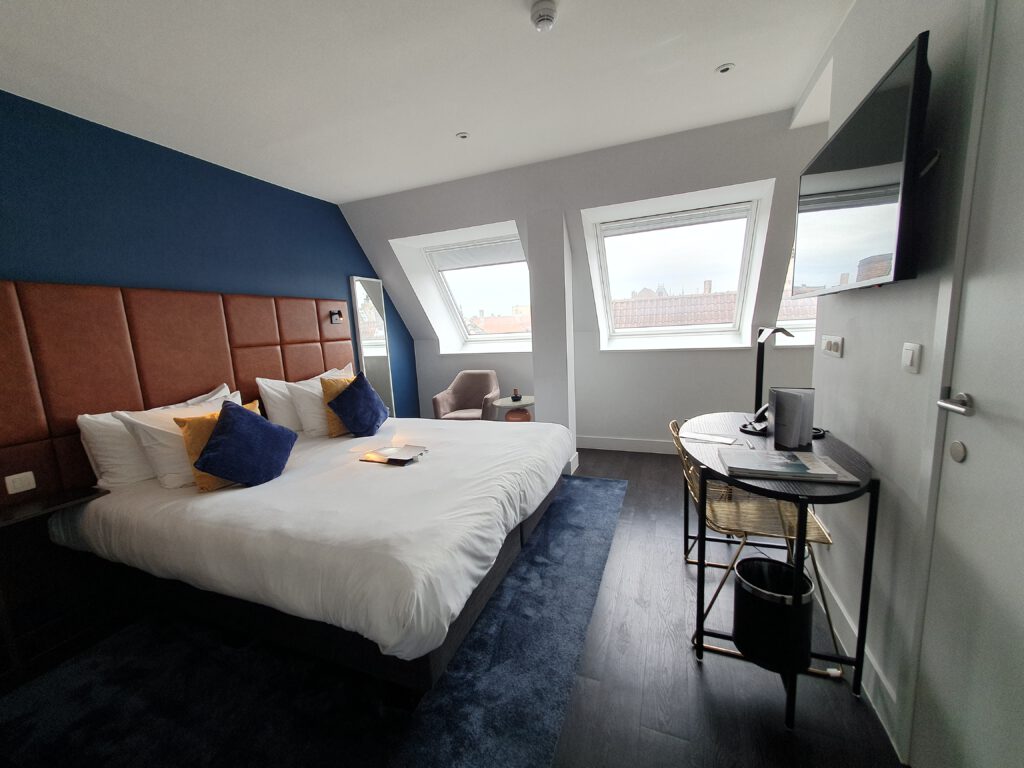 Dinsdag, 14u10 – Van 1589 tot 2019
Ik lig op een zalig zacht bed met gele en blauwe kussens en een bruin, lederen hoofdeinde. Ik heb uitzicht op zowel het Belfort (buiten) als een opengewerkte badkamer (binnen) met – zo zal 's avonds blijken – het mooist verlichte wastafelmeubel ooit. Nee, ik zou nooit denken dat ik me in een hotel bevind met meer dan 430 jaar geschiedenis. Daarvoor is de speelse, gekleurde tafel van Noorse makelij, de geometrische bureaustoel in goudmetaal en de marmeren inloopdouche nét te hip.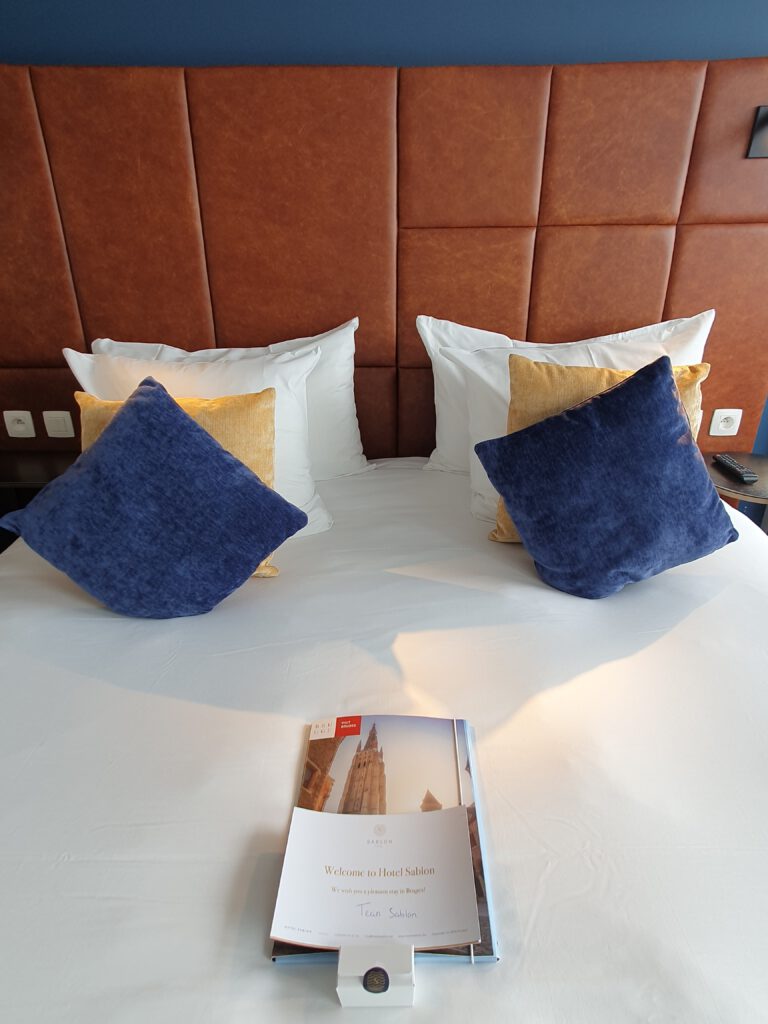 Maar looks can be misleading, dat is bekend. Christophe Vanswieten kocht Hotel Sablon in 2019 en toverde het om tot een trendy boetiekhotel. Toch gaat de geschiedenis van de plek wel degelijk terug tot 1589.
Toen stond hier een eenvoudige herberg, 't Schomijnckele. Dat werd een groter hotel met binnenkoer in 1789, Hotel du Singe d'Or. En na het opkopen van aanpalende panden, in 1882, het Grand Hotel du Sablon. Deze 19e eeuwse parel was het trefpunt van de literaire kring 'Excelsior', die op één van hun bijeenkomsten de Franse dichter Paul Verlaine uitnodigde. Hij logeerde hier in de nacht van 8 op 9 maart 1893. Geen betere plek dan Hotel Sablon om me voor te bereiden op een literair interview, toch?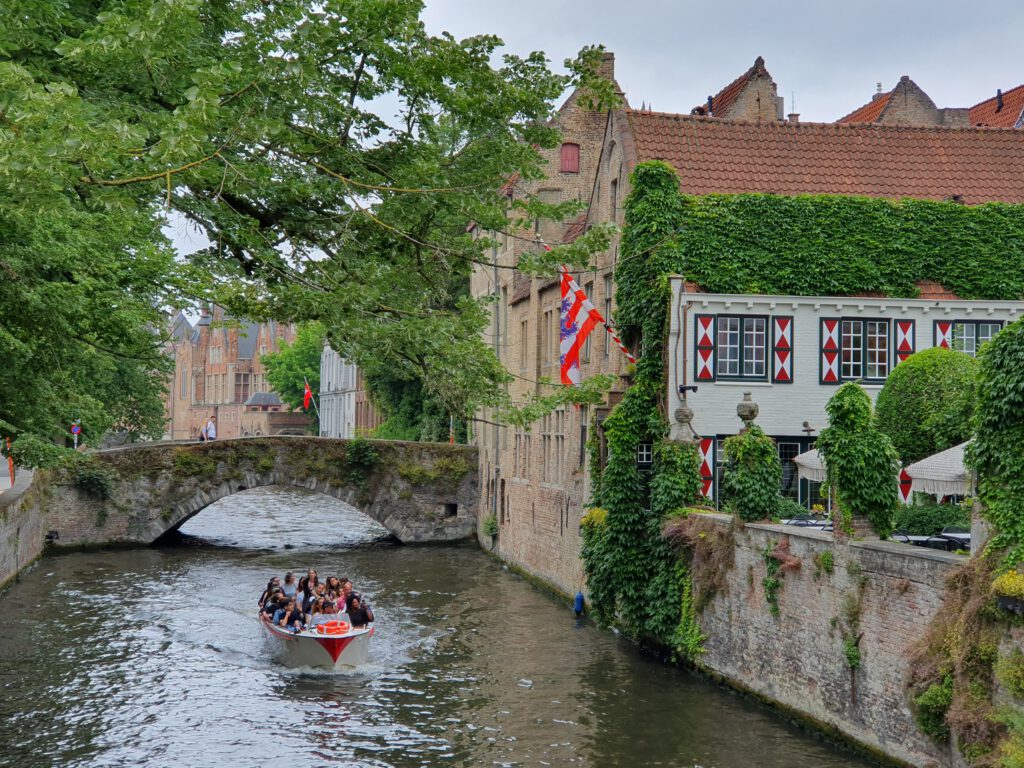 Dinsdag, 16u30 – van Art Déco tot Delvaux
Bij wijze van namiddagactiviteit gooi ik me tussen de toeristen (aanwezig in minstens 7 verschillende talen, maar niet zo overdreven talrijk als vaak wordt beweerd). Ik verken Brugge aan de hand van de leuke gids met 4 wandelroutes van Visit Bruges. Ik maak er probleemloos mijn eigen mix van. Dat is het leuke aan deze overzichtelijke, autoluwe stad: je kunt er eindeloos in verdwalen zonder ooit te verdwalen. Paradoxaal geniaal.
Tussen de UNESCO-bezienswaardigheden en (ik val in herhaling) de terrasjes op groene pleinen, spot ik leuke concept stores, antiekwinkels, kunstgalerijen en boetieks van alle Belgische topmerken (van Essentiel tot Delvaux).
In de Noordzandstraat, om de hoek van het hotel, spring ik binnen bij Scotch & Soda. De voorgevel van de winkel en de imposante Art Déco koepel hoorden ooit bij Grand Hotel du Sablon. Het huidige, hippe hotel is net iets kleiner dan z'n statige, 19e eeuwse oma.
Dinsdag, 19u – even opfrissen 'thuis'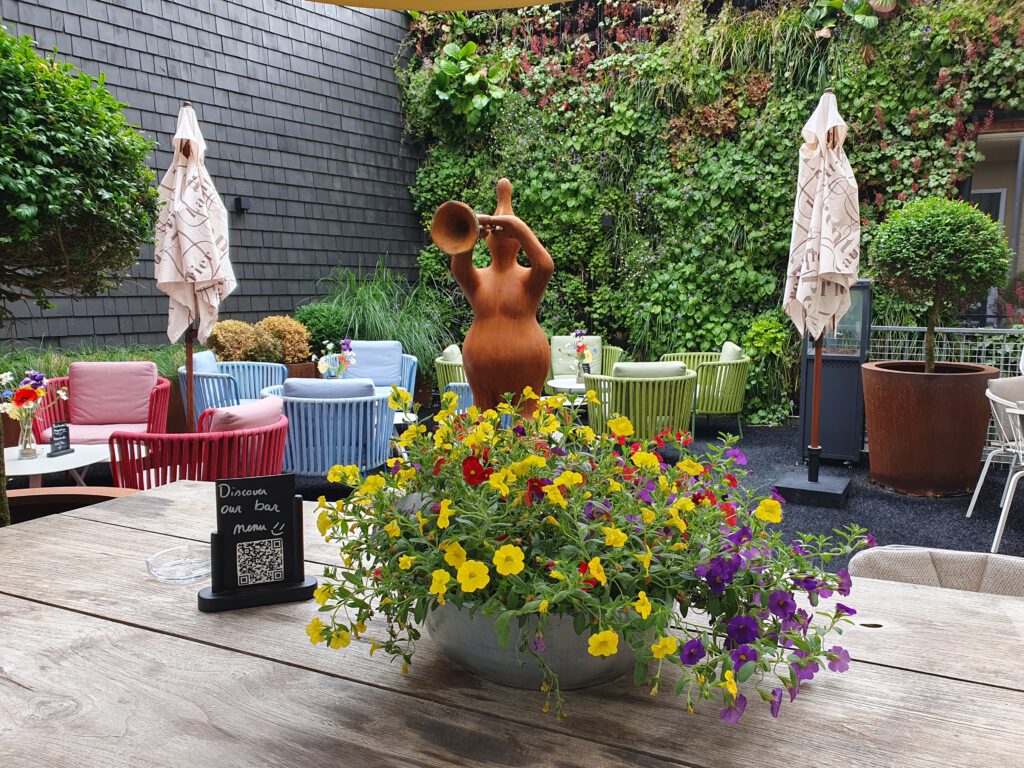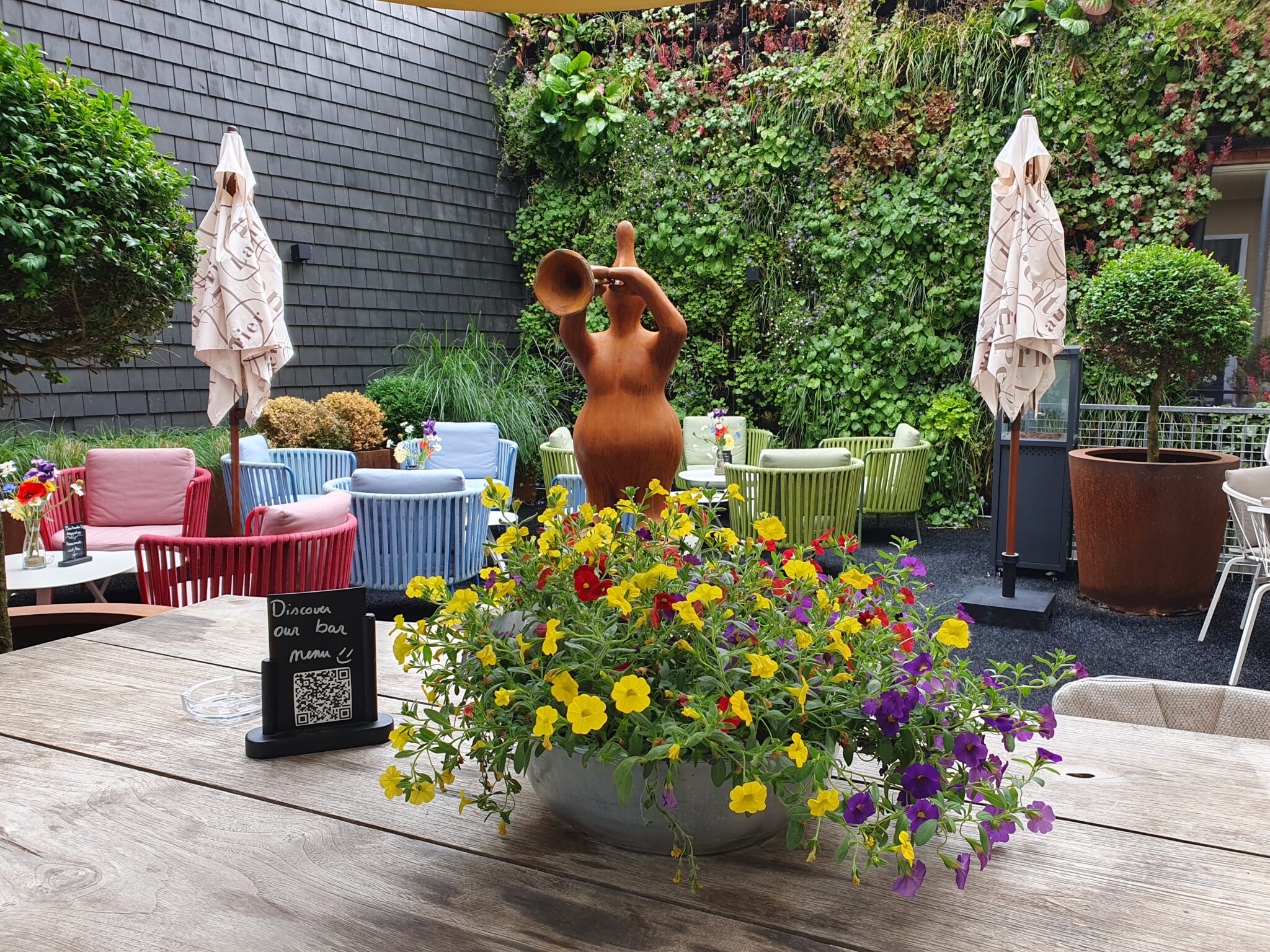 Tijd om me even op te frissen in het hotel. Grappig, als ik de fleurige binnenplaats opwandel – met het terras van hotelbar 'The Living Room' rond een centraal, rondbuikig beeld van een magiër met trompet – voel ik me spontaan 'thuis'. Mooie omgevingen met humor en smaak hebben dat effect.
Fantastisch zijn ook de beelden van de Spaanse Gerard Mas in de traphal: mooie, jonge meisjes die zo lijken weggelopen uit een schilderij van de Vlaamse Primitieven. Ware het niet dat de meid met het krulhaar roze bubbelgum blaast.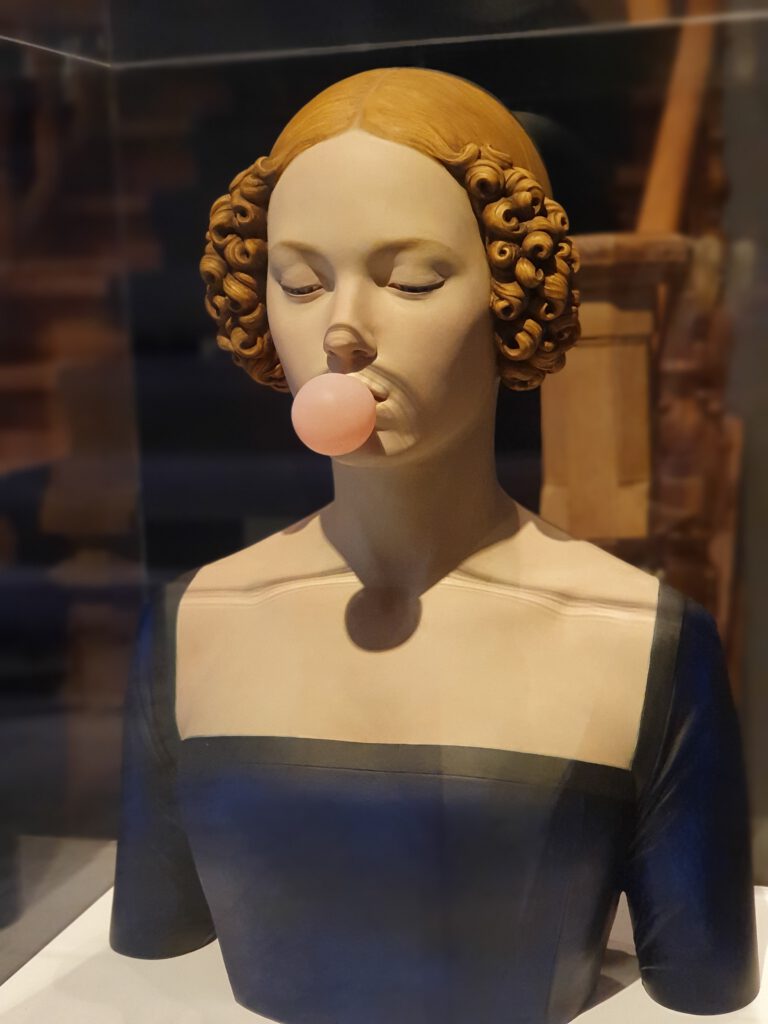 Woensdag, 8u – ontbijt is alles
Op woensdagochtend zit de job erop.
Na een nacht prinsheerlijk slapen, is het moment suprême van elk hotelbezoek daar. Het ontbijtbuffet! Liefde gaat door de maag. Vooral 's morgens. Vooral op locatie.
Ik wierp gisteren al een blik in de ontbijtzaal en het interieur – hoge, roze ontbijtkrukken en een gemarmerde vloer, met een blikvangerwand van blauwe tegels en weelderige bloemen – deed het beste vermoeden. Het buffet kan mijn torenhoge verwachtingen aan.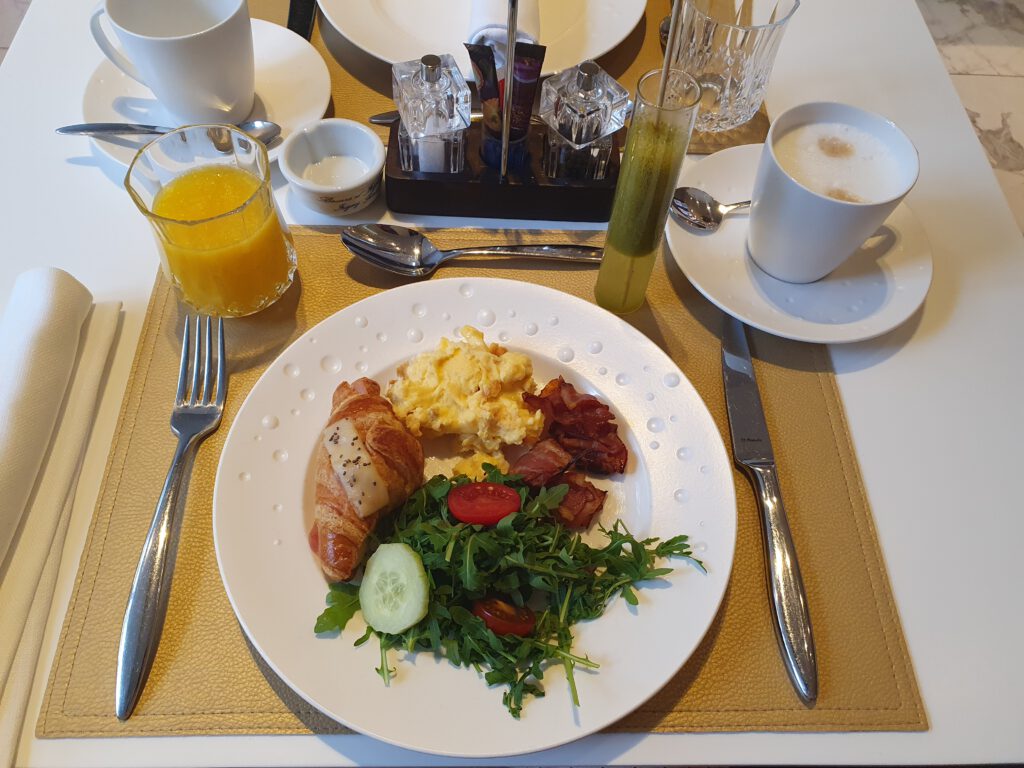 Er staat een fles Laurent Perrier voor de liefhebbers, maar ik vul mijn 'morning fuel' (koffie, koffie, koffie) aan met een green smoothie (met banaan, mango, citroengras en… boerenkool, jawel). Hartig en zoet, gezond en zondig – na twee borden ontbijt (want: you only have 365 breakfasts a year) kan ik de wereld aan.
Woensdag, 12u – Brugge, die Scone
Oh lap, ik heb mij laten rollen. Mijn 24u me-time zijn er eigenlijk maar 22! Na een voormiddag strollen (NIET scrollen) langs kaarsenmakers, paardenkoetsen, Mariabeeldjes, pronkgevels, veilinghuizen, toeristenbootjes, standbeelden, ijskramen, de Madonna met kind van Michelangelo, biechtstoelen, heiligenbeelden, kleine kanaaltjes en to-die-for herenhuizen… zit mijn tijd in Brugge erop.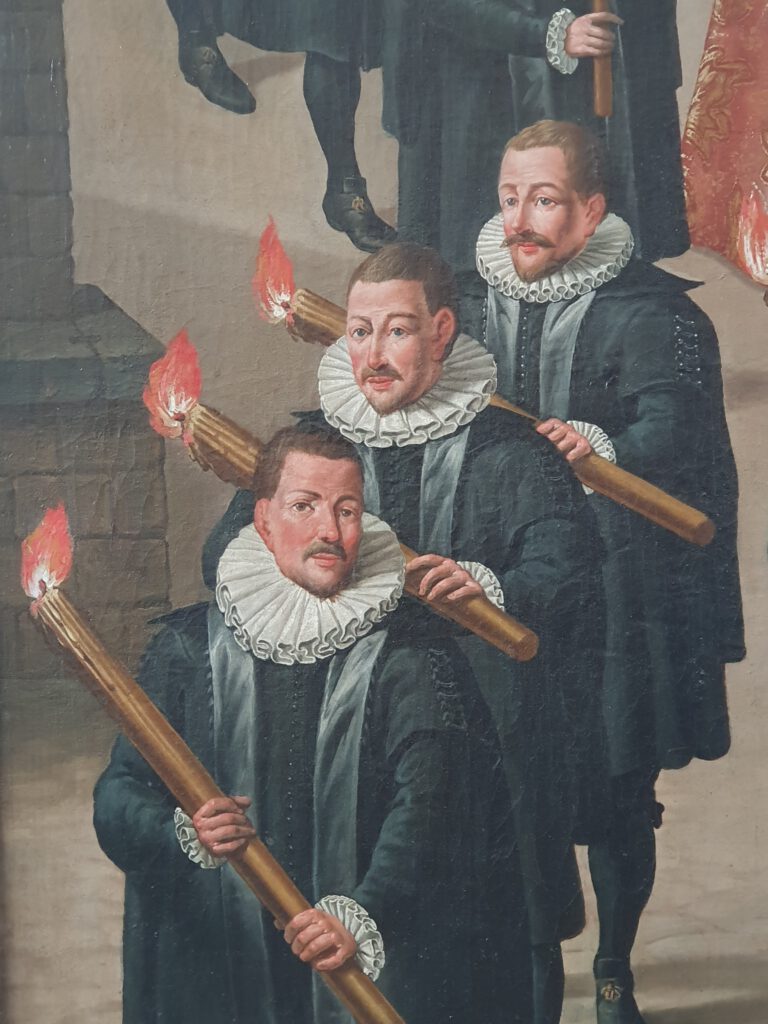 Ik ga naar huis met een opgeladen batterij. En het vaste voornemen om nog eens terug te keren naar Sablon.
PS: Slapen als Victor Hugo in Kortrijk en een groot interview met Brugse schrijfster Lara Taveirne.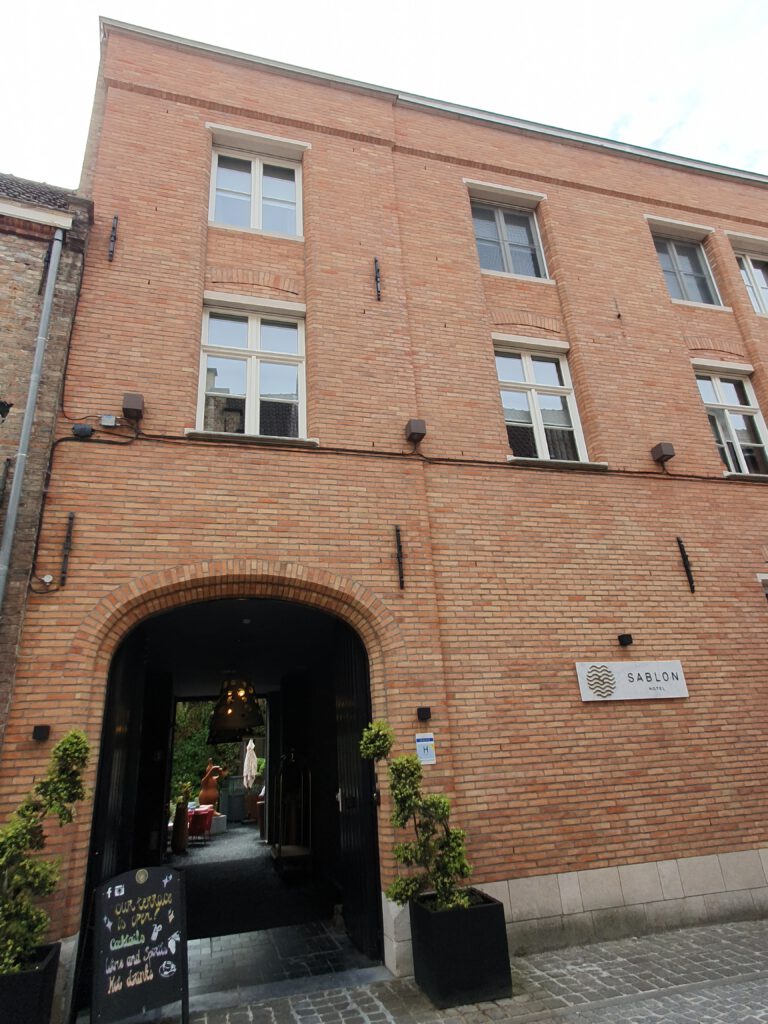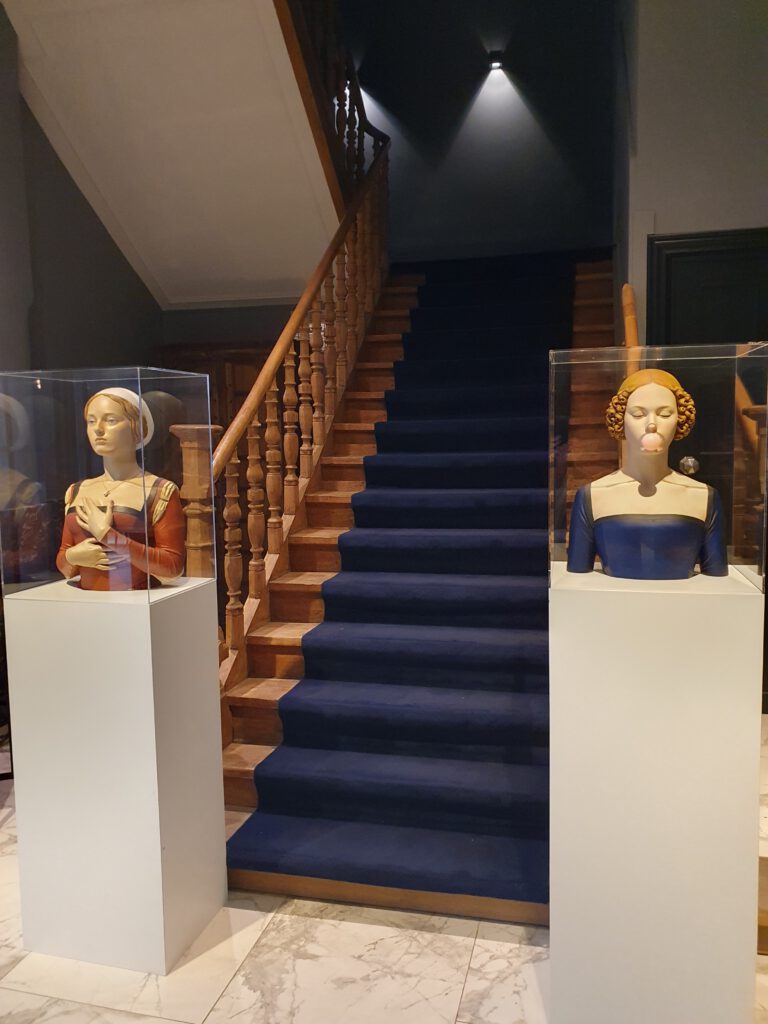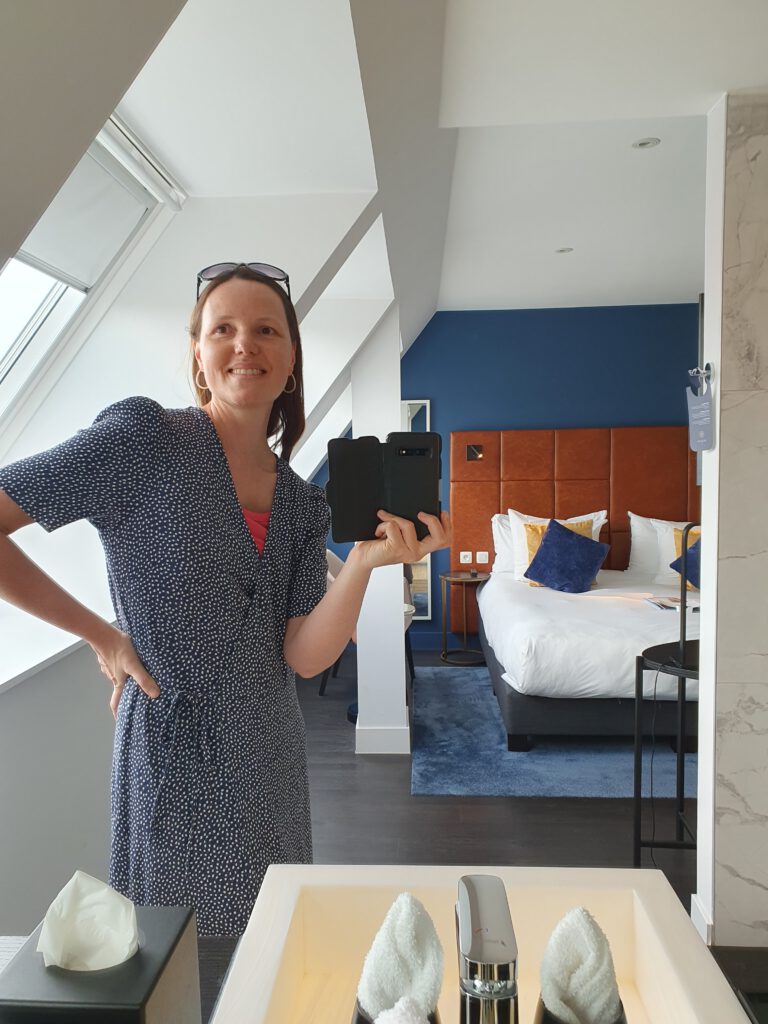 PPS: Hotel reviews schrijven? Kunnen we! Aan die selfie skills kan misschien nog wat worden gewerkt…