Geen maand zo hongerig naar krachtvoer als juni. Studenten slepen zich door hittegolf na hittegolf door de examens, pubers verbouwen de avond voor hun eerste openluchtfuif de badkamer bij het ontdekken van een portie acné alsof ze net een wespennest als bivakmuts hebben gebruikt en de jongere garde maakt zich op om twee maanden lang te spelen alsof er zware boetes staan op vijf minuten in stilte bezig zijn. Dat alles kost energie. Veel energie. Om nog maar te zwijgen over hun ouders die dit alles pedagogisch verantwoord in goede banen mogen leiden.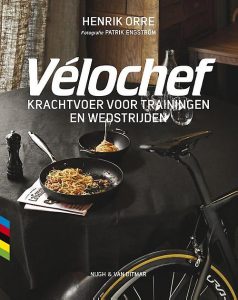 Vandaar dat we -lekker tegendraads als we zijn- de kookboeken die calorieën tellen even in de la met bikini's gooien en je een menu met aangepaste smoothies serveren uit de krachtvoerbijbel Vélochef van Henrik Orre, de chef-kok van de geheel uit supervedettes samengestelde wielerploeg Team Sky. Juist, want de Ronde van Frankrijk rij je niet op een portie radijzen, of ze moesten gegarneerd zijn met een pan risotto. Geef toe, met voer dat Chris Froome over Alpe D'Huez jaagt als was het een verhoogd kruispunt, daarmee krijg je vast ook die cursus Operational Amplifiers geblokt of kan je een week non-stop trampoline springen.
Neen. Wielervoedsel is geen spaghetti met bruine suiker. Noch de sperziebonen die dag na dag op het menu stonden in de gloriedagen van Lucien Van Impe. Voor hij bij Team Sky aan de slag ging was de Noor Henrik Orre chef-kok bij restaurants in Stockholm die ferm met Michelinsterren bedeeld werden. Hij kan als geen ander een sloot koolhydraten en eiwitten voorzien van een heerlijk smaakje. En bovendien: hij houdt het Scandinavisch simpel. Hij gebruikt niet veel andere kruiden dan peper en zout, en voor de meeste gerechten heb je geen ellenlange lijst ingrediënten nodig die nadien toch in je keukenkast staan te verpieteren.
Orre deelt het boek op in gerechten voor vóór, tijdens en na het fietsen. Klinkt logisch. Tussendoor vertelt hij over zijn ervaringen bij het Team Sky en maakt hij me jaloers met bezoek aan Passoni, die fietsen uit puur titanium maakt. Ook kopstukken uit Team Sky passeren de revue, maar wat vooral blikken vangt zijn de vele stills uit het hectische bestaan van het team die de tachtig recepten opleuken. Vélochef is bijna net zoveel fotoboek als kookboek.
Kom, we fietsen een rondje rond Henriks gedekte tafel. Laat ons meteen beginnen met de hoofdmotor van elke kuitenpatser: het ontbijt. Ik laat de muesli links liggen en kies resoluut voor de scones met roggebloem en hazelnoot. Omdat ik iets heb met scones, daarom. En omdat ik er de quinoasalade met avocado en witte bonen gewoon achter kan duwen. Henriks zelfgemaakte amandelcrème is voor een andere keer, met deze caloriebom in mijn maag durf ik immers wel eens doorschieten op training en moet men me weer komen halen in Barcelona. We onthouden vooral dat eiwitten het goed doen voor een energierijk ontbijt. Het boke choco is hierbij afgezworen.
De revelatie van het boek voor me is het voer voor tijdens het fietsen. Geen pakjes peperkoek meer. Geen banaan meer die na honderd kilometer in de brandende zon lekker plakkerig uit je achterzakken druppelt. Henrik maakt zijn rijst-, muesli -en dadelrepen gewoon zelf, en dat is verbazingwekkend simpel. Doorspoelen met een bidon citroen-dadellimonade en je bent klaar voor een poeier van een démarrage. Of een volgend hoofdstuk financieel recht.
Elke koelkast is beducht voor het hongertje van de coureur na aankomst. Er dienen energetische putten opgevuld te worden. Dankzij Henrik hoef ik nu geen tien chipolatta's meer in een omelet te gooien. De geglaceerde varkensnek hou ik voor een koninginnerit, vandaag zal de pasta met geitenkaas en hazelnoten of de gesmoorde portobello's met orzo volstaan. En dat is dan alleen omdat ik niet hard genoeg heb gereden om de pizza met Pavé de Roubaix te verdienen.
Vélochef van Henrik Orre, voor iedereen die voluit met energie morst en nood heeft aan een berg lekkere en gezonde calorieën.