Achtung, liefhebbers van paradijselijke leesplekken! We geraken er maar niet uit wat beter samengaat: boeken met wijn of boeken met thee. Katrien droeg onlangs met een bezoek aan La Belle Hortense in Parijs ijzersterke argumenten aan voor het wijnkamp. Omdat zelfs onze levers wel eens rust nodig hebben, gingen we op zoek naar even overtuigende argumenten voor het andere kamp. We vonden ze in Dover, en wel in een vuurtoren bovenop de White Cliffs.
Je hebt hem vast al eens gezien, de South Foreland Lighthouse. Bij het binnenvaren van Dover zie je hem aan stuurboord op de klippen staan, even stralend wit als de rotsen zelf. Door de verraderlijke Goodwin Sands zandbanken staat er sinds mensenheugenis al een vuurtoren op deze plek, met de huidige Victoriaanse versie als de laatste incarnatie. Dankzij de moderne snufjes bezorgen de Goodwin Sands de zeelui allang geen nat pak meer, waardoor de vuurtoren als monument onder de vleugels kwam van de National Trust.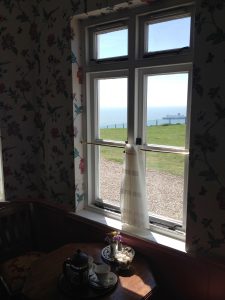 Bill Bryson mag wel al eens mopperen op de National Trust, maar hier permitteren wij het ons om onze held vrank tegen te spreken. De Trust opende een juweeltje van een tearoom in de toren, genoemd naar de familie Knott die de vuurtoren vijf generaties lang uitbaatte.
In de ronde gelagkamer heb je een magnifiek uitzicht over de zee, helemaal tot aan de witte tegenhangers van Cap Blanc Nez. Ergens in een hoek draait een oeroude pick-up minstens even oude plaatjes, een perfecte soundtrack voor bij het authentieke jaren vijftig interieur. Een portret van The Queen deelt zusterlijk de muur met oude familiekiekjes. De trots van Mrs Knott's is de collectie theepotten, die allemaal werden geschonken door de grote schare fans.
Die theepotten krijg je prompt op tafel gezet, met alle toebehoren voor een heerlijke High Tea in hun zog. Een horror voor mensen die niet kunnen kiezen –wij- want is het gewoonweg onmogelijk om én Cornish clotted cream op een scone te smeren én thee te slurpen én van het uitzicht te genieten én bladzijden om te slaan. Volgende keer nemen we slabbetjes mee.
Mrs Knott's is de perfecte schuilplaats far from the madding crowd, en mag je absoluut niet missen bij je volgende passage in Dover. Wandel er naartoe hoog over de White Cliffs, met een lege maag en een rugzak vol boeken. We maken plaats vrij aan onze vaste tafel, beloofd.
Wil je graag wat leesvoer voor bij je High Tea, geheel in de sfeer van een Victoriaanse vuurtoren? Komt-ie. Het blijft een uitgelezen gelegenheid om Jane Austen te herlezen, of aan het Bunburying te gaan met het met scones en muffins doorspekte The Importance of Being Earnest van Oscar Wilde, maar probeer ook eens deze alternatieven:
To the Lighthouse, Virginia Woolf
(Ja, daarom.)
The Woman in White, Wilkie Collins
(Deze Victoriaanse serieroman en voorloper van Belgravia hield destijds legioenen Britten in de ban.)
Verlangen Naar Chocolade, Care Santos
(Niet alleen iets waar wij volcontinu last van hebben, maar ook de titel van een boek over drie straffe vrouwen en hun rol in de geschiedenis van chocolade.)
De Smaak Van Droef En Zoet, Aimee Bender
(Coming of age roman over een meisje dat de gave bezit om de emoties van de kok in gerechten te proeven. Geen zorgen, de taartenbakkers bij Mrs Knott's zijn altijd vrolijk, we hebben het gecheckt.)