De boekenkast van… Jan Leyers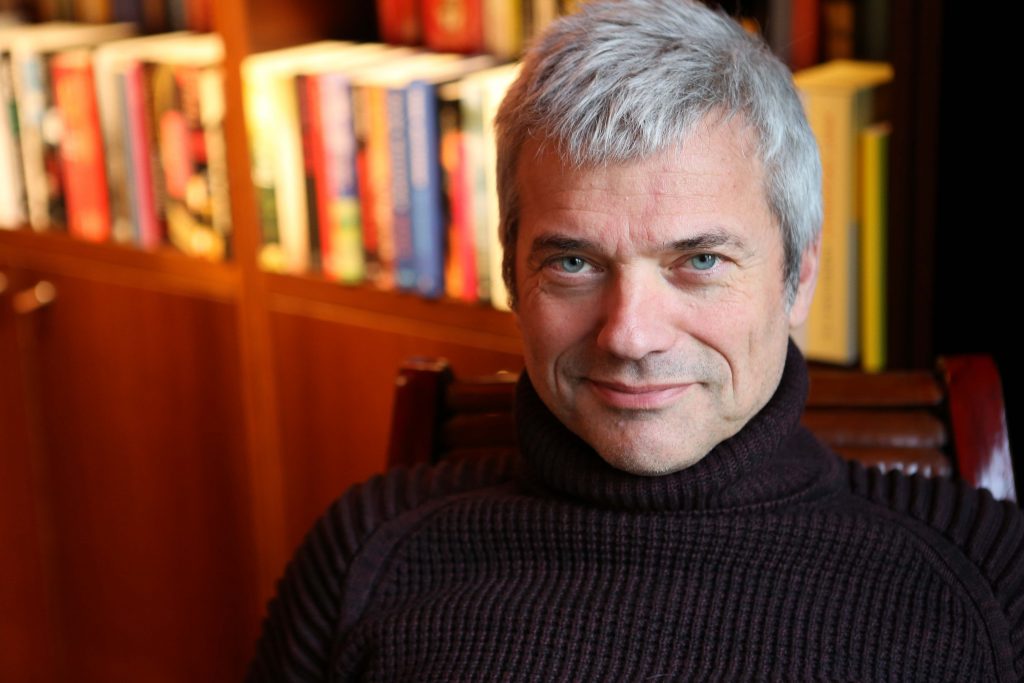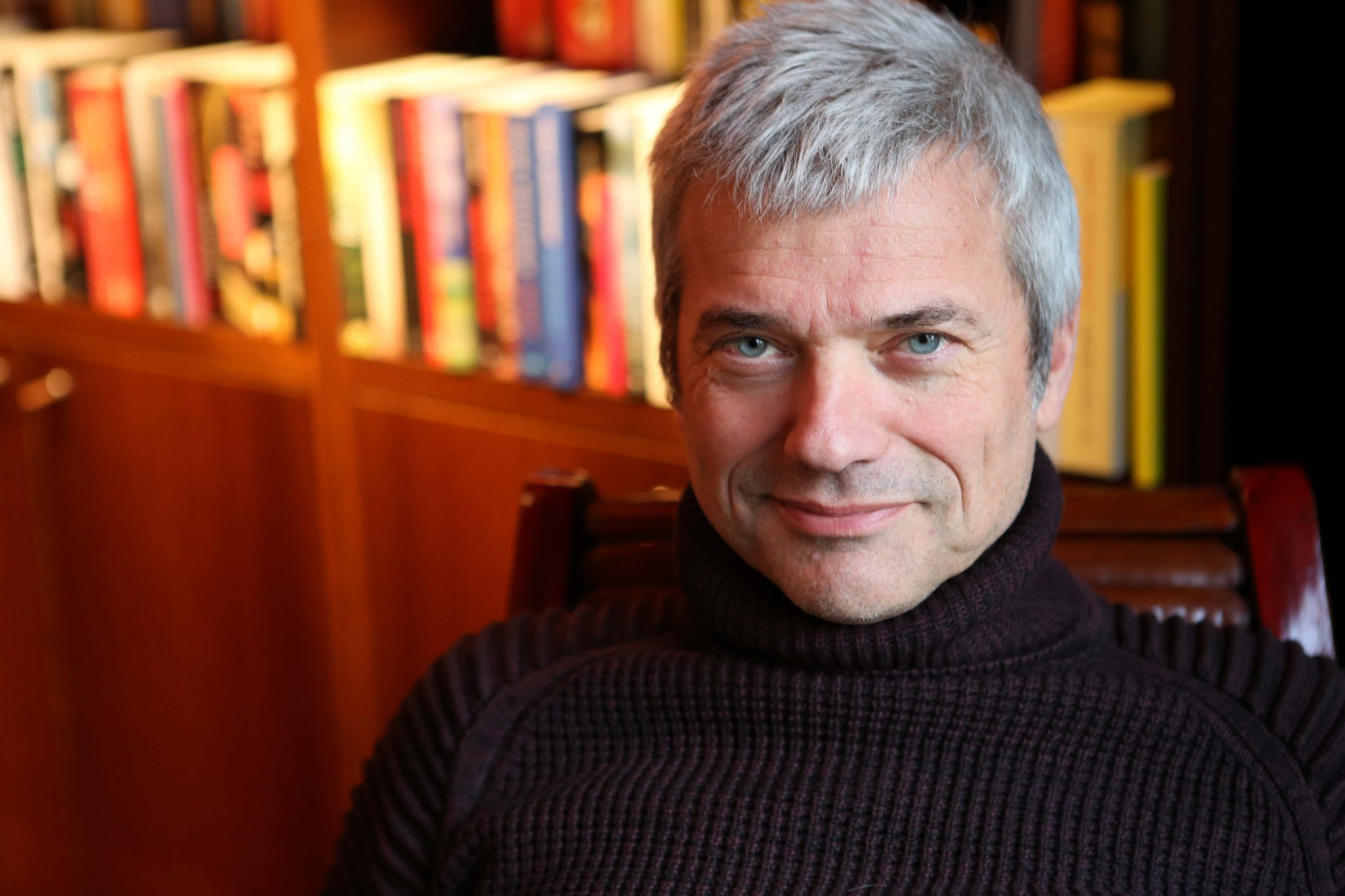 Wat leest muzikant en televisiemaker Jan Leyers? Welke titels koestert hij? Voor welke genres heeft hij een zwak? Om dat te ontdekken ging ik een middagje snuisteren in zijn huisbibliotheek…
Jan Leyers is een volbloed boekenmens. Zijn ruime familiewoning in Hove heeft een afzonderlijke, gezellig ingerichte bibliotheek. Zijn boekenkasten beschikken over een vernuftig systeem, dat toelaat om boeken twee rijen diep te sorteren. Maar het mag niet baten. Er liggen boeken op de piano in de woonkamer en op de salontafel. In stapels en op kastjes. Jan Leyers: "Alles wat hier rondslingert, moet nog een plaats krijgen. Vaak zijn het recente aankopen, die ik nog niet heb geklasseerd. Ofwel zijn het boeken waarin ik onlangs bladerde of die ik aan mijn dochters toonde. Olga zit in haar eerste jaar rechten. Voor haar heb ik gisteren een boek over de Inquisitie opgeduikeld."
Als ik jouw bibliotheek bekijk, moet ik denken aan een citaat van Shakespeare. Volgens mij zit hier 'method in the madness'…
"Dat klopt. Het is nu een rommeltje omdat ik dringend boekenplanken moet bijbestellen. Maar ik streef naar een strak systeem.
Mijn boeken staan per categorie gesorteerd en binnen elke categorie alfabetisch. Behalve de filosofische werken dan, die staan chronologisch.
Waarschijnlijk valt in mijn boekenkast wel een anale fixatie te bespeuren (lacht). Romans rangschik ik per taal, maar ik maak een onderscheid tussen Amerikaanse en Engelse titels. Mijn vrouw wordt daar gek van, maar voor mij is het de logica zelve."
Je hebt een aparte kast met reisboeken. Een favoriet genre?
"Ik heb vooral een zwak voor reisverslagen van 19e eeuwse Romantische auteurs die de Oriënt verkennen. Flaubert in Egypte. Gerard de Nerval op weg naar Istanbul. Heerlijk! Ik ken de plaatsen die zij beschrijven, en vind het fascinerend om te merken hoe weinig er op sommige gebieden sinds 1850 is veranderd. De sfeer in de dorpen, de hartelijkheid tegenover gasten, het zwijgen tijdens het eten… Dat is allemaal intact gebleven. Ik houd ook van de hedendaagse reisschrijvers William Dalrymple en Paul Theroux. Al is die laatste wel heel beschaafd. Hij begaat onderweg nooit een misstap, blijft onder alle omstandigheden z'n verantwoordelijke zelf.
Ik houd meer van schrijvers die niet te beroerd zijn om toe te geven dat ze wel eens ja zeggen tegen een rare pijp of durven doordrinken tot ze er 's morgens spijt van hebben."
Is er één reisboek dat boven alle andere uitsteekt?
"Dan kies ik voor From the Holy Mountain, waarin William Dalrymple door het hedendaagse Midden-Oosten trekt in het voetspoor van een Byzantijnse monnik uit de 6e eeuw. Hij wil weten wat er nog rest van de christelijke aanwezigheid uit de pre-islamitische tijd. Een ander pareltje is Remote People: a report from Ethiopia & British Africa 1930-31 van Evelyn Waugh. Waugh was in 1930, als speciale correspondent van The Times, ooggetuige bij de kroning van keizer Haile Selassie in Ethiopië. Brits flegma in de Ethiopische zon, onweerstaanbaar.
Van auteurs als John Irving, G.G. Marquez en Sandor Marai heb je een hele rij romans. Ben jij een oeuvre-lezer?
"Ik blijf lang trouw aan schrijvers die me kunnen 'pakken': Joseph Heller, Michel Houllebecq, Milan Kundera, John Irving. Irving ontdekte ik in mijn studententijd, toen er een hype hing rond The World According to Garp. Sindsdien ben ik hem blijven volgen, al moet ik zeggen dat ik niet al zijn romans heb gelezen. Het probleem is dat zodra zo'n auteur een nieuw boek uitbrengt, zijn vorige een beetje als oud nieuws aanvoelt. Dan zijn er altijd wel dringender titels (lacht). Marquez is ook een van mijn helden. Liefde in tijden van cholera heeft iets bijna bovennatuurlijks. Alsof het door God zelf werd ingefluisterd, zoals de Koran.
Als student heb ik drie jaar al lezend op de sofa doorgebracht. Mijn topfavoriet was La chartreuse de Parme van Stendhal.
Dat boek heeft alles: een meeslepend verhaal, vergeefse passie en een portie Napoleontische geschiedenis. Helemaal mijn kopje thee."
Met welke recente aanwinsten ben je blij?
"Iemand raadde me Mendelssohn op het dak van de Tsjechische auteur Jiri Weil aan – en dat was een ontdekking. Gemeentearbeiders van de stad Praag krijgen tijdens de nazi-bezetting opdracht om op het dak van het concertgebouw het standbeeld van de Joodse componist Mendelssohn neer te halen. Omdat niemand weet hoe Mendelssohn eruitziet, gaan ze op zoek naar het beeld met de grootste neus. En dat blijkt dat van Richard Wagner te zijn. Weils boek zit vol van dat soort zwarte humor. Ik houd ook van Sandor Marai. Aan vertaalde Hongaren, Polen en Roemenen begin ik altijd met veel vertrouwen. Je weet dat er al een kwaliteitscontrole op is gebeurd.
Een flutboek uit Hongarije verschijnt niet zomaar in het Nederlands, bedoel ik, dat heeft meestal al wel iets bewezen."
Je hebt heel wat diepgravende non-fictie. Lees jij die kanjers echt?
"Ik koop ze met die bedoeling, maar lees ze zelden helemaal. Sources of the Self van Charles Taylor is er zo een. Of Enlightenment Contested van Jonathan Israel. Momenteel ligt de Goethe-biografie door Rudiger Safranski op mijn nachtkastje. Met hem val ik geregeld in slaap. Ik ben niet benieuwd hoe het afloopt, want dat weet ik, maar ik geniet van de petite histoire. De hoeveelheden drank die ze in Goethes tijd al in de voormiddag wisten te verzetten, daar zijn wij kleine jongens bij."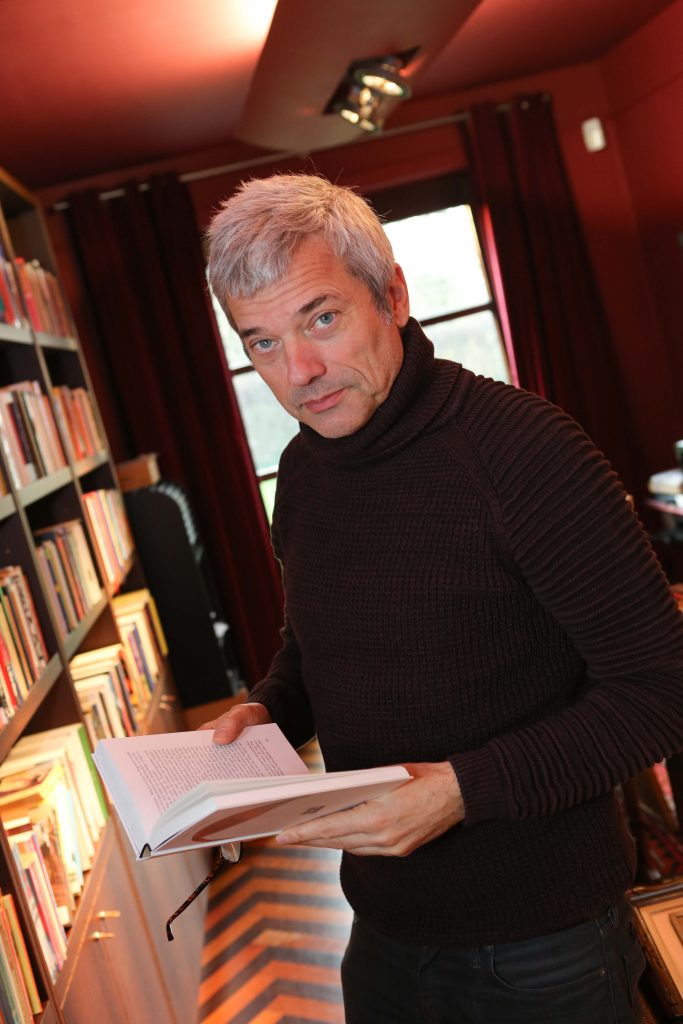 Literatuur met de grote L geniet jouw voorkeur. Mag ik dat zeggen?
"Ik leg mezelf niet op om literatuur met de grote L te lezen, ik grijp gewoon naar wat me aanspreekt. Ik heb graag het gevoel dat wat ik lees, me iets bijbrengt. En dat hoeft helemaal niet zwaar te zijn.
Mijn favorieten hebben altijd iets lichtvoetigs. Er ist wieder da van Timur Vernes, een satire over de terugkeer van Hitler; dat is gewoon hilarisch.
A Confederacy of Dunces – 'Een samenzwering van idioten' – van John Kennedy Toole is ook een all-time favourite. Het boek is ongelooflijk grappig, maar de schrijver was een tragische figuur. Toole pleegde op z'n 31e zelfmoord omdat niemand in zijn manuscript geïnteresseerd was. Z'n roman werd postuum uitgegeven. Verder voel ik als lezer graag dat de schrijver plezier heeft in het vertellen. Ik wil dat hij me bij m'n nekvel grijpt en het verhaal in sleurt. Ish Ait Hamou doet dat in Cécile: gretig en ongekunsteld vertellen. Een beetje zoals Kader Abdolah in Het huis van de moskee.
Is er een boek dat jou diep heeft ontroerd?
"Zo zijn er veel. Stiekem ben ik een sentimentele ziel (lacht). Ik heb dikke tranen gehuild bij Captain Corelli's Mandolin van Louis de Bernières. Telkens als mijn ogen tijdens het lezen vol schieten, vraag ik me af: 'Hoe kan dit toch?' Bij een film is er muziek, en die sleept je vaak ongenadig mee. Maar hoe krijgt een schrijver het voor elkaar om mij zo van slag te maken, met louter inkt op papier? Dat blijft mij verbazen."
Zou je boos worden, als je dochters koffiekringen maken in je boeken?
"Wij wisselen voortdurend boeken uit binnen het gezin. Via Ella heb ik Dave Eggers ontdekt en ik heb haar pas De Orgelman cadeau gedaan, de biografie door Mark Schaevers van de schilder Felix Nussbaum. Je hoopt altijd dat mensen zorgvuldig met je boeken omgaan, maar ik freak niet over een ezelsoor. Ik ben ook geen fetisjist of verzamelaar. Buiten een zesde druk van Historie van mejuffrouw Sara Burgerhart van Betje Wolff en Aagje Deken, heb ik niks antieks staan. Mijn bibliotheek heeft voor mij vooral een emotionele waarde. Ik bekijk haar als mijn dagboek – aan elk boek kleeft een herinnering.
Ik heb eigenlijk een – hoe zeg je dat –  een bibliel, een librisch geheugen. Via elk boek herinner ik me het stuk van mijn leven dat ermee verbonden is.
Vakanties herinner ik me aan de hand van de lectuur die ik meenam. Als ik een vriend ontmoet met een boek in z'n hand, kan ik later perfect zeggen welke titel het was. Maar vraag me niet naar zijn kleur van trui."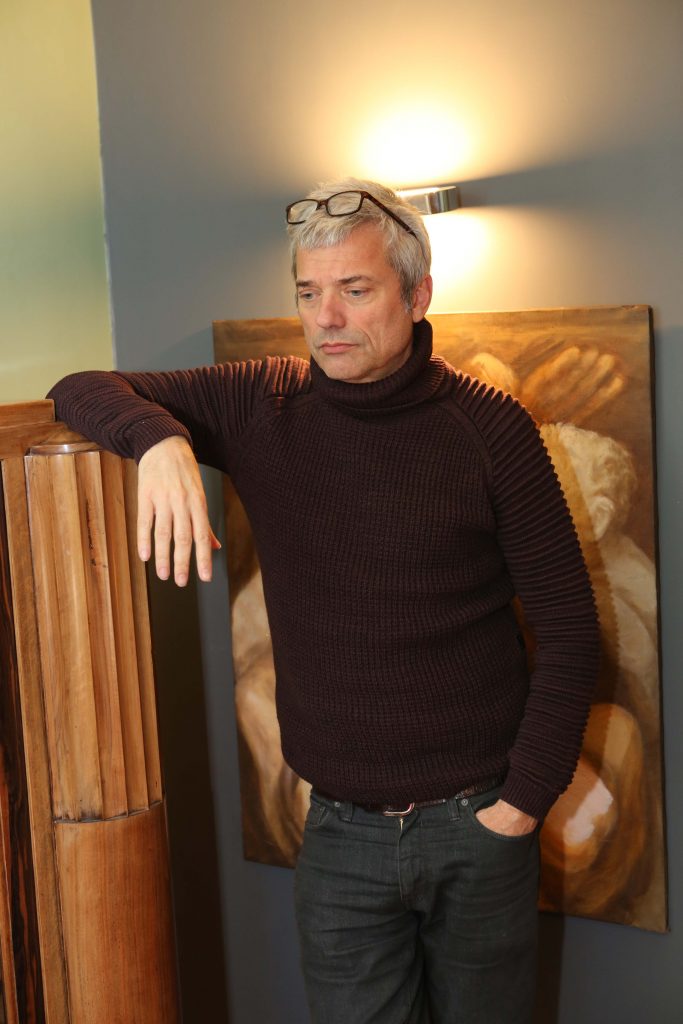 Je schreef zelf drie reisboeken, maar die zie ik hier niet staan. Is dat een vorm van bescheidenheid?
"In mijn bibliotheek staan boeken die ik gekocht of gekregen heb en wil lezen. Ik ben wel trots op mijn eigen boeken, maar ze zijn een ander soort object (lacht). Ik heb boven een doos met een aantal exemplaren van elke titel erin. In het verleden heb ik cd's gemaakt waarvan ik er geen enkele meer heb om uit te lenen. Dat vind ik wel jammer."
Zie je jezelf ooit een roman schrijven?
Ofwel doe ik het, en dan hoor je ervan. Ofwel doe ik het niet, en dan doen mijn plannen errond er ook niet toe. Het is zoals in de muziek: je wilt niet het bandlid zijn dat jaren zeurt over een soloalbum dat er nooit zal komen. Het is doen of niet doen."
Heb je nog een laatste boekentip?
"Omdat we over al die titels zitten te praten, moet ik denken aan een Frans boekje, Comment parler des livres que l'on n'a pas lus van Pierre Bayard. Hij legt uit hoe je in gezelschap kan uitpakken met kennis over boeken die je eigenlijk nooit hebt gelezen. Hij geeft ook toe dat hij dat zelf als literatuurprofessor voortdurend doet. Heel leerrijk.
Weet je, ik heb als twintigjarige De gebroeders Karamazow gelezen, en ik herinner me vandaag over dat boek zo goed als niets meer.
Dus als iemand vraagt: heb jij De gebroeders Karamazow gelezen?, knik ik met een kennersblik van: uiteraard! Maar wat betekent het eigenlijk? (kijkt naar zijn boekenkast) Het is met lezen zoals met reizen: niet de bestemming telt, maar het onderweg-zijn."
Dit stuk verscheen eerder in het 4e nummer van Boeken Magazine. Nummer 5 – met o.a. Ish Ait Hamou en Alain de Botton – ligt momenteel in de winkel.
Fotografie: Barbara De Munnynck
PS: En we blijven in de familie… De boekentips van actrice Ella Leyers