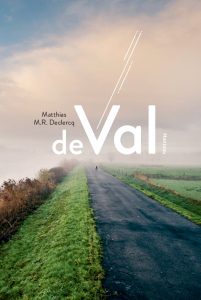 Denk aan niets, stuur niet tegen, val op je hele lijf, steek je handen niet uit, bid en prevel zacht.
Vijf doodgewone jongens vinden elkaar in hun passie voor de fiets. Ze houden van het gezoem van banden, vluchtig en zacht. Ze trainen in het afzien, langs de Schelde tussen Gent en Oudenaarde. 's Morgens pannenkoeken, 's middags pasta en 's avonds morsdood. Ze worden coureur. Ze worden profs. Hun grote koers begint.
Enkele jaren later. Ze zagen een renner sterven op de piste. Een andere -een vriend- stierf op een hotelkamer in Dubai. Ze hoorden hoe nog een andere -een beroemdheid- stierf op een hotelkamer in Senegal. Een eerste doodgewone jongen pleegt zelfmoord. Een tweede overlijdt na een val in de Ronde van Italië. Een derde wordt 2227 dagen lang vermalen in een dopingproces. Een vierde bewaart na een horrorcrash een poos zijn schedeldak in een vriezer. De dood houdt huis alsof ze niet op de fiets waren gestapt, maar over the top werden gejaagd in een Ieperse loopgraaf.
Onwaarschijnlijk, zeg je? Think again. De Val is het waargebeurde verhaal van Iljo Keisse, Wouter Weylandt, Dimitri Defauw, Bert De Backer en Kurt Hovelijnck. De Gentenaar Matthias M.R. Declercq, die als journalist schrijft voor o.a. De Morgen, Humo en het wielertijdschrift Bahamontes, goot de rauwe feiten in een verhaal dat leest als een roman.
Dit is geen wielerboek. De Val is immers hard als asfalt. De fiets is hier enkel het vehikel waarop de jongens het noodlot tegemoet snellen, niets meer dan een rekwisiet.
Hier spelen mensen de hoofdrol. Niet de koers. Terwijl de journalist in Declercq zich nauwgezet aan de feiten houdt, lijmt de schrijver in hem ze aan elkaar tot een verhaal met vaart. En zoals een goed boek betaamt, laat De Val de lezer veranderd achter. Met een nieuwe kijk op de échte wereld achter de wielerglamour op TV. Met mededogen voor vijf aardige jongens, die Murphy en Magere Hein niet uit het wiel konden rijden. Met koude rillingen door de sfeer van aankomend onheil die door het boek sijpelt, alsof het Noodlot het peloton met de woorden van wijlen Frank Vandenbroucke toespreekt:
Vandaag iek rijd u kapot. Da moe zo zijn.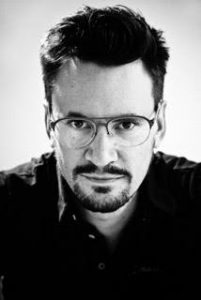 Matthias M.R. Declercq (1985) probeert 'Het Leven, Het Universum en Het Alles' te begrijpen door te lezen en te fietsen, en wel vaak langs het jaagpad van de Schelde. Wij stonden klaar voor een interview aan de meet.
Wat bracht je op het idee om De Val te schrijven?

'De feiten. Wat de hoofdpersonages uit De Val hebben meegemaakt, is ongezien voor twintigers. Ik ben overigens een generatiegenoot van die kerels en greep hun verhaal aan om een boek te schrijven over volwassenwording, vriendschap en zingeving. De hoofdpersonages van De Val zijn geen helden, ze hebben niet de bekendheid van renners als Tom Boonen of Fabian Cancellara, ze wonen niet in buitensporig grote villa's en zetten 's avonds ook gewoon de vuilnisemmer buiten. Net daarom wilde ik hun verhaal redden van de vergetelheid. De Val is een soort allegorie op ieder mensenleven. Iedereen wordt ooit volwassen, iedereen hecht waarde aan vriendschap, iedereen wil zin geven aan zijn of haar leven. Dat universele karakter zette mij aan het denken en leverde dus een boek op.'
Heeft dit verhaal je kijk op het wielrennen veranderd? Stap je nu nog op dezelfde manier op de fiets?

'Ik was al vertrouwd met de wielerwereld. De Val heeft mijn kijk op de sport niet veranderd, alleen maar bevestigd. Wielrennen is niet belangrijk. We geven de sport veel te veel aandacht en boetseren aan de lopende banden zogenaamde helden. Niks van. Wielrenners zijn geen helden. Wellicht kijken we toch naar hen op, omdat ze de natuur tarten. Ze riskeren soms hun leven in een afdaling, rijden in de vrieskou, in de regen en net dat fascineert ons. Het is mens versus natuur. Gaat er iemand aan ten onder, sterft een renner in de koers, dan wordt hij een martelaar. Iemand die de handschoen opnam en verloor.
Net zoals we als mens nood hebben aan helden, aan zij die onze middelmaat overstijgen, hebben we ook nood aan martelaars, aan zij die ons herinneren aan onze eindigheid.
Dat maakt van mij een fietser en geen renner. Ik duik niet als een valk naar beneden. Ik houd van fietsen, van het avontuur, de ontdekking, de bergen. Maar ik riskeer mijn leven niet. De Val heeft me daar aan herinnerd.'
De Val is waargebeurd, dus kijken er tijdens het schrijven een heleboel mensen over je schouder mee. Hoe ervaar je dat tijdens het schrijven?

'Ik heb voor dit boek 100 mensen geïnterviewd, allemaal mensen die op de één of andere manier betrokken waren bij dit verhaal. De feiten die zich voordoen zijn hard, en dat waren de interviews dus ook. Het schrijven van dit boek was niet makkelijk. Enerzijds wil je niemand schaden, maar anderzijds heeft de waarheid ook haar rechten. In Vlaanderen hebben wij de neiging om pijnlijke onderwerpen uit de weg te gaan, maar dat lost niks op. Ik ging er met beide voeten in staan en merk nu dat De Val voor veel mensen louterend werkt. Dat stemt mij tevreden. Wie eerlijk en fair te werk gaat, moet zich geen zorgen maken. Ik ben mijn bronnen dus zeer dankbaar. Ik kreeg hun vertrouwen en heb dat niet geschaad.'
Zou je graag pure fictie schrijven, totaal los van de feiten waar een journalist zich aan dient te houden?

'Iedereen die schrijft, droomt er stiekem van ooit een roman uit te brengen. Ik dus ook. Maar dat is een verre droom. De Val heeft me de ogen geopend en aangetoond hoe krachtig verhalende non-fictie kan zijn. Ik houd van interviews, van rauwe gesprekken, van de keuzes die mensen maken en ga me daarom verder toeleggen op non-fictie, zonder de droom van een eigen roman ooit op te bergen. Mijn journalistieke aard zal daarom ook niet wegebben. Het komt er als schrijver op aan het onzichtbare bloot te leggen. We zijn blind geworden voor wat er dagelijks om ons heen gebeurt. Non-fictie kan die cocon doorprikken en mensen indirect confronteren met hun eigen leven, hun eigen keuzes, hun eigen dromen.'
Zijn er boeken die je kan aanraden die op dezelfde manier het plezier van fietsen overbrengen?

'De Nederlanders hebben zich bekwaamd in dat vak. Kop in de wind van Wilfried de Jong is een heel mooi boek. Die verhalenbundel gaat over 'fietsen' en niet over koersen. Dat boek overstijgt de sport en is net als De Val geen wielerboek. Prachtig geschreven ook. En verder: De filosofie van de heuvel, van Ilja Leonard Pfeijffer, en As in tas van Jelle Brandt Corstius.'
Wat is je volgende project?

'Dat zal de tijd uitwijzen. We'll see. Eén ding kan ik wel zeggen: de kans is klein dat het verhaal zich opnieuw in de sportwereld zal afspelen.'
PS: Vallen en opstaan, daar wist Lucien! veertig jaar geleden ook over mee te praten.
PPS: Decors nodig bij het lezen van De Val? Blader eens door Cols, dat op ons kerstlijstje schitterde.