Vers leesvoer! Vers leesvoer! (5)
Terwijl de aanbiedingsfolders voor de winter en het voorjaar nog bol stonden van de kookboeken met of zonder gluten, lijkt de zomer te zorgen voor een trendbreuk. Het papieren aanbod over wat je nu wel of niet achter de kiezen mag stoppen daalt gestaag. Geen idee wat de sympathieke auteurs hebben uitgevoerd waardoor we langer moeten wachten op pakweg Veertig desserten met savooien, maar het is een feit dat de leemte prompt werd gevuld met een lading zelfverzonnen zelfhulpboeken door zelfverklaarde mental coaches. Je kan ze gemakkelijk herkennen aan de cover, waarop de coaches met gesloten ogen en gespreide armen een pose aannemen waaruit moet blijken dat ze de pincode tot het universum bezitten. Mij lijkt het eerder alsof ze net een Brazilian wax lieten uitvoeren door de Hulk, maar volgens mijn sjamaan komt dat omdat ik een recalcitrante etter ben.
Gelukkig ook nog steeds present en wel in een overdonderend grote meerderheid: pretentieloze, goede boeken. Zoals deze.
Washington Black – Esi Edugyan (A.W. Bruna, net uit)
Washington Black is een jonge slaaf op een katoenplantage op Barbados. Zijn ellendige bestaan neemt een spectaculaire wending wanneer twee broers de plantage overnemen. Terwijl de ene broer de baas en de sadist uithangt, neemt de andere broer -Titch Wilde- Washington onder zijn vleugels als zijn persoonlijke assistent. Titch is een curieuzeneus van het Victoriaanse kaliber en bevlogen door zowat alles dat het universum geschapen heeft. Inclusief heteluchtballonnen. Wanneer de tragische dood van een familielid van Titch in Washingtons schoenen dreigt geschoven te worden, slaan Titch en Washington op de vlucht. Het is het begin van een barre tocht. Op zee, over de Canadese ijsvlakten, met tussenstops in Victoriaans Londen en Amsterdam en met een terminus in Marokko. Washington Black staat bol van het avontuur, maar is bovenal een pakkend portret van de slavernij en de onuitwisbare littekens ervan op de overlevenden. Aanrader, van het type 'dikke vette'.
Friday Black – Nana Kwame Adjei-Brenyah  (Atlas Contact, september)
Ik zong al eerder de lof over dit onstuitbare debuut, dat helaas alleen in het Engels verkrijgbaar was. Uitgeverij Atlas Contact brengt daar verandering in, en wel in september. 'nuff said.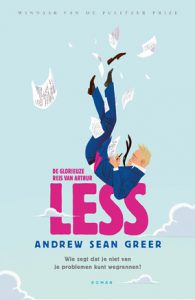 De glorieuze reis van Arthur Less – Andrew Sean Greer  (A.W. Bruna, juni)
Ik heb een boon voor romans over onwaarschijnlijke figuren die de dagelijkse sleur gedag zeggen en op de bonnefooi aan het reizen slaan. Denk aan De onwaarschijnlijke reis van Harold Fry door Rachel Joyce, of aan het acuut hilarische Worst. Person. Ever. van Douglas Coupland. Ik ben dus bijzonder benieuwd naar De glorieuze reis van Arthur Less, over een schrijver die het afbolt omdat zijn carrière vierkant draait. En om aan het huwelijksfeest van zijn ex-minnaar te kunnen ontsnappen. Volgens de blurb begint hij aan 'een reis om de wereld in tachtig dagen vol fiasco's en misverstanden', en zo hebben we het graag. Waarschijnlijk komt Arthur Less met vallen en opstaan tot inzichten wat de liefde en het leven betreft, anders had Greer voor dit boek geen Pulitzer gekregen.
De laatste kinderen van Tokio – Yoko Tawada (A.W. Bruna, augustus)
In De laatste kinderen van Tokio is de wereld om zeep, en wel grondig. Nadat een door de mens veroorzaakte catastrofe alle Japanse steden onbewoonbaar maakte, proberen de overlevenden een bestaan op te bouwen in de uitgestrekte voorsteden. Zo ook Yoshiro -een krasse 100-plusser- en zijn achterkleinzoon Mumei. Een bizar neveneffect van de ramp is dat de oudere generaties helemaal vief alsmaar ouder worden, terwijl de kinderen lijden aan onverklaarbare voedselintoleranties en misvormingen en jong sterven. De Japanse overheid trok de totalitaire kaart en isoleerde het land van de rest van de wereld, maar een ondergrondse organisatie probeert de Japanse kinderen naar het buitenland te smokkelen om te onderzoeken wat er met hen aan de hand is. Het overkomt Mumei, maar niet op de manier die hij had verwacht. Een buitenissige dystopische roman waarin al eens mag gelachen worden, want Tawada schuwt de satire niet.
Goede zoon – You-Jeong Jeong (Cargo, juli)
Deze psychologische thriller komt helemaal uit Zuid-Korea om ervoor te zorgen dat je de volgende nachten toch maar een lichtje aan laat. De jonge Yu-jin wordt 's morgens wakker met een metalige geur in de neus, waarna hij onderaan de trap zijn moeder morsdood aantref. In een grote plas bloed. Klein akkefietje: Yu-jin heeft een voorgeschiedenis van geheugenproblemen en heeft geen flauw idee wat er zich die nacht in hun huis heeft afgespeeld. In de waanzinnige driedaagse zoektocht naar de waarheid die volgt, ontdekt Yu-jin de waarheid over zichzelf en over zijn familie. Potje nagelbijten?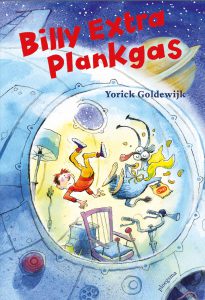 Billy Extra Plankgas – Yorick Goldewijk (Uitgeverij Ploegsma, juli)
Een jeugdboek dat begint met een ruimteschip dat op iemands dak valt, dat kan ik niet laten liggen. Het overkomt Dexter. De schade aan de pannen is het minst van zijn zorgen, want het ruimtewezen dat verantwoordelijk was voor de aanrijding vertelt hem dat de aarde als inzet fungeert voor een intergalactische loterij. De nieuwe eigenaar zou er wel eens een parkeergarage van kunnen maken. Of een sokkenfabriek. Dexter kan dat niet laten gebeuren en vertrekt op een gevaarlijke ruimtereis om de eigendomspapieren van de aarde terug te krijgen. In zijn ruimteschip Billy Extra Plankgas. Yorick Goldewijk heeft een bad laten vollopen met fantasie, en ik ga er vrolijk inspringen.
'We moeten nog een naam,' zei Dexter.
'Er staat al een naam,' zei Wimm.
Hij wees op een van de planken die Dexter op de romp had getimmerd.
'Billy 201.697.456 Extra Plank,' las Dexter.
'Een beetje lang,' vond Wimm.
'Billy Extra Plank, dan?'
'Hm, klinkt al beter. Maar mist nog snelheid.'
'Billy Extra Plankgas!' riep Dexter.
'Pakkend,' zei Wimm.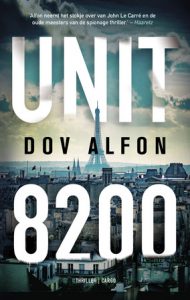 Unit 8200 – Dov Alfon (Cargo, september)
Kort na aankomst van hun vlucht op Charles De Gaulle, verdwijnen twee Israëlische mannen in Parijs. Ze zaten niet alleen op dezelfde vlucht, ze zaten er samen met Zeev Abadi, het hoofd van de Israëlische spionagedienst Unit 8200. Te veel toeval, vindt Commissaire Léger van de Parijse politie, en hij legt Zeev het vuur aan de schenen. Zeevs assistente Oriana Talmor probeert zijn onschuld te bewijzen, totdat een Chinees undercover commandoteam roet in het eten komt gooien. Ik zocht al een tijdje naar een originele spionagethriller die zich eens niet tijdens de Koude Oorlog afspeelt. Bovendien werkte Alfon zelf als spion en inlichtingenofficier bij Unit 8200, dus de man weet waarover hij praat.