Liefste Kerstman,
gelieve bij uw eerstvolgende bezoek de onderstaande boeken in mijn sok te stoppen. Gaarne ook uw omvangrijk lijf niet kwansuis door de schoorsteen laten ploffen, zoals u pleegt te doen. Uw collega zit immers nog steeds vast in de bocht ergens tussen de eerste en de tweede verdieping. We stoken de houtkachel volcontinu roodgloeiend zodat de goedheilige man geen kou lijdt, maar hij blijft maniakaal hoesten. Vreemd. Volgens de brandweer kan het nog enkele weken duren voordat de vergunning voor explosieven in orde is, dus tijdens uw jaarlijkse shift zal hij er nog wel zitten. Wees dus een fidele kerel en gebruik dit jaar het kattenluik om in te breken. (De chip om het luik te openen zit ergens in onze kat, dus die propt u misschien best eerst even onder uw oksel.)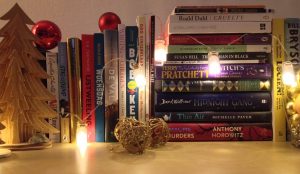 Verlichting nu, een pleidooi voor rede, wetenschap, humanisme en vooruitgang – Steven Pinker
Voor Kerst trakteer ik mezelf op een forse dosis confirmation bias in de vorm van dit pleidooi om ongebreideld de ratio in te zetten om de wereld te redden. Mijn geek-dom is ondertussen al voldoende geërodeerd om geen ambras meer te zoeken door scientia vincere tenebras in mijn e-emailhandtekening te zetten en dankzij de geneugten van het huwelijk ben ik me recent bewust geworden van het bestaan van emo… dinges… emotiewieters, maar doorschieten naar de hedendaagse trend van progressophobia lijkt me een brug te ver. Gerenommeerd psycholoog Pinker laveert met vaste hand tussen fake news en stemmingsmakerij en zet ons allemaal lekker nuchter met de voetjes op de grond.
Reis naar de toekomst – Michio Kaku
Natuurkundige Michio Kaku rijdt nog een paar haltes verder mee met de trein der vooruitgang en voorspelt wat voor wonderen er ons allemaal in de komende honderd jaar te wachten staan. Door  de wet van de versnelde vooruitgang wordt in de 21ste eeuw ongeveer evenveel vooruitgang geboekt dan in de laatste 20.000 jaar -op voorwaarde dat we het niet collectief verknallen- dus je kan als sciencefictionschrijver maar best bij de pinken zijn of je manuscript is achterhaald voordat het geschreven is.
Wat er van ons wordt verwacht– Ted Chiang
Wat ons meteen bij Wat er van ons wordt verwacht brengt, een bundel sciencefiction verhalen die elk door de jaren heen een grote literaire prijs wegkaapten. Chiang produceerde amper elf verhalen in de laatste dertig jaar, maar naar verluid mogen die er allemaal wezen. Eentje vond ondertussen de weg naar het grote scherm als Arrival, trouwens. Verhalenbundels hebben sowieso altijd al een streepje voor –fast cut naar Barbara, die glunderend met Tsjechov zwaait- maar het idee dat ik een paar uur onder de dennentakken lig met een mogelijke tegenhanger van The 10th of December, daar word ik pas helemaal senang van.
De ondergrondse spoorweg – Colson Whitehead
Ik heb de hype totaal gemist, maar als dit op dezelfde leest geschoeid is als zijn De jongens van Nickel, dan was de hype terecht. Moest aan dit exemplaar toevallig een voorgevormde Chesterfield hangen, beste Kerstman, dan geeft u met deze combinatie mijn naasten meteen ook een paar uur respijt van mijn met ongevraagde commentaar doorspekte aanwezigheid.
Het verslag van Brodeck – Philippe Claudel
Laat ik van Claudel nu nét zijn absolute meesterwerk nog niet gelezen hebben. Het zal u vast opgevallen zijn dat dit boek al enkele jaren op mijn lijst prijkt. U zal opwerpen dat daar elke keer een link naar het verkeerde boek naast stond, maar ik reken hierbij op de zelfredzaamheid van de man die een slee getrokken door acht mesjogge rendieren vlekkeloos op een besneeuwd afdak ter grootte van een postzegel kan parkeren. Yes, you can.
Wild vlees – Rudy Morren
Een boek door een man met wie ik een stel potige roots deel, daar in de Parel van het Hageland. Wild vlees -zijn debuut- kreeg meteen een rits lovende recensies toebedeeld. Wanneer van drie broers er twee professionele gladjanussen zijn en eentje nogal een seut, dan kan die laatste maar beter geen ambities koesteren of de poppen gaan aan het dansen. Dan is er nog dat akkefietje met het lijk en zo, natuurlijk. Het komt voor in de beste families. Ik ben ook zeer benieuwd waar Rudy de actie laat plaatsvinden. Misschien ligt er wel een afgehakt hoofd onder dezelfde struiken waar ik ooit lag te foefelen met N., of liggen er lichaamsdelen op het bankje-voor-veroveringen-van-de-fuif, of… enfin.
Spirou – Le journal d'un ingénu – Emile Bavo
Kom, er is vast nog plaats voor een strip in die slee van u. Doorgaans loop ik risico op paddenstoelwratten en puseczeem bij het lezen van strips die niet van de hand van de oorspronkelijke geestelijke vader zijn, maar voor de Spirou van Emile Bavo maak ik graag een uitzondering. In Spirou – L'espoir malgré tout vinden we Robbedoes en Kwabbernoot in hun jonge jaren in Brussel, net wanneer de oorlog uitbreekt. Emile Bavo slaagt er niet alleen in om de personages die we zo goed kennen integraal intact te houden, maar ook om me de ene pagina met lachbuien te vloeren en me de volgende te laten delen in de absolute shock van een stad die valt onder de Blitz. Ik verwacht van Le journal d'un ingénu een laken van hetzelfde piccolopak.