De butler heeft het (weer) gedaan.
Klopt, de geoefende Thisishowweread lezers weten wat er komt.
Boekenknecht Kurt heeft weer een boekenmeisje bezwangerd.
Gelukkig gaat het om het boekenmeisje waarmee hij toevallig getrouwd is en eerder al zoon Nathan kreeg. U zou zich de redactionele rel en de gossip in literair Vlaanderen al kunnen voorstellen.
Niet dat hij vies is van wat wereldschokkend nieuws.
Zijn vrouw, familie, vrienden en collega's vielen bijna van de echotafel/stoel/fiets en zelfs hun stokje. Er waren niet één, maar twee baby's op komst. Identieke dan nog wel. De rakker.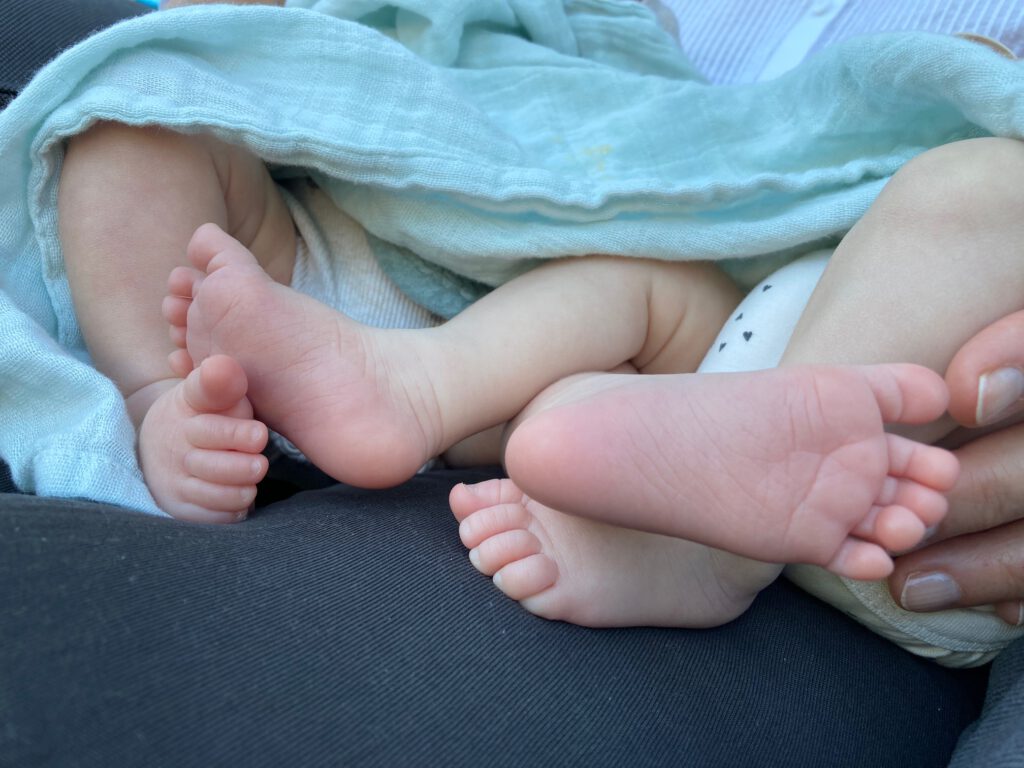 Boekenkleuter Nathan zou grote broer worden en een eeneiige tweeling in het gareel moeten houden. Mama en papa waren een week lang sprakeloos, deden prompt een bod op een huis met een tuin en een rits slaapkamers en zetten zich schrap.
Want tweelingzwangerschappen zijn risicovol. Vooral ééneiige tweelingen die een placenta delen. Zoek TTS of Twin Transfusion Syndrome even op en u weet wat er mis kan lopen.
Zo legden boekenknecht en boekenmeisje mid april het leven van de twee ongeboren baby's in de capabele handen van enkele tweelingspecialisten in het UZ Leuven. De kans om het leven van beide baby's tijdens een operatie te redden was zo ongeveer fifty/fifty.
Een dag waarop het ergste had kunnen gebeuren, maar ons de mooiste boodschap ooit werd gegeven: de operatie was gelukt, beide baby's kregen weer alle kansen.
Het bleef tot het einde een 'puntje van de stoel' zwangerschap, met een hoog risico op extreme vroeggeboorte, verschillen in gewichtstoename en veel bedrust. Het verslepen van de boekencollectie richting groter huis+tuin viel volledig op de schouders van de boekenknecht, net als de zorg voor de boekenkleuter.
Boekenmeisje Eveline bestelde ondertussen een tweelingbuggy, een busje waar alle maxi-cosi's in passen en zwangerschapskleding maat XL. De boekenknecht kreeg een tijdelijk verbod op literaire verwijzingen als 'Dikkie Dik', 'Moby Dick' en andere, wel…, corpulente personages.
Dankzij de steengoede opvolging in het UZA, onze twee fantastische gynaecologen daar, de TTS specialist in het UZ en onze onmisbare kraamverzorgster haalden baby A en baby B de eindstreep: 34 weken.
Op 18 juli 2021 verwelkomden Eveline en Kurt baby's Isolde (formerly known as baby B, 2,5 kg) en Leonore ( of ook baby A, 2 kg). 2 piepkleine prinsesjes die meteen de harten van mama en papa veroverden. Na enkele weken neonatologie mochten de meisjes naar huis.
Ondertussen zijn het twee flinke kleppers van rond de 6 kilo, die dol zijn op knisperboekjes, papa Kurt onderkotsen en in het park tegen elkaar liggen kirren. Boekenkleuter Nathan vindt de zusjes 'meestal' leuk en denkt er over na of ze later zijn prentenboeken mogen lenen.
En ja, het zijn twee druppels water. Nee, wij halen ze ook af en toe door elkaar. Isolde kreeg op advies van de vroedvrouw een gelakte duim. #twinhack
Of er volgens de boekenknecht ooit een blogpost komt met de titel 'De butler heeft het (weer maar eens) gedaan? Het boekenmeisje weet nog niet of dat in het busje past. 😉
Fotografie: @Lachfotografie