Nell De Smedt: 18 jaar en al twee boeken op de teller
Een boek schrijven. Het is de droom van velen. Ooit. Later. Als het wat rustiger is. Nell De Smedt zet er vaart achter. Ze is 18 en heeft net haar tweede boek uit. Thisishowweread strikte Nell voor een interview. Met de nodige social distancing uiteraard.
Je schrijf al sinds de basisschool?
Schrijven is een uitlaatklep voor mijn ideeën. In de basisschool schreef ik sprookjes, maar naarmate ik ouder werd, ging ik experimenteren. Van fantasy ging ik naar realistische fictie, tot thrillers en horror. Mijn eerste gepubliceerde boek, Circe, is mijn eerste volwaardige roman.
Een boek schrijven is voor velen een droom voor 'later', als ze ooit eens tijd hebben. Jij brengt al je tweede boek uit.
Ik had eerlijk gezegd niet verwacht dat mijn werk zo snel gepubliceerd zou raken. Ik heb erg veel geluk gehad.
Heb je tips voor aspirant-schrijvers?
Ik hanteer geen vast schema voor het schrijven. Ik volg mijn instinct en schrijf in een opwelling. Toch kan het nuttig zijn om voor jezelf doelen te stellen en bijvoorbeeld elke dag een bepaald aantal woorden neer te pennen.
Verder vind ik het belangrijk veel te lezen en de literatuur te verkennen zodat ik mijn eigen stijl kan ontwikkelen. Op die manier verwerf je niet alleen een groter vocabularium, je komt ook te weten wat voor verhaallijnen je aangenaam vindt en in je eigen boeken wil uitwerken.
Je debuut heet Circe. Wat heb je met de Griekse mythologie?
Ik was als kind al geïntrigeerd door de Griekse mythologie. Ik studeer nu Grieks-Latijn en ik wil volgend jaar Klassieke Talen studeren. Voor 'Circe' zocht ik een naam die mysterieus overkwam. Volgens de Griekse overlevering was Circe een tovenares, bekend uit de Odyssee. De eerste scène van mijn boek is daar een knipoog naar.
Het ziet je schrijfritueel-en plek er uit?
Ik schrijf aan mijn bureau op mijn kamer, waarbij ik gebruik maak van mijn laptop – al schrijf ik soms iets met de hand of met mijn oude typemachine. Mijn schrijfritueel is vrijwel altijd hetzelfde. Voor ik aan een nieuwe scène begin, herlees ik het vorige hoofdstuk om mijn geheugen op te frissen en weer in de stemming te komen. Daarna laat ik mijn verbeelding de vrije loop.
Je schrijft niet bepaald rooskleurige boeken: je schuwt geen geweld en duikt in de donkerste krochten van de menselijke ziel. Wat trekt je aan in dit genre?
In realistische, macabere fictie ben je als schrijver heel vrij. Als je je personages zo ontwerpt dat ze niet gehoorzamen aan wetten of morele waarden, gaan er veel deuren open en kan je alle duistere hoekjes verkennen. Anything goes. Ik ben ook van mening dat dit genre wat meer vertegenwoordigd mag worden; niet alles hoeft goed af te lopen.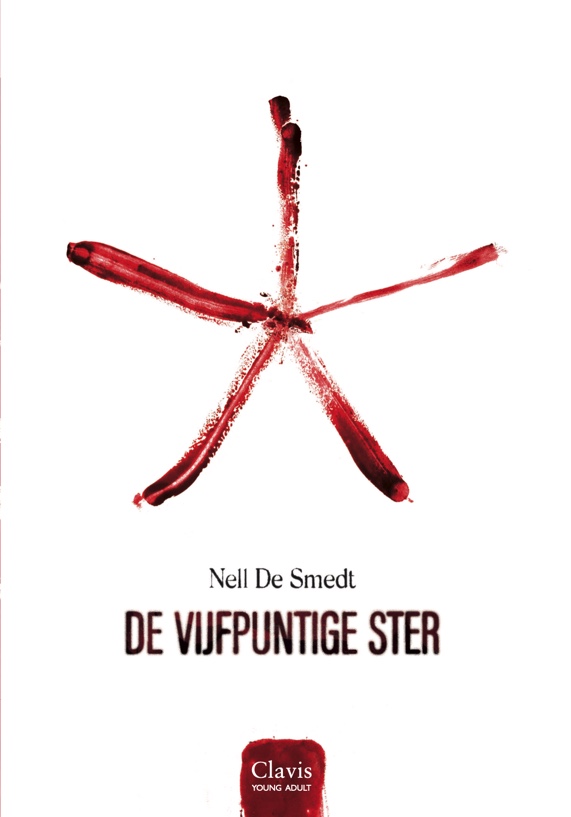 Zonder spoilers weg te geven: schets kort voor onze lezers waarover 'De vijfpuntige ster' gaat?
De Vijfpuntige Ster gaat over een groep vrienden die op korte tijd het nachtleven van één stad in handen krijgen. Na een dramatisch voorval gaat de bende uiteen, schijnbaar voorgoed. Tot één van de leden vijf jaar na de feiten vermoord wordt. De rest slaat een laatste keer de handen in elkaar om de moordenaar op te sporen.
Een moeilijke: lijst je drie favoriete boeken op.
Dat is inderdaad even nadenken. Ik ga toch een poging doen:
Kind onder Kannibalen – Charles Bukowski
De verborgen geschiedenis – Donna Tartt
Stoner – John Williams
Bedankt voor het fijne interview Nell!
Circe en De vijfpuntige ster, Nell De Smedt, Clavis