Een kleine griepepidemie heerst onder 2/3 van de boekenmeisjes. Barbara moest vorige week forfait geven, ik ploeter verder in letterland met twee dikke truien aan en de kruidenthee binnen handbereik.
Ook binnen handbereik (ok, ik geef het toe, af en toe aai ik ze), is mijn stapeltje vers geïmporteerd leesvoer van over het kanaal. Het nieuwe jaar werd ingezet in Londen, wat mij de kans gaf om een bezoekje (ok, niet helemaal waar, eerder drie) te brengen aan het shopparadijs voor boekenseuten. Waterstones Picadilly telt vijf verdiepingen volgestouwd met boekenkasten, hoogst gespecialiseerde vakliteratuur allerhande en twee koffietenten. Oh, ja, en doorheen de stad zijn tientallen extra filialen. Ik bedoel maar…

Dus, leg die anti-jaloeziepil al maar klaar, hier mijn nieuwe schatten:
The Novel Cure, An A-Z of literary remedies, Ella Berthoud & Susan Elderkin
Herinnert u zich de poëziedokter nog? Wel, dit naslagwerkje is vergelijkbaar: voor elk kwaaltje schrijven de boekendoktoren wat voor. 'The ten best novels for seeming well-read' bijvoorbeeld. Of 'Being a compulsive book-buyer'. Maar ook minder literaire problemen, zoals 'Fear of death', 'Divorce', 'Being lost' en zelfs 'Man flu' worden verholpen met enkele pagina's literatuur.
Reading on Locations, Great books set in top travel destinations, Luisa Moncada en Scala Quin
Tripje gepland? U mag altijd even komen snuisteren in dit boek. Trekt u bijvoorbeeld naar Hong Kong, lees dan 'Fragrant Harbour' van John Lanchester. Voor Sri Lanka tippen ze 'Reef', Michel Ondaatje en Shyam Selvadurai, dus ik kan een vervolg breien aan mijn inleesreis.
Novel Destinations, Literary Landmarks from jane Austen's Bath to ernest Hemingway's Key West, Shannon McKenna en Joni Pearl
Tja, wat moet er nog gezegd worden? Tot nu toe plooide ik al hoekjes om ter hoogte van het 'Edingbrugh International Book festival', 'Bookish places to sip and sup' en 'Bath, England'. So little time…
The Road to Little Dribbling, more notes from a small island, Bill Bryson.
Wederom, meer uitleg is hier eigenlijk niet nodig. Bill is op onze blog een vaste waarde. De man is fenomenaal. Bent u hier niet van overtuigd, verzoek ik u vriendelijk het pand te verlaten. Met onmiddellijke ingang.
In the unlikely event, Judy Blume
Een beetje de guilty buy van de trip. Ik heb geen T.V., maar een surrogaat 'Aircrash Investigation' in de vorm van een licht verteerbare roman kan er altijd in.
The Bad Girl, Mario Vargas Llosa
De tip van boekenknecht Kurt als antwoord op de slapeloze nachten die mijn recensie van 'Nacht Circus' hem bezorgde. Hij omschrijft het als: "Destructieve romantiek in Parijs, Londen… Je bekijkt het Hotel Russell in Bloomsbury nooit meer met dezelfde ogen als je deze kanjer gelezen hebt!". Voorlopig klok ik mijn schoonheidsslaap nog netjes af op zeven uur, maar we zitten nog maar in het prille begin…
Haalden ook de winkelmand en zullen vooral ingezet worden tijdens de voorbereiding van aanstormende danskampen van een welbepaalde dansschool regio Willebroek:
1O1 Things for kids to do on a rainy day, Dawn Isaac
Paper Made, 1O1 exceptional projects to make out of everyday paper, Kayte Terry
How books are made, Esther K. Smith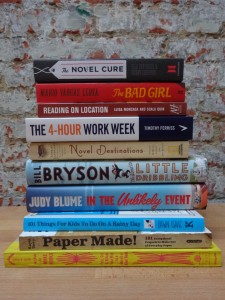 Ik griste last minute ook nog The 4-Hour werkweek van Thimothy Ferris mee, een boekentip van onze ondernemende vrouwenweek.