Ik ben te laat. Gelukkig ben ik niet de enige: Willeke en Annelot, twee huppeltjes van ongeveer 1,25 meter groot komen ook net aangespurt, gekleed in pyjama. Samen melden we ons aan voor het pyjamalezen in de Bib van Willebroek.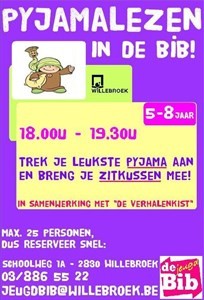 Pyjamalezen maakt deel uit van De verhalenkist, een droom die enkele jaren geleden werkelijkheid werd voor Veer Willaert, An Willaert en Wim Van Verre. Omdat het al heel lang kriebelde en omdat verhalen het mooiste geschenk zijn voor kinderen. De verhalenkist vertelt, knutselt, beeldt uit, interpreteert en vertelt. Ze trekken door Vlaanderen met fantasierijke vertel- en voorleessessies.
20 kinderen zitten in pyjama op een stapel kussens rond Veer, klaar voor de sessie.
Ik ontdekte het pyjamalezen toen één van onze dansers op vrijdagavond uit de dansles werd geplukt, uit haar dansbroek werd gehesen en haar pyjama aangetrokken kreeg. Jente had een date met pyjamalezen.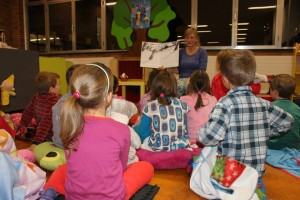 Achter Veer staat een grote kist, waar Dieuwke iets uit mag halen. Ze pikt er een banaan uit, en prompt tovert Veer het boek De opscheppers van Tjibbe Veldkamp te voorschijn. Een pittig boek dat kinderen het wel en wee bijbrengt van het opscheppen.
Tussendoor kondigt Luna aan dat 'ze een nepdrol bij heeft in haar rugzak'. Even ter info.
Daarna is een durfal met blonde krullen aan de beurt, die een plastic dinosaurus uit de kist haalt. En hop, daar is het ludieke Gigantosaurus van Jonny Duddle . Een flapboek vol fantasaurussen, leuke rijmsels en gekke geluiden, die de kinderen spontaan meeroepen. En ook voor het nodige ontzag zorgt: Lazio, in zijn vrije tijd een gedreven hip hopper, duikt weg achter zijn mignon-kussen.
Enkele jongens ontdekken dat ze op de gladde bibvloer fijn kunnen kussenschuiven, dus haalt Veer haar volgende wapen te voorschijn: haar kamishi. Een van oorsprong Japans 'poppenkastje' met vertelplaten.
Veer brengt een hartverwarmend verhaal over Jan's bezoek aan de dierentuin . De kinderen zijn onder de indruk van de mooie plaatjes. Ze maken samen met slangengeluiden, trekken gekke apenbekken en beelden zich in hoe het zou zijn om net als vogels te kunnen vliegen. Ik zie Manons hoofd al wat meer richting zitzak neigen. Het pyjamalezen begint effect te hebben.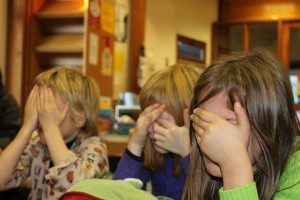 Twee jongens ontdekken op dat moment dat de bibvloer ook perfect kan dienen als ondergrond om sneeuwengeltjes te maken. 'Ok', roept Veer, ' tijd om wat te bewegen! Alle kussens aan de kant…' Even stretchen en dan kan de bal worden rondgegooid. Alle kinderen zeggen hun naam en lievelingsdier. Daarna mogen ze alle dieren uit het verhaal gaan uitbeelden. Het zicht van 20 achteruitspringende konijnen is hilarisch en zorgt onder de kinderen voor dolle pret. Daarna schakelt Veer over op 1,2,3 dierentuinpiano.
Om af te sluiten en de kinderen na de gekke dierentuin-episode niet als een bende opgejutte bengels weer naar huis te sturen, volgt er nog een verhaal. Maria haalt een bol wol uit de kist.
Daar is Sneeuwwitje breit een monster van Annemarie van Haeringen, waarin enkele klassieke sprookje een kwinkslag krijgen. Sneeuwitje kijkt niet uit bij het breien en laat een zelfgebreide wolf van haar breinaald afspringen, die eensklaps mevrouw Schaap verorbert. De kinderen hebben heel wat ideeën omtrent oplossingen voor Sneeuwwitjes netelige situatie:
'Ze moet een Dino breien'.

'Nee, een breinaald in de wolf zijn achterste prikken'.
Daarna volgen een zelfgebreide tijger, die de wolf opeet, wat toch wat empathie naar mevrouw Schaap toe oplevert:
'En mevrouw Schaap dan?'
Sneeuwwitje breit snel een monster, die de tijger opeet. Daarna haalt ze het monster uit elkaar. Daar komt mevrouw Schaap weer tevoorschijn.
Als alle pyjamalezers naar huis gaan om in bed wat schaapjes te  tellen, strikken we Veer voor enkele vragen. Zij, echtgenoot Wim en zus An studeerden Germaanse Talen aan de VuB. An geeft Nederlands en Engels aan de Kunsthumaniora in Brussel en is actief als kunstzinnig dynamisch coach. Wim is zelfstandig vertaler en revisor.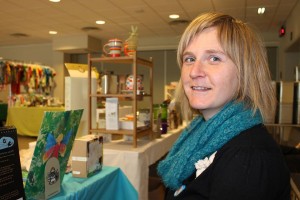 Hoe ontstond het idee voor de verhalenkist?
Het idee is ontstaan tijdens mijn eerste job als medewerker in de bib van Opwijk. Een organisatie kwam met de vraag om in de bib een leuke workshop voor kinderen te geven over wolven, en die heb ik toen samen met mijn zus An in elkaar gestoken en gegeven. Ik dacht meteen: dit wil ik vaker doen. Verhalen vertellen, werken met kinderen, creatieve activiteiten samen doen. Dat idee en verlangen is blijven zinderen en pruttelen.
Die zomer waren we met een goede vriend op een rommelmarkt in Saint-Cécile, waar we een prachtige houten kist zagen staan die vanbinnen bekleed was met retro bloemenbehang. Die goede vriend moedigde me aan om die kist te kopen en voila, de basis voor De Verhalenkist was er plots heel concreet. In januari 2010 hebben we de vzw De Verhalenkist officieel opgericht. Die kist heb ik trouwens nog steeds en zie je ook terug in ons logo. Als ik ga voorlezen of vertellen, gaat een tweede, compactere kist altijd mee omdat daar voorwerpen inzitten die de kinderen eruit halen en die te maken hebben met het verhaal dat ik ga vertellen of voorlezen.
Wat voor activiteiten rond kinderboeken organiseren jullie?
Je kunt De Verhalenkist boeken voor vertellingen en voorleesmomenten rond verschillende thema's. Bibs, scholen en andere organisaties kunnen kiezen uit een aantal kant-en-klare vertellingen of we werken op maat een vertelling of vertel-en voorleesmoment uit. Ik probeer het vertellen en voorlezen heel interactief te maken en de kinderen zoveel mogelijk te betrekken, zodat ze het verhaal niet alleen horen, maar ook echt ervaren.
Daarnaast geef ik creatieve verhalenworkshops. Na 1 of 2 verhalen gaan de kinderen dan creatief aan de slag: knutselen, tekenen, schilderen, (toneel) spelen, … Speels onderzoeken, experimenteren, creëren vind ik daarbij heel erg belangrijk. Net als een aangename, veilige en open sfeer, verbondenheid en spontaniteit.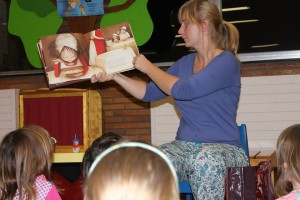 Je kunt De Verhalenkist daarnaast ook boeken voor een origineel verjaardagsfeestje: ofwel kies je een interactief voorleesmoment, ofwel een creatieve verhalenworkshop. De Verhalenkist verkoopt verder kinder- en jeugdboeken op leuke markten zoals De Binnenstraat en binnenkort De winkelkar
Hoe begin je aan het uitwerken van zo'n activiteit?
Voor een creatieve verhalenworkshop vertrek ik meestal van een boek dat ik leuk vind waar ik leuke creatieve opdrachten rond hetzelfde thema bij zoek. Meestal zijn dat beeldende opdrachten, maar ik werk ook graag met improvisatie en drama.
Soms vertrek ik ook van iets wat ik heel graag samen met kinderen wil doen, zoals maskers maken of werken rond een bepaalde kunstenaar of kunststroming en dan zoek ik leuke passende (prenten)boeken bij die activiteit. Een heel handige site om boeken te zoeken op thema vind ik pluizer of zoeken.bibliotheek.be.
Inspiratie vind ik in leuke knutselboeken, op pinterest, in tijdschriften en tijdens creatieve workshops die ik zelf volg. Ik ga ook heel regelmatig in de bib snuffelen tussen de prentenboeken, en ik hou leuke boekenblogs in de gaten.
De verhalen en de creatieve activiteiten die ik kies, moet ik zelf leuk vinden. Dat klinkt misschien voor de hand liggend, maar het is voor mij het allerbelangrijkste. Hoe kan je een verhaal vertellen of een creatieve activiteit uitleggen en samen doen met kinderen zonder dat je er enthousiast over bent? Kinderen voelen en zien heel veel, ook al brengen ze dat niet altijd expliciet onder woorden.
Als ik een verhaal vertel, is de tekst in het boek mijn uitgangspunt, maar ik vertel het verhaal bijna nooit woord per woord uit het boek. Ik vul de tekst aan met mijn eigen woorden om het verhaal te vertellen.
Wat ik wel altijd doe, is de schrijver en de illustrator vermelden. Ik merk dat kinderen na een vertelling vaak op zoek willen gaan naar het boek om het nog eens te lezen.
Dat doet me altijd heel veel plezier, omdat dat één van de dingen is die ik wil bereiken met De Verhalenkist: kinderen zin doen krijgen in verhalen, boeken, en lezen.
Welke zijn jullie drie ultieme kinderboekentips?
Tip 1: Sprookjesboeken! Ik heb er ondertussen al aardig wat, maar mijn favoriet is Grimm, volledige uitgave van Lemniscaat (2005)  met prachtige illustraties van Charlotte Dematons. Deze is nu nog steeds verkrijgbaar, en terecht.
Sprookjes zijn zo rijk, zo gelaagd, en groeien met je mee. Ze zijn echt voor jong en oud, en je haalt eruit wat er op dat moment voor jou in zit. Ik kan ze nu nog steeds met verwondering herlezen en ontdekken.  Iedereen hoort minstens 1 sprookjesboek in huis te hebben.
Tip 2: mijn 2 lievelingsboeken die ik om de zoveel tijd herlees: Juniper en Heksenkind van Monica Furlong. Fantastische boeken, over de magische, natuurlijke wereld van de dorans, wijze vrouwen die in harmonie leven met de natuur. De wereld in deze twee boeken is voor mij een tweede thuis. Heerlijk.
Tip 3, om heerlijk voor te lezen: alle prentenboeken van Tjibbe Veldkamp. Hij schrijft met zoveel humor, speelsheid en ondeugendheid.  Elk boek van hem dat ik al heb voorgelezen of verteld, slaat ongelofelijk aan bij kinderen, zowel kleuters als jonge lagereschoolkinderen, en bij volwassenen. Absolute topper: Temmer Tom, met illustraties van Philip Hopman.
Wat is de leukste reactie die je ooit kreeg?
Altijd heel fijn vind ik knuffels krijgen na het vertellen. Soms om kippenvel van te krijgen, zo was er een meisje dat niets zei, maar gewoon op me afstapte na de vertelling, en me een minuut lang een knuffel gaf. Ik kreeg er tranen van in mijn ogen…
Wat zijn de verdere toekomstplannen?
Ik start volgend jaar met een opleiding creatief stemwerk bij De Kleine Tiki, en ik ben benieuwd wat dat gaat geven en hoe dat mijn vertellen gaat beïnvloeden.
Daarnaast is het een droom om ooit een vertelvoorstelling met dans en muziek te maken van Het Vlindermeisje, een prentenboek dat ik zelf heb geschreven en waarbij Sarah Dekinder de illustraties maakte. Het is uitgegeven door De Verhalenkist, in eigen beheer.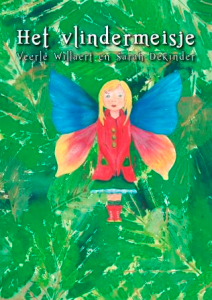 Mijn tweede verhaal, over de bijzondere band tussen een meisje en haar opa, is al min of meer klaar, daar wil ik nu graag zelf de illustraties bij maken. En Wim en ik hebben ook wilde plannen voor een verhalenbundel en een bundel met gedichten en illustraties en schilderijen.
Momenteel ben ik bezig met de uitwerking van een Halloweenvertelling voor de bib van Evere, daar kijk ik al erg naar uit! En ik kijk ook uit naar de samenwerking met An dit najaar: we mogen in een school gaan vertellen en dansworkshops geven, en ik ben benieuwd naar hoe de kinderen die mix van dans en vertellen gaan ervaren.
Volg De Verhalenkist op facebook.
P.s.: Nog een verslag over een literair evenement in de Bib van Willebroek? Lees hier onze impressie van Hoe dichter, hoe liever.
P.p.s: nog nood aan jeugdboekenvoer? Hier een lading kinderboekentips voor prinsessen.
P.p.p.s: Katrien duikt weer in de jeugdboeken uit haar kindertijd.
Ook van  bodem en werkzaam in de bib van Willebroek: dichter Jurgen Nakielski, één van de genomineerden van onze columnwedstrijd met 'Mijn verontschuldigingen'.
Het pyjamalezen gaat op vrijdag 4 september weer van start, meer info bij de Bib van Willebroek.