Wachtrijen voor literatuur, het bestaat. Tijdens het Passa Porta festival 2023 staat er op een druilerige zondagochtend om 10u een respectabele rij mensen voor de Munt. Het gesprek met Annie Ernaux, de meest recente winnaar van de Nobelprijs voor Literatuur, begint pas om 11u, maar de die-hard fans (count us in) nemen geen risico. Ernaux is 83. Vandaag is ze gezond, in Brussel en (in haar geval ook niet vanzelfsprekend) bereid tot een interview. Zo'n kans laat je niet voorbijgaan.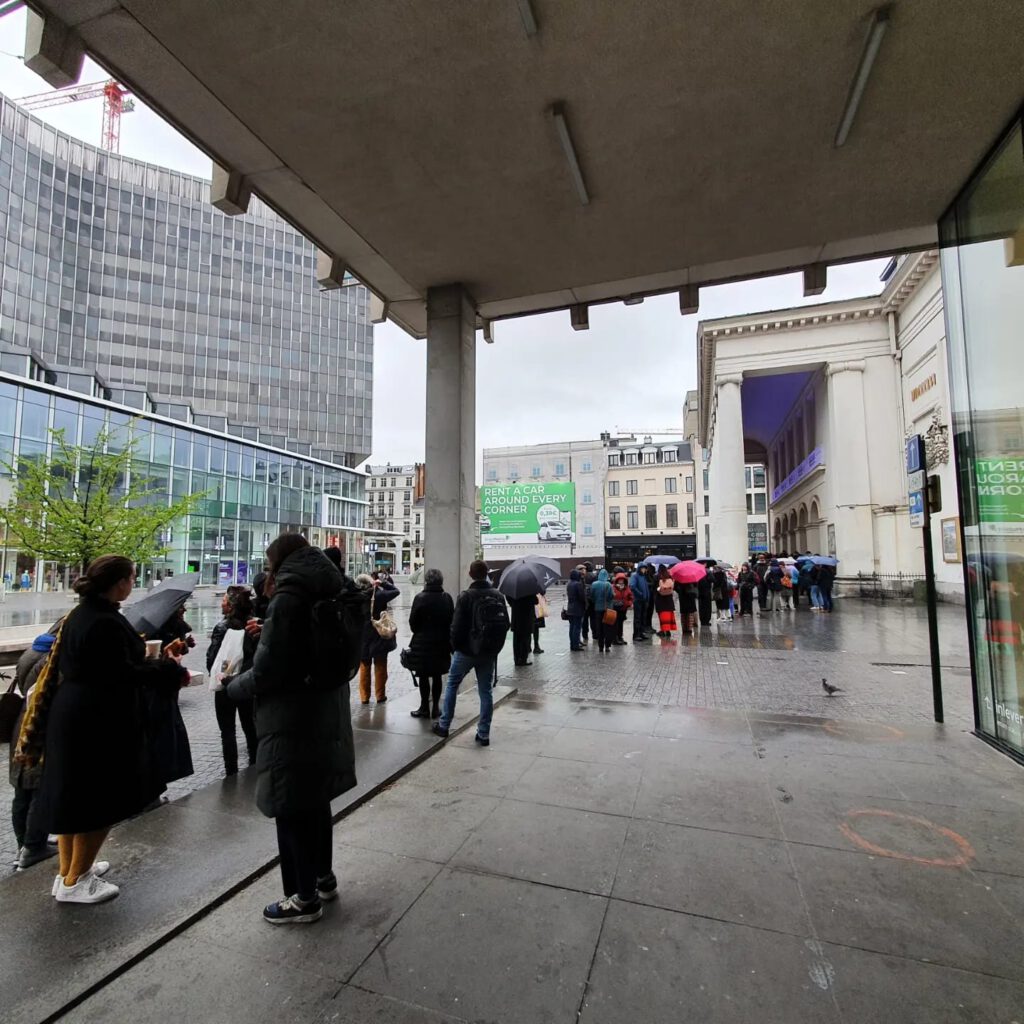 Barbara: Tijdens mijn leven ging de Nobelprijs voor Literatuur 11 keer (op 42) naar een vrouw en 3 keer naar een eentje die ik bijzonder graag lees – Wislawa Szymborska (1996), Alice Munro (2013) en Annie Ernaux (2022).
Ik heb nog nooit een Nobelprijswinnares live bezig gezien. Vandaag gaat dat veranderen.
Zodra Ernaux de schouwburg betreedt krijgt ze een minutenlange staande ovatie. Dat voelt goed. Ik denk aan een paar zinnen uit Ernaux's abortusnovelle Het Voorval: "De dingen zijn me overkomen om mij bewust te maken. En het echte doel van mijn leven is misschien alleen dit: dat mijn lichaam, mijn gevoelens en mijn gedachten tot geschriften worden, dat wil zeggen tot iets wat begrijpelijk is en algemeen, mijn bestaan volledig opgelost in de hoofden en levens van de anderen." Vanmorgen zijn Katrien en ik niet alleen in het uitstekende gezelschap van Ernaux herself, maar ook in dat van honderden andere lezers, in wiens hoofden de geschriften van Ernaux zijn opgelost. Geen fijner gezelschap denkbaar.
Katrien: Ik zou nooit zeggen dat vorige edities van Passa Porta niet memorabel waren. In 2015 zagen we Ian McEwan live. In 2017 gingen illustratoren Lies Van Gasse, Léonie Bisschof en Randall Casaer aan de slag met het thema 'drie boekenmeisjes'. Er waren ook een paar glazen rosé mee gemoeid op een zonnig terras, stel ik vast als ik de blogpost herlees. Dit keer regent het pijpenstelen en zitten we aan de caffeïneshots. Toch is dit overduidelijk een editie hors catégorie.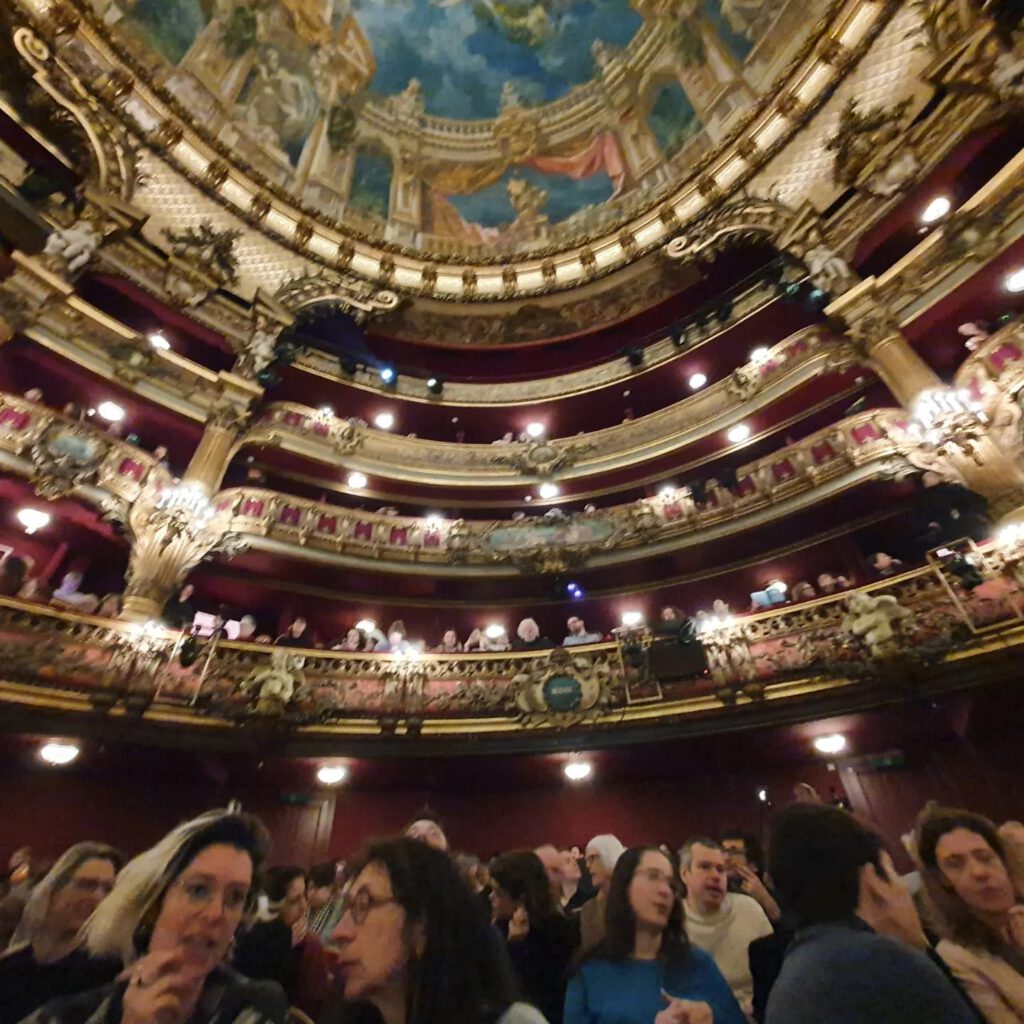 Barbara: Het gesprek verloopt (uiteraard) in het Frans, niet mijn beste vreemde taal. Ik onthoud volgende quotes van Ernaux, maar dus uit de losse pols en in eigen vertaling:
"Schrijven is denken, structuur aanbrengen. Literatuur vereist organisatie. Mijn werk bevat veel ervaring maar weinig verbeelding."
"De Nobelprijs is me overkomen. Ik heb er niet om gevraagd en niet naar verlangd. Ik moet de prijs, en de aandacht die hij meebrengt, nu een plaats geven. Eigenlijk gedij ik in de schaduw."
(Bij een oude foto van zichzelf, als late twintiger/prille dertiger): "Ik kon toen aan niemand vertellen dat ik schreef. Niet aan mijn man, niet aan mijn moeder, niet aan mijn collega's in de leraarskamer. Veel meer dan nu, stond schrijven toen in aanzien."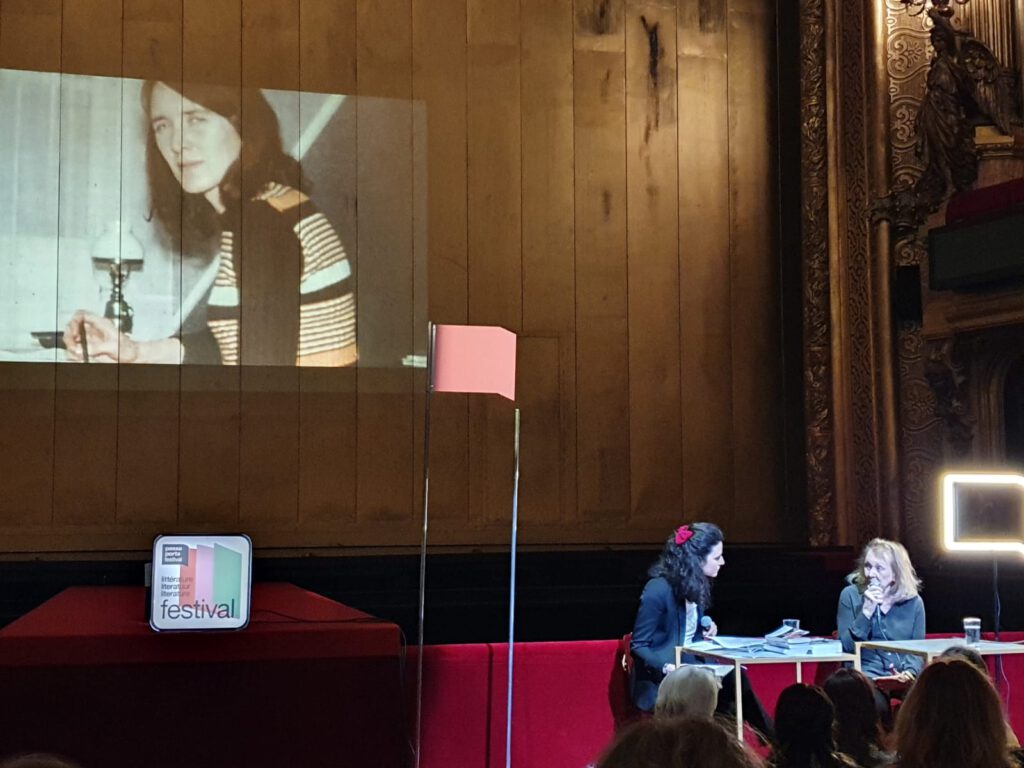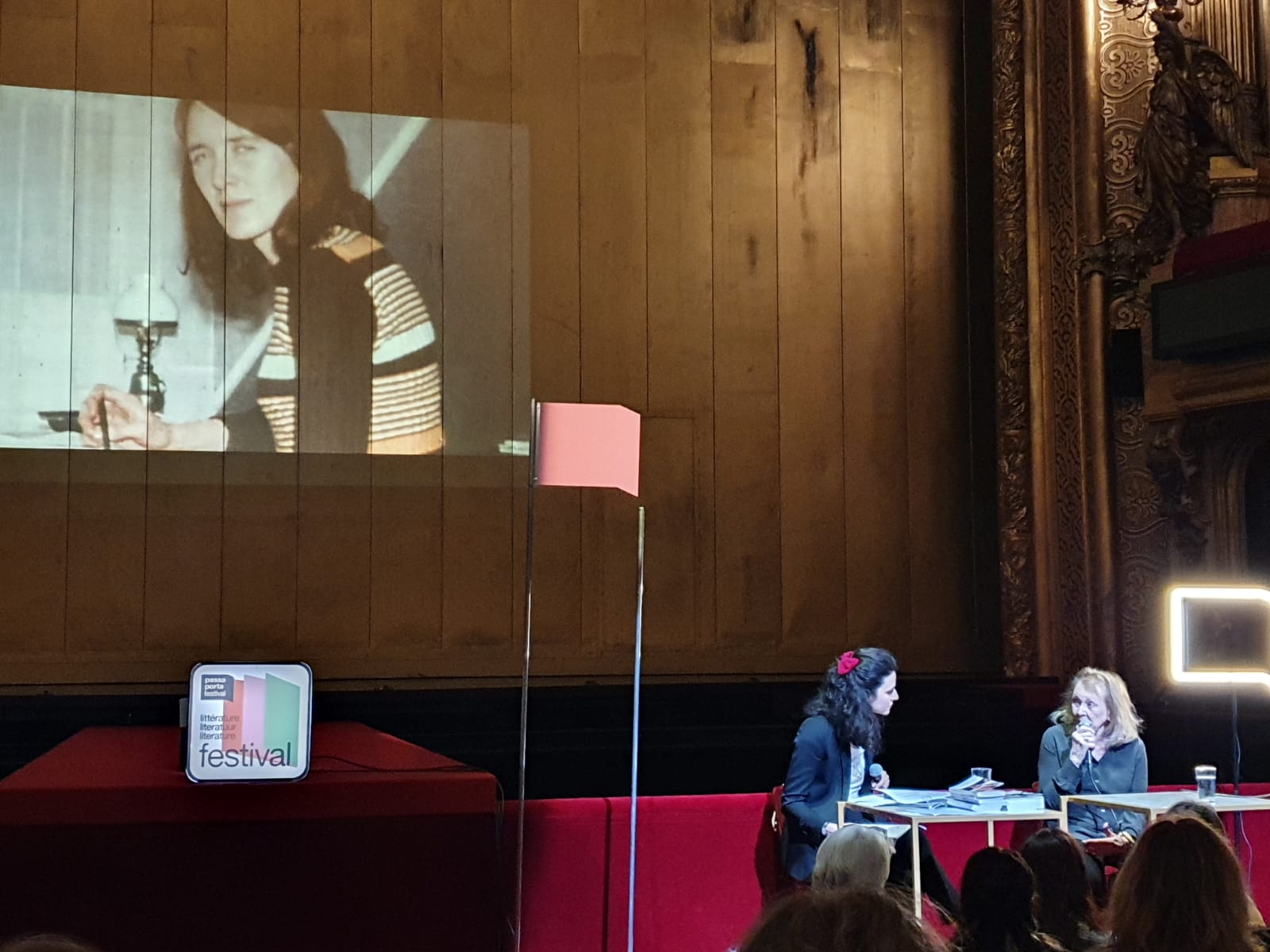 "Nadat ik het romandebuut van Simone de Beauvoir, l'Invité, had gelezen, wist ik: 'Zo wil ik niet schrijven.' (lacht) Maar ik heb ook La Deuxième Sexe gelezen en dat essay maakte indruk. Het is een filosofische en antropologische prestatie, maar vooral: de Beauvoir schrijft vanuit haar ervaring als vrouw. In een tijd waarin niemand schreef over vrouwelijke seksualiteit, maandstonden, ontmaagding, deed zij het wél." (Zo weet je meteen waarom je de Beauvoir vandaag nog zou lezen…)
Katrien: Over de schrijfstijl van Annie Ernaux is al veel inkt gevloeid. Zo is De jaren basically een autobiografie zonder ik, een vrouwenleven verteld aan de hand van een opsomming van kleine en grote feiten uit de Franse (politieke) geschiedenis. Heel matter-of-fact maar tegelijk ook heel persoonlijk. Ernaux analyseert het vandaag treffend als volgt: "De sentimenten heb ik weggelaten. Maar het zijn niet gewoon maar feiten. Ze zijn doorleefd. En ik heb ze geselecteerd en geordend." Het sluit mooi aan bij het motto van haar jongste boek De jongeman: "Als ik de dingen die ik meemaak niet opschrijf, zijn ze niet af, dan zijn ze alleen maar geleefd."
Naast die verwevenheid van het persoonlijke en politieke is Ernaux ook de schrijfster van de sociale mobiliteit, een thema dat ze deelt met dat andere wonderkind van de actuele Franse literatuur, Édouard Louis. Terwijl Ernaux vertelt hoe subtiel uitsluiting omwille van armoede werkt – zo moest ze ooit voor een schooluitstap 'stadskledij' aan, maar niemand uit haar gezin wist wat dat inhield – vraag ik me af wat het patois sprekende schoolmeisje Ernaux hiervan had gevonden: van deze bourgeois setting en de slimme vragen.
Barbara: De Franse schrijfster en journaliste Salomé Kiner doet het interview. Toen haar debuut Grand Couronne verscheen in 2021, stuurde ze een exemplaar naar Ernaux. Die schreef een brief terug en prijst ook vanmorgen het boek van haar gesprekspartner. Die steunbetuiging vergroot de toch al sympathieke indruk die de Nobelprijswinnares maakt. Ze is welbespraakt, vriendelijk en geduldig: door het lange applaus en de twee intro's die ze krijgt, moet ze tot drie keer toe wachten om het woord te nemen. Haar mond gaat open achter de microfoon en geruisloos weer dicht. Haar ogen glimlachen.
Katrien: Het interview met Annie Ernaux blijft ook tijdens de rest van het programma nazinderen. Boon-genomineerde Niña Weijers zal de française regelmatig citeren en als de Oekraïense schrijfsters Oksana Zaboezjko en Victoria Belim het hebben over het stockholmsyndroom is de jonge Annie Ernaux die 'être violée' verwarde met 'consentir' nooit veraf. Maar ook bij het publiek lijkt het wel of de passage van Ernaux voor extra feministische punch heeft gezorgd. 'Waarom worden al die vrouwelijke auteurs door mannen geïnterviewd?' hoor ik fluisteren wanneer Peter Vermeersch het podium betreedt voor het gesprek met Zaboezjko en Belim. Wanneer Zaboezjko Vermeersch even later een te mannelijke vraagstelling verwijt – hij vraagt of je met persoonlijke verhalen wel aan geschiedschrijving kan doen, weerklinkt er overal applaus en gejoel.
De geest van Ernaux krijgt niemand vandaag nog in de fles.
Barbara: Om af te sluiten nog een citaat uit 'De jaren'.
"Wanneer ze bij de kassa van de hypermarkt staat te wachten, denkt ze weleens aan alle eerdere keren dat ze zo met een al dan niet volgeladen winkelkarretje in de rij heeft gestaan. Ze ziet wazige vrouwengestalten, alleen of vergezeld van kinderen die rond het karretje darren, vrouwen zonder gezicht, onderling alleen verschillend door het kapsel – een dot in de nek, kortgeknipt haar, halflang haar, een ponykapsel – en door de kleren – die maximantel uit de jaren zeventig, die zwarte driekwartjas uit de jaren tachtig – als beelden van zichzelf die zijn losgeraakt, uit elkaar geschoven als matroesjka's.
Ze stelt zich voor dat ze hier over tien of vijftien jaar staat, haar winkelkarretje gevuld met snoep en speelgoed voor kleinkinderen die nog niet geboren zijn. Die vrouw lijkt voor haar even onwaarschijnlijk als voor het meisje van vijfentwintig de vrouw van veertig van wie zij het onvoorstelbaar vond dat ze die op een dag zou zijn, en die ze al niet meer is."