Voor onze columnwedstrijd was het prijzenpakket snel bepaald: boeken. En om onze schrijfwedstrijd wat extra punch mee te geven, besloten we er een spectaculaire taart tegenaan te gooien.
Wij zijn uiteraard niet vies van een bakexperimentje, maar de term 'spectaculair' was ondertussen zo vaak gevallen dat er toch wat stress de kop opstak bij de bakster van dienst.

Wat doet een licht panisch boekenmeisje in geval van nood? U zegt? Chocolade eten? Ja, ook, maar daarna? Juist, één van onze hulplijnen bellen. Enter twee bakboeken van Karakter Uitgevers.
Ah, Mary Berry. Een toepasselijke naam voor deze zoete taartenmevrouw. Ze is één van de Britse establishments die zich de jury van The Great British Bake Off mag noemen. Ze geeft al meer dan twintig jaar bakboeken uit en vond het dringend tijd voor een ultieme verzameling recepten. Ik sla Mary Berry's bakbijbel open, op zoek naar een recept. De basis voor mijn spectaculaire taart moet stevig zijn, dus geen chocolademoussetaart, kleverige gember-sinaasappelcake of geglazuurde walnootlagentaart. Ik kies voor de Grote Victoria Laagjestaart, afgewerkt met een vanillesmaakje.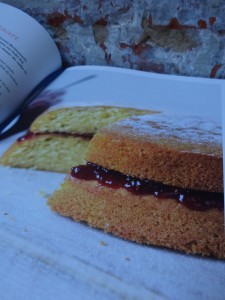 Met toestemming van de uitgeverij, laten we jullie graag mee proeven van het recept:
Nodig:
225gr zachte boter
225gr fijne suiker
4 grote eieren
225gr zelfrijzend bakmeel
2 afgestreken theelepels bakpoeder
1. Verwarm de oven voor op 180 graden. Vet twee diepe ronde bakvormen met een diameter van 20cm in en bedek de bodem van elke bakvorm met bakpapier.
2. Doe de boter, suiker, eieren, het meel en de bakpoeder in een grote kom en klop het geheel goed door elkaar. Verdeel het mengsel gelijkmatig over beide bakvormen en strijk het glad.
3. Bak de cakes 25 minuten in de oven tot ze goed gerezen zijn en terugveren als je ze zachtjes indrukt met je vinger. Laat ze een paar minuten in de bakvorm zitten en haal ze er dan uit. Verwijder het bakpapier en laat de cakes volledig afkoelen op een rooster.
4. Bestrijk een van de koude cakes met jam en leg de andere erop. Bestrooi de bovenkant met tafelsuiker.
Lekkere cake, check. Nu nog de versiering…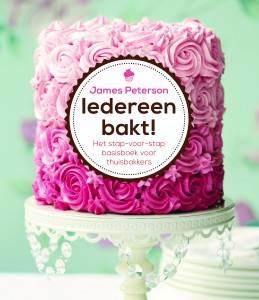 Iedereen bakt is het zelfhulpboek voor de prutsende thuisbakker. Stap voor stap krijg je uitleg over alles: de basisbeginselen van de genoise, 19 verschillende glazuren en vullingen (Mmm, ganache), het geheim van custard en drie manieren om paté brisé te maken. Laat het duidelijk zijn: als ik er in slaag die taart te verprutsen, ben ik een kluns. Of een analfabeet.
Gelukkig hoort bij elke stap een prent. Het hoofdstuk 'Een taart bedekken met rolfondant' pluis ik nog eens haarfijn uit, maar mijn vier lagen tellende taart vertoont toch duidelijk wat meer bulten dan het voorbeeld. Ik ga de blutsen te lijf met glitter en extra veel versieringen binnen het literair thema: volgeschreven blaadjes (rolfondant en eetbare inkt), boeken (nog meer rolfondant) en letters (gelukkig heb ik een doosje uitstekers staan). Less is more gaat duidelijk niet op voor spectaculaire taarten, want na een laag glanslaak (eetbaar), parelmoer poeder (ook eetbaar) en een half potje glitter (inderdaad… eetbaar) staat er een spectaculaire taart op mijn aanrecht. Nu nog tot in Leuven geraken. Ik kijk het even na, maar een hoofdstuk 'spectaculaire taarten vervoeren' vind ik niet terug.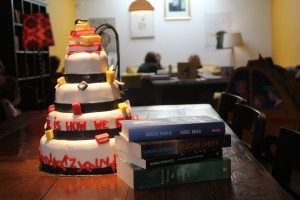 Een uur en een jaar van mijn leven later staat de taart te blinken op de tafel van Barboek. Katrien vliegt meteen in de foto's en winnares Hilde is blij dat ze een familiefeest op de planning heeft staan. Ook het boekenpakket oogst herkenning en enthousiasme. Hilde staat er goed voor: vanaf oktober neemt ze twee jaar verlof zonder wedde om te schrijven. 'Het zal wat discipline vergen maar ik kijk er erg naar uit'. Juryid An Olaerts is er ondertussen komen bijzitten en uit al meteen één van haar oneliners: 'Discipline? Dat zou er bij mij niet inzitten, ik zou een haf jaar niks doen!'.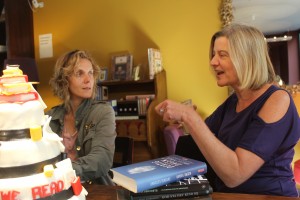 We babbelen boeken met de dames. Verder hebben we het over kinderen, natuurgidsen, schrijven, pubers, vakanties, werk, marginale yogalessen en taart. Een goeie afsluiter van een geslaagde columnwedstrijd. Wij brainstormen al over een concept voor volgend jaar.