Ik las onlangs in De Standaard: "Films gebaseerd op boeken brengen wereldwijd 53 procent meer op dan originele scripts. Bovendien scoren ze beter bij de critici en maken ze meer kans op Oscars." Interessant nieuws voor een boekenredactie die wel vaker de film met het boek vergelijkt. Maar hoe zou het dan zitten met films die gebaseerd zijn op een boek en bovendien gaan over een weduwe die een boekenwinkel wil openen in een Engels kuststadje? Die winnen de 'Prijs voor Beste Boekverfilming van het jaar' op de Frankfurter Bookfair. Ik heb het hier over The Bookshop, een film van de Spaanse Isabel Coixet, naar de gelijknamige roman van Penelope Fitzgerald.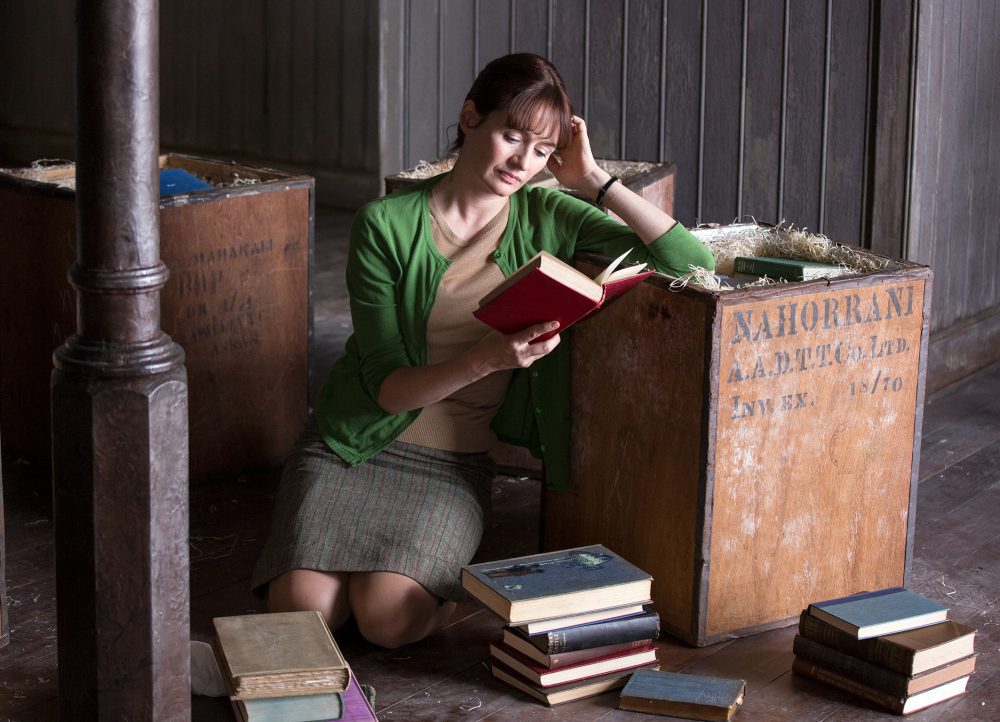 Ik maakte dit keer niet de balans op tussen 'boek en film' maar ging resoluut voor de charme van een film met een boekenthema. Want uiteraard heb ik wel eens gedroomd van een baantje in een knusse boekenwinkel, heb ik al eens gecheckt of ik een paar dagen deze Schotse boekenwinkel zou kunnen runnen (het antwoord is nee, je moeten jaren vooraf boeken) en leek The Bookshop mij de literaire feelgood tegenhanger van wat Juliet Binoches Chocolat was voor de chocolade. Met het idee van een gezellige en ontspannende film te zien, trok ik op een snikhete dag naar Cinema Zed, waar ik om 17u in de namiddag (ja, wij boekenmeisjes vinden films op 'ongehoorde' uren een zalige luxe) niet de enige was die verkoeling zocht in de filmzaal, iets waar Cinema Zed handig op inspeelt, met kortingen voor films op dagen waarop de temperaturen over de 28 graden gaan.
En ja, het was gezellig, maar The Bookshop is ook meer dan dat, en wel om volgende redenen:
de liefde voor boeken spat van het scherm! In weinig films worden boeken zo expliciet bezongen als in The Bookshop.
de tongue-in-cheeck humor: regelmatig moest de hele cinemazaal grinniken, niet luidkeels, maar toch. De humor van The Bookshop is subtiel en verfijnd, de dialogen spits.
de setting: ja, ik heb een voorliefde voor Engelse dorpjes aan de kust en de boekenmeisjes zijn niet vies van een high tea of twee, maar de woeste kust en de pittoreske huizen van het fictieve Hardborough deden me meteen googelen naar geheime plekjes aan de Engelse kust. En evenveel thumbs up voor de geweldig in beeld gebrachte imposante huizen, elegante kostuums en retro boekencovers (super interessant voor de geeks onder ons: welke boekentitels populair waren in de jaren 50). Ook de historische achtergrond is boeiend. Net na de opening van Florences boekenwinkel verschijnt Nabokovs Lolita. Hoe zal de bekrompen gemeenschap reageren op deze schandaalroman?
de inspirerende heldin: er zijn zo van die dagen dat je wel een rolmodel kan gebruiken… en daar was de moedige Florence Green, vertolkt door een erg charmante Emily Mortimer. De vastberaden Florence vaart tegen de stroom in (dat de lokale bevolking haar plannen tegenwerkt, is wellicht het understatement van het jaar), ze jaagt op haar eentje haar literaire dromen na, weerstaat een resem valse verleiders en als de oudere bibliofiel Bill Nighy (hij deed mijn hart al eens smelten in Love actually) ontdooit in haar gezelschap, moest ik toch een traantje wegpinken.
Benieuwd? Bekijk alvast de trailer en zoek de komende dagen net als ik naar koelte in de filmzaal (best wel surreëel trouwens om de Engelse wind en regen te horen loeien in het surround system van de cinema terwijl het buiten 30 graden is en het al weken niet meer geregend heeft). Ik denk dat ik dat volgende week ook nog eens ga doen. Filmtips, iemand?