Smartphonefotograaf in Sardinië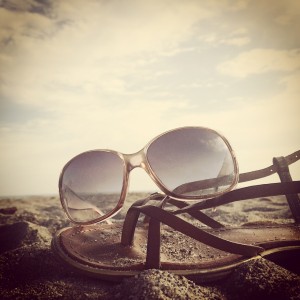 Op vakantie probeer ik er altijd zo min mogelijk uit te zien als een toerist: teva's, heuptasje, regenjassen, afritsbare broeken… allemaal niet aan mij besteed. Toch val ik altijd meteen door de mand – niet alleen omdat ik elk terras aangrijp als een gelegenheid om zonnecrème te smeren – maar gewoonlijk zeul ik ook mijn spiegelreflex met twee objectieven mee. Geen local die daar ooit zijn pizza, dorpsplein of flanerende vrienden mee fotografeert. Hoog tijd dus om undercover te gaan. Daarom stak ik Iedereen smartphonefotograaf (Stichting Kunstboek) van Vicky Bogaert in mijn valies naar Sardinië.
Vicky Bogaert is zelfstandig fotografe en illustratrice en met haar bedrijfje Silver Sixpence geeft ze fotografieworkshops: fotograferen voor beginners, portretfotografie en nu dus ook smartphonefotografie.
Heb je ooit al fotografieles gevolgd, dan klinken de tips uit Iedereen smartphonefotograaf vertrouwd: de regel van derden, scherptediepte en tegenlicht.
Fotograferen met je smartphone is immers niet radicaal anders dan fotograferen met een camera. En dat was voor mij net de revelatie van het boek.
Ik had duidelijk nog niet genoeg geëxperimenteerd met de camera van mijn iPhone.  Wist jij dat je met een eenvoudige tik op het scherm kan aanduiden waarop je wil scherpstellen of waar je het licht wil meten?  Ik dus niet! En er was meer, veel meer! Dat haar workshops bijzonder leerrijk zijn had ik via via al eens gehoord (en achteraf gezien); haar boek pakt ze even didactisch aan. Vicky legt alle technische snufjes en compositieregels stap voor stap uit met duidelijke voorbeelden, zodat ook beginnende fotografen met dit boek aan de slag kunnen. Dit doe-het-zelfboek is bovendien mooi vormgegeven en zit boordevol inspirerend fotomateriaal.
Zalig zijn natuurlijk al die effectjes die je kan gaan toepassen. Zelf ben ik gewonnen voor het tilt-shift effect waarmee je de randen van je foto onscherp gaat maken en van een filter ben ik ook niet vies! Vicky hanteert het motto 'less is more' en raadt je aan je te beperken tot een handvol filters of zelfs om een eigen unieke filter te creëren.
Tot slot introduceerde Vicky me in Snapseed (voor iPhone en Android) en Hipstamatic. Snapseed is een soort van Photoshop voor de smartphone waarmee je ook delen van foto's kan bewerken. Hipstamatic is een app die je terugvoert naar de wereld van de analoge fotografie. Je kiest vooraf je effect/techniek/lens uit de analoge fotografie, je neemt je foto en wacht enkele seconden tot die ontwikkeld is.
De spiegelreflex durfde ik niet helemaal thuislaten op vakantie maar regelmatig liet ik hem toch achter in de B&B, met dit resultaat.
Dat het een culinaire toptrip was! Aperol Spritz en pasta alla Bottarga (dankje voor deze tip Walter De Vries)
 Met kilometers aan verlaten stranden en duinen in Piscinas…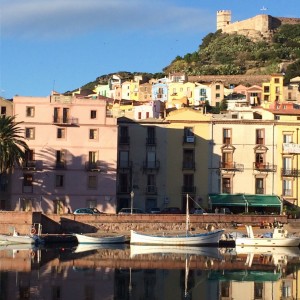 en pittoreske stadjes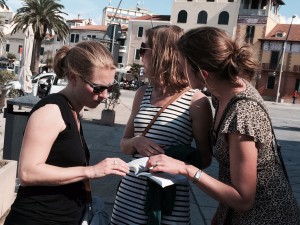 in bijzonder goed gezelschap
en prachtige wandelingen in een natuur die geen filter behoeft!
PS: Volg Vicky ook op Instagram voor inspirerend fotomateriaal!
PPS: Bezoek de fototentoonstelling van Marc Lagrange, fotografeer eens een boek of loop binnen bij Taschen.