Hmmm… Een linklijstje publiceren tijdens de herfstvakantie? Waarover zou ik het kunnen hebben? 'De nieuwe gids der zompige herfstwandelingen'? '13 daguitstappen met klein grut'? Het grote 'Draai het in de pompoensoep-kookboek'? Of toch maar een rondje boekenbeurs? Ach, het vlees is zwak en het grote boekenfestival in het land, dus we gaan onszelf niet langer voor de gek houden.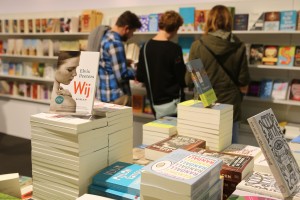 Verschillende uitgevers tipten enkele hoogtepunten uit hun programma voor de tweede helft van de boekenbeurs.
Uitgeverij Vrijdag brengt op zaterdag radiopresentatoren Pat Donnez en Bart Stouten samen. Boekenmeisje Barbara interviewt de heren over hun romans Lichterlaaie en Bidden om verboden vruchten.
Vier toppers op een rij, op zondag: Marnix Peeters, Maartje Wortel, Elvis Peeters en Merijn De Boer. Confituur brengt deze vier sappige auteurs samen. Dat het zal smaken, weten we nu al.
Ga tijdens de literaire nocturne op dinsdag zeker eens luisteren naar 'Het moeilijke, tweede boek'. Schrijven onder druk, hoe gaat dat? Wat na dat succesvol debuut? Hm, misschien houden we het hier best bij een boekenblog en bergen we snel, snel onze literaire dromen op.
Auteur Joseph Pearce schreef een boek over de uitgeverswereld. Dinsdag brengt hij live verslag uit van de boekenwereld achter de schermen. Wij zijn al helemaal klaar voor de literaire roddels.
Zondagochtend geen koffiekoeken of goed boek in bed. Om kwart over negen test ik mijn lenigheid met auteur Goedele Leysen in een lege expohal. Gelukkig staat vriendin/musicalzangeres Anky paraat om samen een rood hoofd en ingewikkelde houdingen te trotseren. Yoga om de dag op de boekenbeurs te starten? Ideaal. Om tien uur vertelt Goedele ook alles over een leven in balans.
Hoe het ook alweer zat met de beurscrash? Iets met derivaten en Morgan Stanley? Enter Supercrash van Daryll Cunningham. Een strip die je de beurscrash haarfijn uitlegt en teruggaat tot in de diepste kronkels van de Amerikaanse politiek. Of het gebrek daaraan. Begrijpelijk en vermakelijk, wat wil een mens nog meer? Oh, ja, Meneer Cunningham live aan het woord zien.
Stichting Lezen, Boek.be en Vlieg lanceren een superspannende zoektocht voor kinderen van 4 tot 16 jaar op de boekenbeurs. Breng je speurneus dus zeker mee. En vergeet je kinderen niet.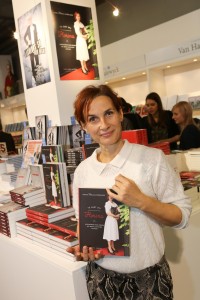 Hongertje? Bezoek de stand van WPG in hal 4. De auteurs van Eat, love, pizza laten je alvast voorproeven van hun heerlijke boek.
Zo, als dat geen druk weekend en goedgevulde tweede helft van de boekenbeurs wordt. En voor zij die zondagochtend wel koffiekoeken en een goed boek plannen, hier nog een tip .