De schooltijd van Kris Van Steenberge
Of wij het beu zijn, na die Boekenbeurs en dat feestje, om met schrijvers op de sofa te kruipen en hen de pieren uit de neus te halen? Als u ons een beetje kent, dan stelt u die vraag niet. Sterker nog, in dat geval hebt U vrijdag 24 november waarschijnlijk al in uw agenda aangekruist? Afspraak in de bibliotheek van Willebroek, waar Kurt en Eveline in gesprek gaan met Lara Taveirne en Kris Van Steenberge.
In afwachting van dat topevenement, kunt u vandaag lekker bijlezen over de lagere schooltijd van Kris Van Steenberge. Dit interview verscheen eerder in het vaktijdschrift Juf & Meester.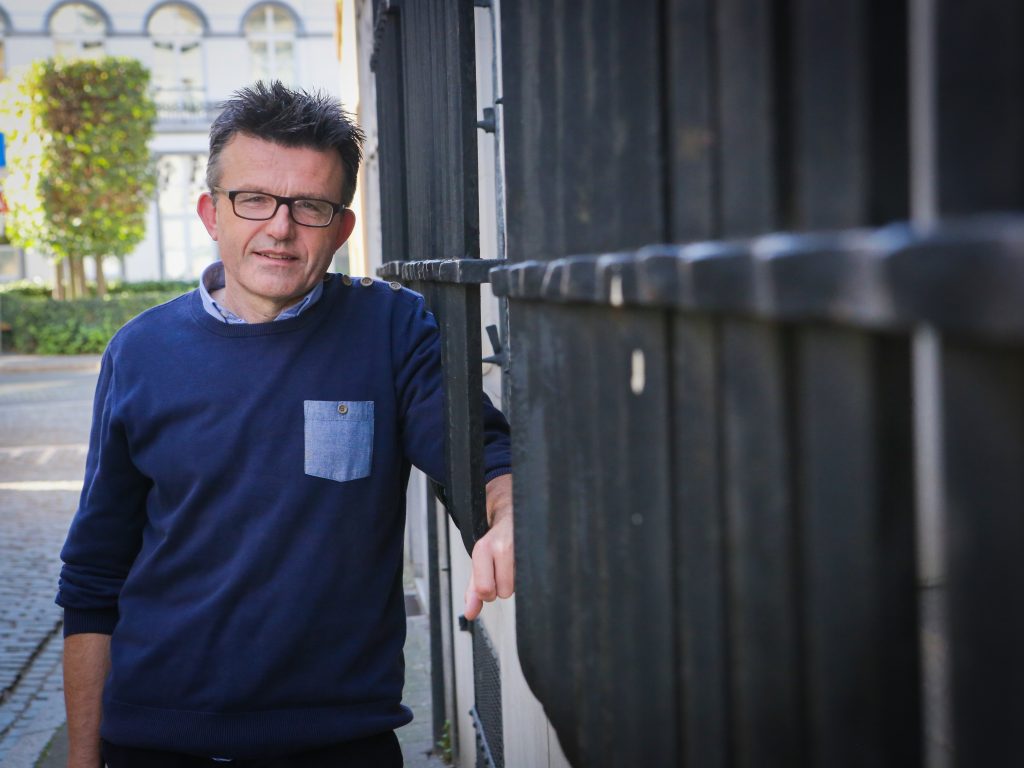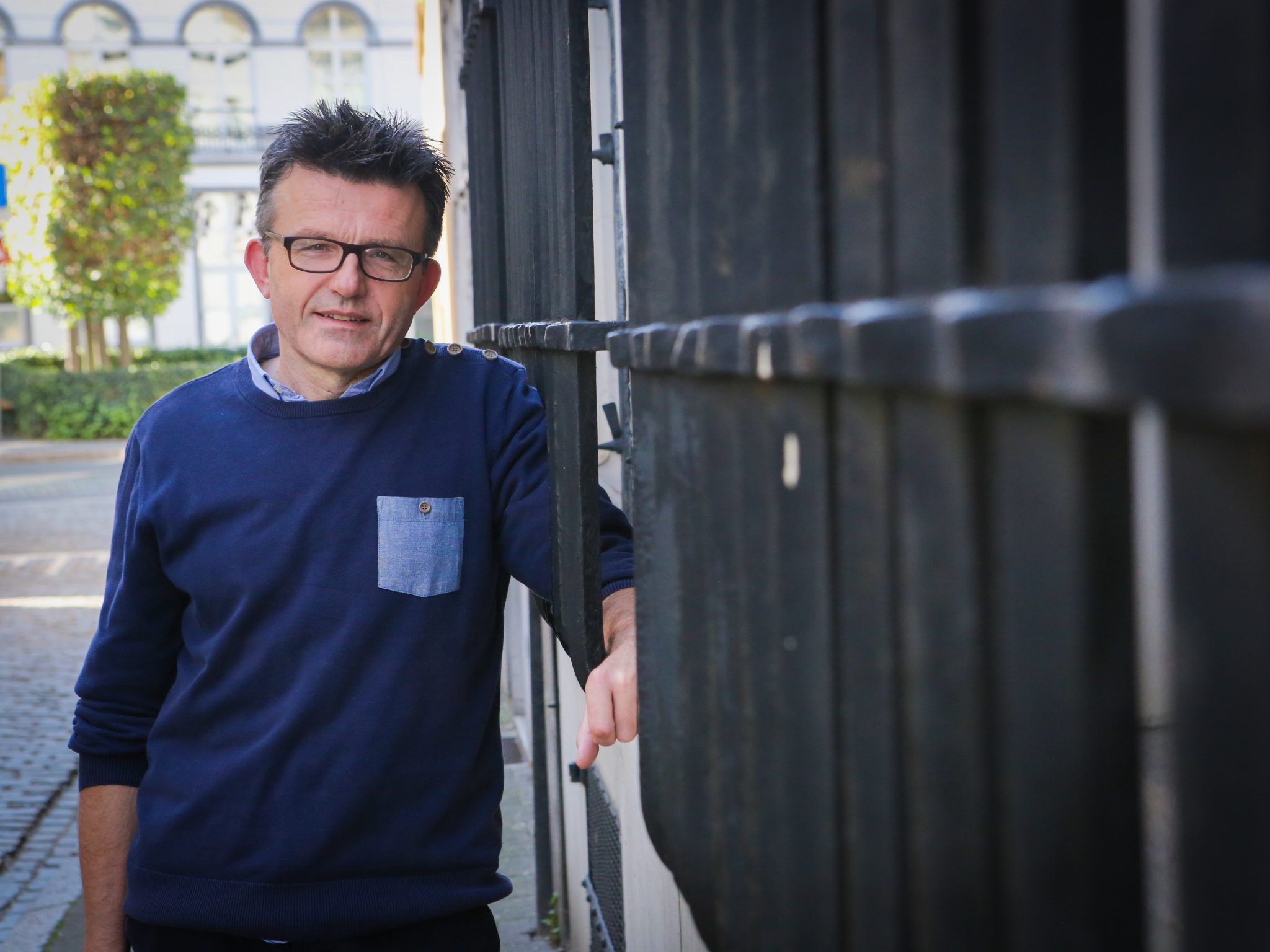 Schrijver Kris Van Steenberge gaf zeventien jaar lang les aan het vijfde leerjaar. Sinds het succes van zijn debuutroman 'Woesten' combineert hij het schrijverschap met een halftijdse functie op school. Hier blikt Van Steenberge terug op zijn eigen tijd op de basisschool: "Ik was een beweeglijk kind. Vandaag zou ik vast een of andere stempel krijgen."
Kris Van Steenberge was vijftig toen zijn debuutroman 'Woesten' in 2013 verscheen. De leraar van het Sint-Gummaruscollege in Lier raakte een gevoelige snaar bij lezers en critici met zijn vertelling over een doktersfamilie met een mismaakte zoon ten tijde van de Eerste Wereldoorlog.  'Woesten' kreeg lovende recensies, meerdere prijzen en vond een groot lezerspubliek. Twee verklaringen voor het succes komen altijd terug. Van Steenberge hanteert een opvallend, origineel en verzorgd Nederlands. Bovendien is hij een rasverteller. "Het eerste vind ik een mooi compliment, het tweede kan ik verklaren", lacht Van Steenberge tijdens onze ontmoeting in het Antwerpse Letterenhuis. "Ik heb tien jaar in het eerste leerjaar gestaan en daar heb ik geleerd hoe je een spanningsboog moet opbouwen.
Kinderen van zes zijn genadeloos. Je moet je verhaal boeiend brengen, of je bent hun aandacht na een minuut al kwijt."
"Vandaag heb ik geen eigen klas meer," vertelt de schrijver. "Ik voer nu halftijds beleidsondersteunende taken uit op school, waaronder ook preventie en veiligheid. Die halftijdse baan geeft me de ruimte om mijn werk te combineren met mijn literaire activiteiten. Ik heb altijd ontzettend graag met kinderen gewerkt, ik mis het wel vaak." Kris Van Steenberge is linkshandig, dat valt meteen op wanneer hij boeken signeert: "Ik heb nog een leraar gehad die me daarvoor met een regel op mijn handen tikte. Maar toen hij merkte dat het niets uithaalde, is hij er gauw mee gestopt. Ik heb er geen trauma aan overgehouden en schrijf nog steeds links én met een eerder bizarre pengreep."
Hoe reageerden je ouders, wanneer je thuis vertelde dat de leraar je op de vingers sloeg?
KVS: 'Ik zat in de vroege jaren 1970 op de basisschool. Dat was nog de tijd dat ouders de leerkracht van hun kinderen altijd gelijk gaven. Vandaag is zoiets ondenkbaar (lacht).  Als ik niets verkeerd had gedaan, moest ik toch naar de meester luisteren. En als ik wel iets had mispeuterd, kreeg ik er van vader nog een straf bovenop.'
Na het tweede leerjaar veranderde je van school. Was dat moeilijk?
KVS: 'Ik deed de kleuterschool en het eerste en tweede leerjaar op het parochieschooltje St.-Jozef in Hove. Dat had geen derde leerjaar voor jongens, dus wij moesten toen de beroemde keuze maken tussen het gemeentelijke en het katholieke onderwijs. Met mijn gezinsachtergrond was het evident dat ik naar het Sint-Gabriëlcollege in Boechout zou gaan, waar nog enkele broeders voor de klas stonden. Een paar vriendjes maakten een andere keuze, maar dat was geen ramp. We zagen elkaar na schooltijd, wanneer we op straat speelden in de wijk. Ons lievelingsspel was een soort hockey. We bouwden onze goals met bakstenen, midden op de weg. Als er een auto kwam, moest die stoppen terwijl wij de goal afbraken. En als hij was doorgereden, zetten wij de goal terug en speelden gewoon verder. Toen kon dat nog."
Schreef jij als kind al pareltjes van opstellen?
KVS: 'Ik heb vaak mogen horen dat ik een goede pen had en ik was ook graag met woorden bezig. Als iemand van de klas een speech moest schrijven, was ik er als de kippen bij.
Zoals veel kinderen ben ik een paar keer aan een boek begonnen, om na het derde hoofdstuk toch maar in de bomen te gaan klimmen of te gaan voetballen.
In mijn tijd werden er op het einde van het schooljaar nog prijzen gegeven aan de kinderen met de beste resultaten voor wiskunde, WO, Nederlands… Ik heb zo heel wat boeken gewonnen en was daar best wel trots op. Ik was dol op Pietje Puk, Winnetou, De Rode Ridder en de boeken van Jan Terlouw. Achteraf bekeken heb ik heel wat boeken, zoals Ratje – een jongen van de straat van Anne De Vries – gelezen op een moment dat ik er nog wat te jong voor was. Dat kon bij ons thuis. De boeken stonden klaar in de kast om te nemen, zelfs die van Louis Paul Boon. Censuur, dat was niets voor mijn vader."
Was jij een hoogvlieger op school?
KVS: 'Ik was een hoogvlieger die de klassieke fout maakte om nooit te 'leren leren'. Met als gevolg dat mijn resultaten vanaf het derde middelbaar steil bergaf gingen. Nu studeer ik graag, maar vroeger niet. Ik was zo'n leerling die uitrekent hoeveel hij voor elk vak moet hebben om het net te halen. Zolang ik niet in de problemen kwam, was het goed voor mijn ouders."
Maakte jij het de leraren soms lastig?
KVS: 'Aan het begin van de basisschool was ik zeker geen kapoen. Maar ik was wel een heel beweeglijk kind. Vandaag zou ik waarschijnlijk een of andere stempel krijgen… Gek genoeg gaf die beweeglijkheid zelden conflicten. Ik herinner mij dat er op school veel structuur was maar ook veel ruimte. Mijn leraren waren streng maar rechtvaardig en ik vond dat als kind een fascinerende combinatie. In het zesde leerjaar begon ik nogal mondig te worden. Toen ging ik eens frontaal met mijn leraar in de clinch, voor een volle klas. Het conflict ging over eerlijkheid. Ik vond het fundamenteel oneerlijk dat de meester mocht zeggen wat hij wilde, maar dat ik daar als leerling niet op mocht antwoorden. Voor mij kon er pas eerlijkheid zijn als we allebei recht van spreken hadden. Die leraar, mijnheer Reeskens, gaf niet toe maar hij bleef ergens wel correct. Hij heeft me nooit zwaar afgerekend op die botsing."
Zijn er nog juffen of meesters die je zijn bijgebleven?
KVS: 'Die Reeskens was echt een markante figuur. Als hij toezicht deed op de speelplaats en hij vond dat er te veel papiertjes lagen, dan floot hij. Wij moesten dan stokstijf blijven staan en wanneer hij opnieuw floot, beginnen opruimen. Maar hij wachtte altijd even tussen de twee fluitsignalen. Stel je voor: die man kon een overvolle speelplaats lamleggen en weer in beweging brengen… simpelweg door te fluiten. Dat had iets magisch. Mijnheer Reeskens liet zijn leerlingen ook elk jaar kerststukjes maken voor de oude of alleenstaande mensen van Boechout. Die mochten we dan kort voor de kerstvakantie per twee of per drie gaan afgeven. Te voet, met het adresbriefje in onze hand. Met het verkeer van vroeger kon dat nog en het gaf ons een bijzonder gevoel. Verder ben ik rond mijn negende of tiende stiekem verliefd geweest op een juf die tijdelijk op onze school was. Ze gaf geen les aan mijn klas, maar als ik haar het aanwezigheidsregister mocht brengen, dan was mijn dag goed.'
Wist je als kind al dat je later zelf voor de klas wou staan?
KVS: 'Nee, eigenlijk niet. Pas als leider in de jeugdbeweging besefte ik dat ik graag met kinderen wilde werken.
Nu nog vind ik dat de essentie van een job in het onderwijs: bezig zijn met de kinderen, vorming geven aan jonge mensen van vlees en bloed. Het draait om hen, veel meer dan om leerplannen of handleidingen…
In mijn schoolcarrière heb ik zeventien jaar lesgegeven aan het vijfde leerjaar. Ik vond de omgang met die leeftijdsgroep, waarin het pre-puberale gedrag begint, heel mooi. Ze zijn te groot voor Sinterklaas maar te klein om mee te kunnen met echte tieners en dat wringt. Ik vond het aangenaam om kinderen op zo'n moment te begeleiden. En ik liet hen natuurlijk graag kennismaken met alles wat samenhangt met taal, toneel en teksten. Maar dat spreekt wellicht voor zich? (lacht)"
Je jongste twee dochters zitten nog op de basisschool. Hoe betrokken ben jij als ouder bij de school?
KVS: 'Ik probeer de agenda's van mijn dochters mee op te volgen, al is mijn vrouw daar het meeste mee bezig. Wij geven allebei les in de school van onze dochters, dus we gaan op oudercontact bij collega's. Dat lijkt misschien vreemd, maar als iedereen wat afstand neemt, lukt het.'
ID-Kit Kris Van Steenberge (°1963)
Papa van drie volwassen kinderen en twee dochters van 7 en 9.
Actief in de basisschool van het Sint-Gummaruscollege in Lier sinds 1985.
Schrijver van Woesten (2014) en Blindelings (2016), allebei uitgegeven bij Uitgeverij Vrijdag. Woesten werd bekroond met de Bronzen Uil en de Debuutprijs 2014.
PS: Wij discrimineren niet. Never. Dus hier ook een interview (van ons) met Lara Taveirne, gesprekspartner van Kris binnenkort in Willebroek én collega-winnares van de Debuutprijs (hij 2014, zij 2015).
PPS: Vorig jaar kon je op deze blog al lezen over de 'making of' van het interview met Kris voor Juf & Meester.
PPPS: tickets bestellen voor het dubbelgesprek? Dat kan hier.