Sarah Bettens vliegt tegenwoordig voortdurend heen een weer tussen de States, waar ze met vrouw en kinderen woont, en België. 'Zo vaak zelfs, dat we met het hele gezin op vakantie konden met frequent flyer miles.' Dat vliegen is te wijten aan twee dingen: 'Little moon rises', haar duet met Stan Van Samang en 'Not an addict', de remake van haar grote hit. K's Choice is 25 en heeft alle redenen om te feesten. 'In oktober vertrekken we op tournee en in december gaan we op tour doorheen de Benelux voor de plaat '25'. Noteer 13 december in julllie agenda, want dan staan we in de AB.'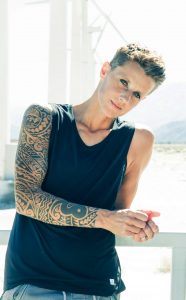 Touren, dat is onderweg zijn en tijd maken om te lezen. 'Gewoonlijk trek ik het 's avonds in bed niet langer dan een kwartier, ik ben gewoon te moe. Op tournee is dat anders, dan kan ik eindelijk doorlezen.' Ze leest meestal op advies. Zo stuurt haar petekind elk jaar wat Vlaamse auteurs op en krijgt ze van een trouwe fan boeken toegestopt. 'Of ik wissel boeken uit: met mijn mama, vriendinnen of iemand op tournee.' Deze geeft Sarah Bettens alvast niet meer af:
De jongen in de gestreepte pyjama, John Boyne
Ik kreeg het van mijn trouwe fan en het vloog meteen in mijn top 5. Ik las het niet zo lang geleden, ik wist niet eens dat er een verfilming bestond. Na twee pagina's wist ik: 'Ok, da wordt goe.' Als lezer volg je de Tweede Wereldoorlog vanuit het standpunt van een kleine jongen. Zijn onschuld in contrast met zo'n dramatische omgeving, het is hartverscheurend. Een boek zonder poespas, over een vriendschap tussen twee jongens die elkaars wereld niet begrijpen.
Winnie De Poeh, A.A. Milne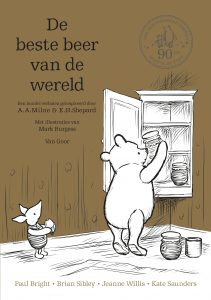 Mijn dochter en ik lazen het toen ze een jaar of 10 was. Het boek komt pas tot zijn recht bij iets oudere kinderen, vind ik. Milne schrijft origineel, met subtiliteiten waar mijn dochter erg om kan lachen. Het is herkenbaar, en schattig: bang zijn, maar het niet willen toegeven.
De grote vriendelijke reus, Roald Dahl
Mijn band met dit boek dateert uit de tijd dat ik zelf leerde lezen. Dahls boeken zien er dik uit, maar hij grijpt je bij de kraag en sleurt je door zijn boek. Hij speelt zo'n cruciale rol in het bepalen of kinderen wel of niet lezen. Ik ben blijven hangen, en heb al zijn boeken gelezen.
Het kleine meisje van meneer Linh, Phillipe Claudel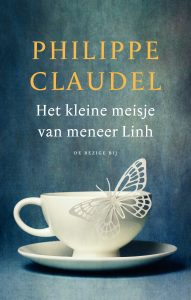 Ik vertel zo weinig mogelijk over dit boek, want ik vind het de ultieme manier om er aan te beginnen. Laat je compleet verrassen, zonder voorkennis. Het enige wat ik kwijt wil is dat je, als je graag leest, deze absoluut op je to read lijst moet zetten. Let op, Claudel laat je als lezer werken. Het einde is tragisch, warm, lief en mooi tegelijkertijd.
Hyperbool en nog wat, Allie Brosh
Het boek is deels getekend, deels verhaal, deels autobiografisch. Brosh blogt, en maakte van haar blog een boek. Grappige, naieve tekeningen en humor vertellen het verloop van haar depressie. Soms moest ik het boek neerleggen en even nadenken. Lichte en zware verhalen wisselen elkaar af. Het is anders dan al het andere dat ik al gelezen heb.
Wilde zwanen, Jung Chang
Ik wilde Wilde Zwanen absoluut in dit lijstje zetten, ik verslond het op promotour. Je hoort jezelf elk half uur hetzelfde zeggen, en tussen alle interviews moet ik dan vijf minuten kunnen lezen. Ik hou van historische romans, van een totaal andere wereld. Chang beschrijft haar jeugd tijdens de Chinese Culturele Revolutie. Een fascinerend, maar hard land.
Kiekeboe, Merho
De perfecte ontspanning als ik even niet wil nadenken na een stressvolle dag. Gewoon mijn verstand op nul zetten en flauwe grappen lezen. Kiekeboe deel ik met mijn moeder. En ik ben zo vergeetachtig dat ik het verhaal vergeet, dus ik kan ze steeds opnieuw lezen.
Dit interview verscheen eerder in Elle België.