De winnaars van onze columnwedstrijd breken potten. Dat geldt des te meer voor Berry Black, wiens column eerder deze maand in de Nederlandse Metro verscheen. Waarmee hij, volgens een betrouwbare bron, een dik miljoen lezers bereikte. Volgens minder betrouwbare bronnen -geruchten- waren een aanzienlijk deel van die miljoen lezers argeloze forensen, die door de slappe lach geteisterd massaal hun aansluiting misten en veel te laat op hun werk verschenen. De kortstondige malaise van de Nederlandse economie die volgde, gaat de geschiedenis in als Black Tuesday. Dus, without much further ado: Samenwonen, door onze winnaar van vorig jaar.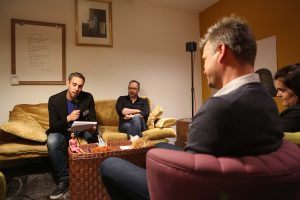 Vroeger, in prehistorische tijden, deden mannen niet aan openingszinnen. Ze sloegen een vrouw neer en sleepten haar naar hun hol. Ik vraag mij af waar mannen toen in hemelsnaam mee bezig waren. Het is niet alleen onbeschoft, maar ook onpraktisch. Vrouwen hebben zo hun eigen logica, die ook het leven van de hedendaagse man ongemakkelijk maakt.
De mens verblijft van nature graag in donkere holen. Die beschermden van oudsher tegen extreme weersomstandigheden, sabeltandtijgers en andere mannen (met een prehistorisch sportschoolabonnement). Zo niet de vrouw: zodra die thuiskomt moeten alle gordijnen open en zonneschermen omhoog. 'De hele dag tegen zo'n dicht raam aankijken is niet fijn voor de buren' is de redenatie. Of die dan liever aankijken tegen een ongeschoren man, met coupe- windhoos en een t-shirt-met-pizzavlekken vraag ik mij af. Ze hebben ook vooral zichzelf ermee, want met de gordijnen open ligt er ineens overal stof en zijn de ramen vies.
'Zonnig weer = buiten zitten' is nog zo'n vrouwelijke redenering. Zodra de eerste eekhoorn net slaapdronken uit zijn hol is gelazerd en de eerste zonnestralen tussen de kale takken schijnen moet er buiten gezeten worden. 'Anders is het zonde van het mooie weer' (hoezo, betalen ze daarvoor ofzo?) Daar zit je dan, half verkleumd, terwijl de pinguïns langs je nek glijden. Nog erger is dat buiten de WiFi zwaar beroerd is en je laptopscherm slecht zichtbaar. Het is er dus saai. Uit noodzaak hebben mannen daarom een hobby bedacht die buiten beoefend kan worden: fikkie stoken barbecueën.
'Te veel rotzooi geeft onrust', zei geen enkele man ooit. Afgekloven botten en lege notendoppen waren in de prehistorie jachttrofeeën. En kwamen vaak nog van pas als briefopener, boekenlegger of om een stenen tafel recht te zetten. Vrouwen zien dat anders. Eérst moet er opgeruimd worden. Pas als het huis netjes is (lees: operatiekamersteriel) kan er ontspannen worden. Helemaal erg is als je als man alleen thuis bent en je vrouwelijke huisgenoot komt onverwachts eerder thuis. Moet je ineens als een malle afwassen, opruimen en muskusratten verjagen. Sommige mannen hebben daarom het vreemdgaan uitgevonden, dan valt de rotzooi minder op.
Samenwonen met een vrouw, het blijft een uitdaging. Maar er is hoop: de mancave. Een donkere kelder of zolder waar de man nog zichzelf kan zijn, zonder vrouwelijke bemoeienis. Maar dan alleen als de rest van het huis netjes is en het buiten regent. We leven tenslotte niet meer in de prehistorie.
(Deze column verscheen op 19 juni in de Nederlandse Metro)
PS: nog leeshonger? Berry won met Ode aan de vrouw en beschreef op zijn website geheel in zijn eigen stijl hoe hij de prijsuitreiking ervoer.
PPS: nóg leeshonger? Vanaf volgende woensdag lees je hier elke week één van de acht genomineerden van onze lopende wedstrijd.
PPPS: Dus ja, columns schrijven kan gevolgen hebben. Vraag het maar aan ons redactielid dat het minst geneigd is om met naaldhakken aangetroffen te worden. Hij was genomineerd voor onze eerste wedstrijd, waardoor hij bij ons als stagiair aan de slag ging, en daardoor dan weer had hij onlangs wat op te biechten.