Liefdesverhalen van Raymond Carver
Onlangs had ik een stevige discussie. Of dat bestaat, een open einde. Mijn gesprekspartner beweerde van wel. Ik twijfelde. Als je goed leest (of kijkt), is een einde volgens mij meestal niet open, zei ik. Voor veel lezers is het een gemakkelijkheidsoplossing om een einde open te noemen. Omdat ze slordig gelezen hebben, omdat ze schrik hebben de bal mis te slaan… Dat neemt niet weg dat er verschillende meningen/interpretaties naast elkaar kunnen bestaan over dat einde, maar meestal weet of voel je als lezer toch wel hoe het zal aflopen.  En als je het niet weet, voegde ik eraan toe, moet je het verhaal misschien nog eens lezen.
Ik hoor het me allemaal nog zeggen een paar weken geleden. Misschien was ik wat te zelfzeker, want deze week kreeg ik mijn straf (of test) van het universum voor zoveel overmoed: de verhalenbundel van Raymond Carver What we talk about when we talk about love. 17 korte verhalen, met een – op het eerste zicht – niet zo duidelijk einde. Of las ik te slordig? En had ik schrik om de bal mis te slaan?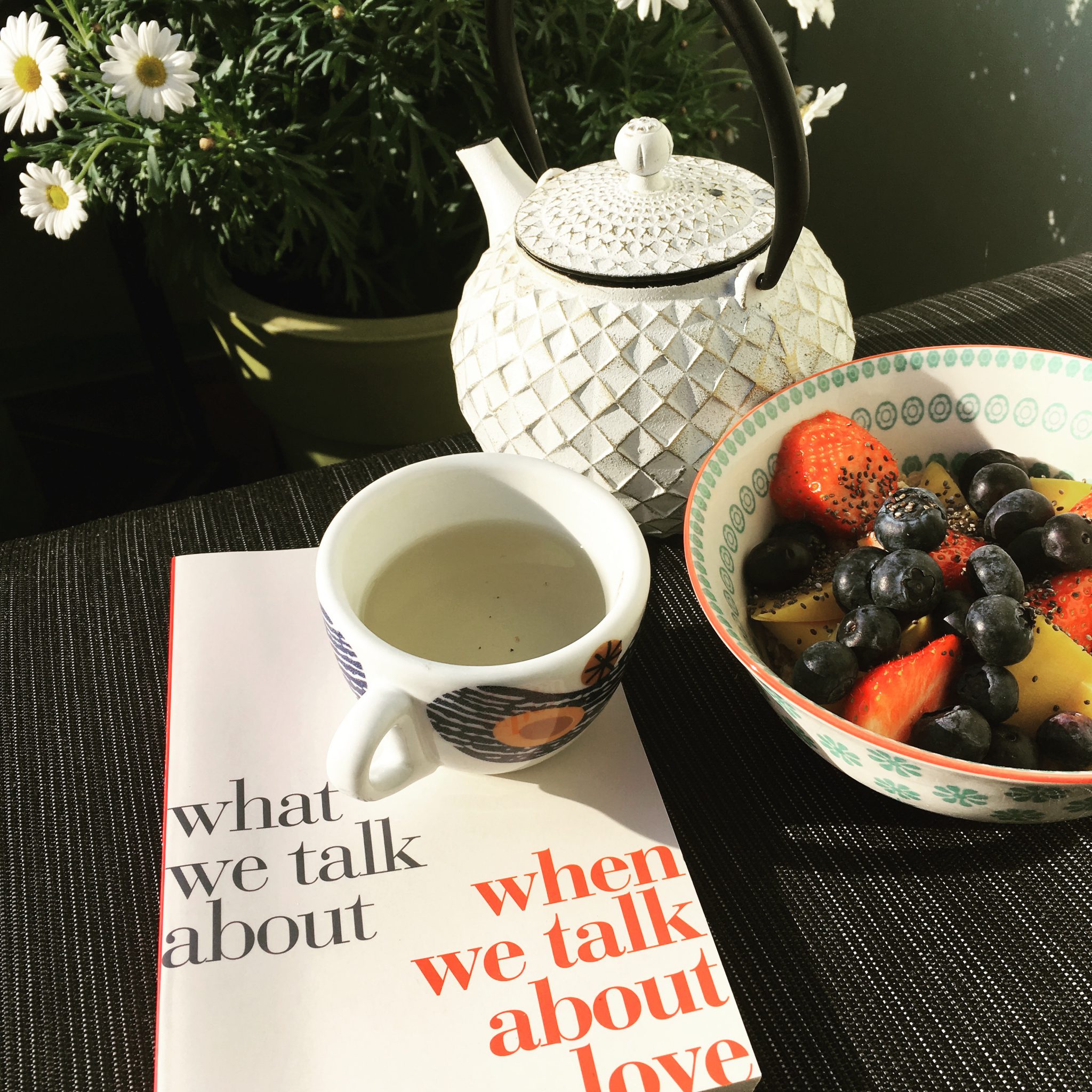 Gelukkig kreeg ik in de eerste kandidatuur Germaanse een ijzersterke training als het op het interpreteren van korte verhalen neerkomt. Zoals wijlen professor Doyen het zou gewild hebben, vertraagde ik na de eerste twee 'vage' verhalen en las ik de bundel als een detective. Bij Carver bestaan er immers geen toevalligheden. Ieder woord is weloverwogen, iedere zin doordacht. Ik las en ik herlas… Raymond bleek heerlijk gezelschap te zijn, van bij het ontbijt in de zon, tot bij jazzy avonden met wijn (niet verrassend, want er zijn boeken geschreven over de rol van alcohol in zijn verhalen/leven).
Na een week ben ik nog niet klaar met Carver en deze bundel. Ik heb nog één verhaal opgespaard, maar er is vooral nog zoveel te ontdekken in de andere 16. Maar dit weet ik wel al:
Het kortste verhaal van deze bundel 'Popular Mechanics' is amper twee pagina's en een alinea lang, en toch krijg je tussen de lijnen van deze scène over een scheidend koppel dat ruziet en vecht over (een foto van) hun baby 'een dramatisch leven' te lezen.
Hetzelfde gaat op voor de titel van het kortverhaal 'The Third Thing That Killed My Father Off'. Alleen al de titel insinueert genoeg om mijn hoofd op hol te doen slaan. Mocht Carver meedoen aan deze schrijfwedstrijd, hij zou ze zeker winnen.
In deze liefdesverhalen zitten sloten (liefdes)verdriet en melancholie. Wat te denken van het openingsverhaal waarin een man na een (gesuggereerde) breuk zijn inboedel buiten zet en nogal gewillig verkoopt aan een jong koppel, terwijl hij er nog in leeft (en drinkt)? Wil hij zijn liefdesgeschiedenis via hen doen verder leven?
In elk verhaal – hoe statisch ze soms ook lijken – zit er een twist of een gebeurtenis die alles (intern) op zijn kop zet. De ene keer al explicieter dan de andere: "We'd reached the end of something, and the thing was to find out where new to start."
Het zit'em iedere keer in de openingsscène. De strafste is deze van een 'echtgenoot' die voor Kerst naar zijn vrouw en kinderen gaat: "He'd come on Christmas day to visit his wife and children. Vera had warned him beforehand. She'd told him the score. She'd said he had to be out by six o'clock because her friend and his children were coming for dinner." Huh? Kleine mindfuck in vier zinnen.
Onderkoeld drama? Ja! Carver beschrijft schijnbaar met dezelfde achteloosheid hoe een groep vrienden een lijk vindt, als hoe een ander personage een glas melk inschenkt (moet ik misschien even checken of er wel melkdrinkende personages zijn bij Carver, doe dus maar 'een glas whiskey inschenken').
Nietszeggende alledaagse smalltalk does the job bij Carver. Zo krijg je in 'Sacks' een eindeloze conversatie tussen een overspelige vader en zijn van hem vervreemde zoon vol onuitgesproken inadequate woorden:
"Well, it all come to a bad end. You know that. You know all about that."

"I only know what you tell me," I said.
Maar hoe zit het nu met die eindes? Bij de verschijning van de bundel in 1981 klaagt de recensent van de New York Times Magazine al over "the most flagrant and common imposition in current fiction, to end a story with a sententious ambiguity that leaves the reader holding the bag." Die van Times Literary Supplement schrijft: "Endings and titles are bound to be a problem for a writer like Carver, since readers and reviewers so habitually use them as keys to interpret everything else in a story. So he must make his endings enigmatic and even mildly surrealist, and his titles for the most part oblique." En wat betekent het dat Carver één van zijn kortverhalen over een jongen die een auto-ongeluk heeft en wiens medische toestand nogal onzeker is op het einde van het verhaal, in zijn volgende bundel zal herschrijven zodat het duidelijk is dat de jongen sterft? Dat open eindes bestaan? Misschien.
PS. Het titelverhaal van deze bundel lees je hier.
PPS. Nog meer korte verhalen op de blog, met Kristen Roupenian, Murakami, Jhumpa Lahiri, Hilary Mantel, Nana Kwame Adjei-Brenyah en Ariel Levy.