Kinderboekenland staat klaar om los te barsten met alle nieuwe titels voor het voorjaar. En omdat u al lang de boeken door het bos niet meer ziet, kiezen wij er vijf favorieten uit. Onze kinderboekentips voor deze lente:
Een niet zo hippe hoed, Emily Gravett, Clavis Uitgeverij, 4+
Een beetje wollig, met pompoms, en wat ouderwetse kleuren. Zo ziet Harbets hoed er uit. Al z'n hoeden eigenlijk. Maar ze zijn wel lekker warm. En ze zitten goed. Zou hij eens zonder hoed de straat op moeten?
Een heerlijk verfrissend boek over de mode wel en niet volgen. Voor kinderen die durven.
Beschikbaar vanaf juni 2018
Het Unicorn knutselboek, Pia Deges, Karakter uitgevers
We weten het. Dit boek glittert alle kanten op. Maar geef toe, welke 20 of 30-plusser is nu geen fan van unicorns? Dus, geef jezelf gewoon over aan de hype. Unicorn snoepbrochettes, unicorn plantenpotjes, een unicorn pinata of unicorn regenboogtaart? Allemaal mogelijk met deze roze wolk van een knutselboek.
Beschikbaar vanaf februari 2018
Dank je wel, Stefan Boonen en Jan Van Lierde, Uitgeverij Van Halewijck, 6+
Stefan en Jan zijn oude bekenden op de blog. We mochten al smullen van heel wat vertederende en hilarische boeken van de twee. Met Dank je wel doen ze ons weer een prachtig boek cadeau vol lieve versjes, grappige tekstconstructies, hilarische teksten en dolle illustraties. Dank u, Stefan en Jan, om onze dag te maken.
Beschikbaar vanaf februari 2018
In het bos/Op de kermis, Ingela P Arrhenius, Gottmer Kinderboeken, 2+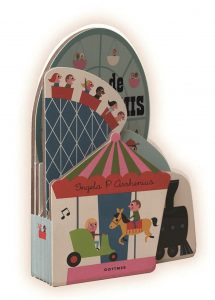 Ingela snapt hoe leesbevordering werkt. Met haar boeken, die ook fungeren als speelgoed, krijgt ze elke peuter aan het lezen. De boeken zijn ingenieus samengesteld: elke bladzijde van het kartonboek is in een andere vorm gesneden: voor Op de kermis zie je een draaimolen, een rad, een achtbaan en zo veel meer. Vouw het hele boek uit, en je hebt het perfecte decor om zelf verhalen te gaan verzinnen in het bos of op de kermis. Schitterend!
Beschikbaar vanaf April 2018
Retteketet! We gaan nog niet naar bed! Harmen van Straaten, Uitgeverij Leopold, 3-6 jaar
Bedtijduitstellers in huis? Nog een plasje, even kijken of er geen monster onder bed ligt en mag ik nog wat water? Wel, de dieren uit Retteketet! We gaan nog niet naar bed! hebben hetzelfde probleem: pyjama kwijt, de tandpasta is op, de wc is bezet, … Uiteindelijk kruipen ze toch allemaal onder de wol, want anders wordt er niet voorgelezen. Een boek vol dolle pret en deugnieterij. Laat ons zeker weten of dit ietwat stoute en hilarisch voorleesboek jullie bedtijdproces wat verscherpt heeft.
Beschikbaar vanaf februari 2018
Veel plezier met onze kinderboekentips, en een fijne literaire lente gewenst!