Leestips nodig? We pikten vijf aanraders uit onze 'net uitgelezen' stapel.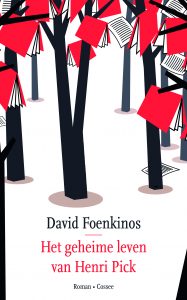 Het geheime leven van Henri Pick – David Foenkinos (Cossee)
Een literaire whodunit, maar dan over wie een bestseller heeft geschreven. Spoiler: het was niet de butler, maar de pizzabakker Henri Pick. Tot ieders verbazing, want volgens zijn weduwe wou Henri zich zelfs niet inlaten met het schrijven van de menukaarten. Aanstichtster van alle consternatie is een jonge, ambitieuze redactrice bij een Franse uitgeverij.  Ze duikelt Henri's manuscript op in een speciale sectie van een Bretoense bibliotheek, die gereserveerd is voor boeken die door de uitgeverijen werden geweigerd. Wat volgt is een zoektocht naar de ware toedracht achter het meesterwerk, een zoektocht die de levens van een hele meute argeloze omstaanders grondig overhoop gooit. David Foenkinos spot onderweg flink wat met het uitgeverswereldje en de manier waarop werken worden geselecteerd -Proust werd ooit geweigerd, net zoals Harry Potter– en breekt een lans voor een zo mogelijk nog zieligere categorie schrijvers: zij die werden gepubliceerd, maar door niemand gelezen. Het is Foenkinos niet overkomen, want Het geheime leven van Henri Pick ging in Frankrijk een half miljoen keer over de toonbank. Tip van de maand.
Oorlogskind – Mechtild Borrmann (A.W. Bruna)
1947. Duitsland ruimt puin. In Hamburg scharrelt de jonge Hanno Dietz tussen de ruïnes de kost bij elkaar voor zijn moeder en zus. Tijdens een van zijn strooptochten doet Hanno een lugubere vondst: in een kelder ligt het lijk van jonge vrouw, en vlakbij staat een jongetje, helemaal alleen. De wees groeit op bij de familie Dietz en gaat decennia later op zoek naar de ware toedracht. Gebaseerd op de onopgeloste 'puinmoorden' die toen werden gepleegd in het platgebombardeerde Hamburg, verweeft Oorlogskind een spannend misdaadverhaal met een getuigenis van het overleven in verwoest West- en Oost-Duitsland. De knappe plot is één reden om Oorlogskind te lezen, maar terwijl de meeste verhalen over de Tweede Wereldoorlog stoppen op V-day, is dit één van de weinige boeken die ik las met het versnipperde Duitsland van net na de oorlog als setting. Zéér interessant. Verschijnt in april.
What's Eating Gilbert Grape – Peter Hedges
Ja, het boek achter de filmklassieker. Neen, nooit de film gezien. Toen hij uitkwam was ik geheel opgetrokken uit hormonen en twee gekoesterde snorharen, no way José dat ik mijn geteisterd zelfbeeld ook nog eens ging blootstellen aan een film met én Leonardo Di Caprio én Johnny Depp. Het boek is gelukkig totaal verstoken van tieneridolen en blijkt zowaar zeer solide te zijn. De manier waarop de rollen in het gezin Grape totaal door elkaar werden gehusseld nadat het ouderpaar zichzelf had uitgeschakeld -vader Grape door zich op te hangen en moeder Grape door wanstaltig vet te worden- zit prachtig in elkaar. Gilbert moet een surrogaat-vaderrol over een dysfunctioneel gezin combineren met de kost winnen, zich laten gebruiken door een getrouwde vrouw en -als hij nog ergens tijd vindt- een leven voor zichzelf opbouwen. In zijn liefde voor zijn minderbegaafde broer toont hij zijn groot hart. Maar goed dat ik de film niet heb gezien, mijn bewondering voor de dappere Gilbert zou wel eens op den Depp kunnen afstralen en dat kunnen we echt niet hebben.
Emil and the Great Escape (Michiel van de Hazelhoeve) – Astrid Lindgren
Zweedse perfectie. Een parel van dezelfde serie als Emil gets into Mischief en met evenveel deugnieterij. Emil komt met zijn hoofd muurvast te zitten in een soepterrine, waarbij zijn familie economische argumenten gebruikt om te beslissen of ze hem naar de dokter brengen of een optater verkopen met de pook. Emil hijst zijn zusje op aan de vlaggenmast -wat eventueel nog door de Scandinavische vingers kan worden gezien- maar omdat ze toevallig een jurk aan heeft in de kleuren van de Deense vlag, vliegt Emil in het strafhok. En meer van dattem. Lindgren heeft de wereld overheerlijke personages bezorgd, en Emil hoeft niet onder te doen voor Pippi. Haar lichte, heldere taal is verrukkelijk om lezen en een schoolvoorbeeld van waarom adjectieven alleen in uiterste nood mogen worden gebruikt. Ooit laat ik nog eens rode vlechten groeien en ga ik op literaire bedevaart naar Zweden.
Ontwakende goden – Sylvain Neuvel (Karakter Uitgevers)
Geek alert. Ik zou jullie geen speculatieve sciencefiction roman in de maag proberen splitsen als er geen goede reden voor is. Twéé redenen zelfs. Ontwakende goden gaat over de vondst van gigantische onderdelen van een metalen reus, lang geleden op aarde achtergelaten door een buitenaardse beschaving. De onderdelen liggen her en der verspreid, zonder veel achting voor landsgrenzen, dus het samenstellen van de robot zorgt voor de nodige internationale ambras. Misschien komt het omdat ik wat ben gehersenspoeld door Ted Hughes' prachtige The Iron Man, want ik vond het eerder sprookjesachtig dan fantastisch, en ja, ik wilde erg graag weten wat het ding kan uitrichten. Bon, dat was één reden. De tweede reden is de unieke vorm. Het hele boek is geschreven als een interview met alle personages, die daardoor een ongewoon krachtige stem krijgen. De interviewer is een geheimzinnig heerschap met voldoende armslag om presidenten naar zijn pijpen te laten dansen, en voorzien van een neerbuigende intelligentie die je eerder van een moderne Sherlock Holmes zou verwachten. Maakt dit van Ontwakende goden de nieuwe Martian? Nee. Maar wel gewoon dikke fun om lezen.