Exclusieve voorpublicatie:
Thisishowweread brengt een exclusieve voorpublicatie van Was ik nu 20, 30 of 40?, het nieuwe boek van Valerie Eyckmans. Valerie verdiept zich in haar eigen midlifecrisis en werpt een licht op haar leven als mama, partner en auteur.
Zet die tas koffie neer en spaar je toetsenbord, want Valerie is weer hilarisch en uitermate scherpzinnig. Ontdek het volledige werk vanaf 6 april in de betere boekhandel.
Veel leesplezier!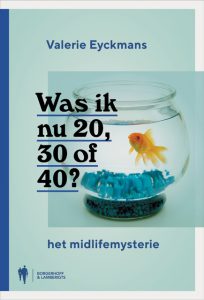 Waar blijven die jaren van verstand?
Over mijn vele vruchteloze pogingen om een gracieus en glamoureus leven te leiden. Over een ingebeelde vriendschap met Michelle Obama, met wie ik graag lange gesprekken over de brexit voer, terwijl we zelfgemaakte taart van gojibessen eten. En over het gevaar van dry martini's drinken in een heet bad. In de voormiddag. Wat nooit een goed idee is.
Waar blijven godverdomme die jaren van verstand? Ik heb altijd gedacht (of gehoopt) dat ik rond mijn veertigste geestelijk compleet zou zijn, maar ik gedraag mij hoe langer hoe meer als een krankzinnige.
Onlangs was ik met mijn gezin aan de kust, waar het de hele tijd miezerde en bovendien zo verschrikkelijk hard waaide dat wat een idyllische strandwandeling moest worden bijna eindigde in minstens één verdrinkingsdood en een echtscheiding.
Mijn zoontje kreeg voortdurend zand in zijn oogjes, zodat zijn engelachtige gezichtje in een mum van tijd bedekt was met zout, snot, tranen en zand, die hij onder hartverscheurend gesnik vermengde en uitveegde tot een soort van slijmerige modder, ondanks mijn inspanningen zijn snoet schoon te vegen met respectievelijk natte doekjes (de goedkope soort, waarvan de detergenten zijn ogen nog harder deden prikken), mijn handen (vol zand), de boord van mijn wollen trui (naast zand kreeg het kind nu ook nog pluis in zijn oogjes), papieren zakdoekjes (met nog wat papiersnippers die bleven plakken begon het kind begon op een portret van Jackson Pollock te lijken), mijn tong (ik voelde me een oermoeder, mijn man brulde dat ik gestoord was) en een flesje Evian (waarom had ik daar niet eerder aan gedacht).
Omdat het kind zich plat op zijn buik in het zand dreigde te gooien, tilde mijn man het hummeltje met een flukse beweging op en zette het op zijn schouders, waarop hij schrok van de felle rukwind, en mijn man een gevaarlijke zwenkbeweging in de richting van het water maakte, zodat ik in een opwelling deed wat ik dacht dat elke moeder zou doen:
ik liep de zee in en gooide me als een leeuwin voor de voeten van mijn man, om zijn mogelijke val te breken en onze prachtige zoon op te vangen.
Maar mijn man viel niet. Hij maakte zelfs geen aanstalten. Hij keek op me neer en bestudeerde me een tijdje alsof ik een zeldzame kwal was: een beetje vies, maar best intrigerend. En toen liet hij me hoofdschuddend achter. Terwijl mijn wollen trui zich volzoog met water, wat het bijna onmogelijk maakte om overeind te komen, zag ik mijn man en kind in de mist verdwijnen. Klinkt dit dramatisch? Dat was het ook. Je had me over de zeedijk moeten zien strompelen met mijn loodzware, druipende trui, bevroren tot op het bot.
Woest was ik. Op mezelf, op mijn man, op de leugenachtige bergketen genaamd Sabine Hagedoren, die een zonnig en zacht weekend had voorspeld, en op Instagram. Instagram is vergif voor goedgelovige karakters als mezelf. Elke week neem ik me voor mijn account te verwijderen, maar elke keer raak ik afgeleid door pakweg het ontbijt van Gwyneth Paltrow of de schoenen van Meghan Markle, zodat ik domweg vergeet mijn account te verwijderen en in de plaats daarvan nog méér mensen begin te volgen.
Als ik mij die ochtend niet weer eens had zitten blindstaren op fabelachtige weekendkiekjes van wildvreemden die overal te lande plezierige gezinsuitstapjes maakten, stijlvol en smetteloos gekleed, dan was ik vast niet half verdronken.
Dan had ik het kind voor de televisie gezet en was ik in een comfortabele vrijetijdsbroek op de bank gekropen met een doos Melocakes en de Dag Allemaal.
Maar nee, ik moest óók een uitstapje maken, dus trok ik het kind mooie kleren aan, beval de man zich te scheren en diepte mijn nieuwe zachtroze kasjmieren trui op, waar ik bewust géén regenjas over aan trok, VOOR DE FOTO DIE AL IN MIJN HOOFD ZAT.
Is zulk gedrag nog normaal? Is het normaal dat ik nu door het huis strompel omdat ik een lumbago heb, niet door mijn val, maar omdat ik de rest van de dag voorovergebogen over het bad heb gezeten, tot aan mijn ellebogen in de Zwitsal, in een poging het zeewier uit de vezels van mijn wollen trui te krijgen? Is het normaal dat ik mij op mijn leeftijd nog druk maak over wat anderen over mij denken? Moet ik niet stilaan een of andere therapie overwegen, al dan niet met oorkaarsen?
Onlangs complimenteerde ik de babysitter, een bakvis van twintig, met haar truitje. Het kwam van Primark, zei ze, het kostte 9,99 euro, de helft van wat ik het wicht net betaald had om vier uur languit te liggen whatsappen op mijn bankstel. Normale vrouwen van veertig zouden beleefd glimlachen, inwendig met hun ogen rollen en een paar pluisjes van hun Marks & Spencer-cardigan plukken, maar ik hoorde mezelf vragen of het ook in andere kleuren bestond en ploegde nog geen tien minuten later vrolijk door de Primark-website, op zoek naar hetzelfde veel te strakke truitje.
Ik probeerde in te beelden hoe het mij zou staan, trok alvast mijn buik in en bleef net zolang naar het ding staren tot mijn beeldscherm in slaapmodus sukkelde en mijn spiegelbeeld me brutaal wakker schudde: de rimpels in mijn voorhoofd lagen krom van het lachen. Ik heb het blotebuikentruitje weggeklikt en corrigerend ondergoed besteld. Zouden ze er dan toch eindelijk aankomen, die jaren van verstand?
Was ik nu 20, 30 of 40? Valerie Eyckmans, Borgerhoff en Lamberigts, verschijnt 6/4/19, 19,99€
P.s.: zin in meer boeken door Valerie Eyckmans? Die kan je hier en hier vinden.