Ik geef toe dat ik soms nogal extreem ben in het 'dode tijd nuttig en aangenaam doorbrengen'. In de wachtzaal bij de tandarts of de dokter screen ik damesbladen op leuke hotspots, bij het joggen moet er steevast een podcast op en in de wachtrij van de supermarkt doe ik een rondje Instagram, Twitter en Facebook. Toen ik mijn Hasseltse collega Bérénice Maris de opdracht gaf om deze zomer de externaatskampen van Mechelen tot Brugge te coördineren, bedacht ik hoe ik in haar plaats die ettelijke uren in de auto zou willen doorbrengen.
Ik gaf haar twee audioboeken mee voor on the road. Als fan van de olijke luisterspelen van Het Geluidshuis koos ik hun Shakespeare-bewerking De Storm. Warre Borgmans praat het verhaal met de nodige ironie aan elkaar en acteurs als Gène Bervoets, Evelien Bosmans en Mathias Sercu nemen de rollen van Prospero, Miranda en Kalibaan voor hun rekening. Ik kon het in elk geval niet laten om al wat 'voor te luisteren' nadat ik dit aanstekelijke filmpje van Shakespeare kenners als Tom Lanoye, Friedl' Lesage en Kurt Van Eeghem had bekeken.
Toen slingerde er op een dag een Jojo Moyes op mijn bureau rond… die ik zeker toch eens moest lezen – vond Bérénice – want een echte tearjerker enzo. Dankzij dit tipje van de sluier van Bérénices literaire smaak kon mijn literaire match making beginnen. Als tweede audioboek koos ik voor haar Het Rosie project (Rubinstein), over de zoektocht van een autistische jongen naar de liefde.
Afgelopen maand hield Bérénice een dagboek bij van haar audioboek-ervaringen van Hasselt naar Brugge en terug. Ik mocht meelezen.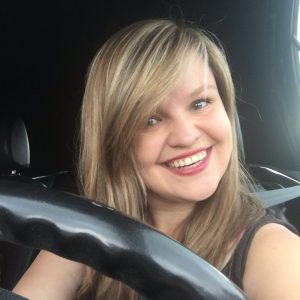 "Wanneer ik in de auto stap, gaat automatisch de radio aan. Hij springt naar die ene post waar gisteren bij het thuiskomen de meest catchy muziek op te horen was. Vandaag is dus niet anders. Maar eigenlijk wel.
Ik druk op het knopje dat mijn cd-lezer doet opengaan. Hello Adele! Dag Adele! Ze gaat voor het eerst in maanden weer het cd-hoesje in. De Storm, van het Geluidshuis neemt haar plaats in.
Ik heb eigenlijk nog nooit naar audioboeken geluisterd in de wagen, maar ben er snel mee weg. Iets te snel, zo blijkt, want ik ben mijn handtas op kantoor vergeten. Ik loop naar binnen… en daar gaat het eerste hoofdstuk!
Eerste les bij het audioboek-luisteren: druk tijdig op pauze. Terugspoelen is niet altijd even simpel, of misschien ligt dat aan mijn cd-speler. Ik kan namelijk alleen een volledig hoofdstuk per keer teruggaan. Dat maakt het natuurlijk extra vervelend wanneer je pas na tien minuten een stukje mist.
De storm is geen nieuw verhaal, maar het is wel prachtig gebracht. Wanneer je begint mee te zingen met een liedje dat je pas voor het eerst hoort, zegt dit eigenlijk wel genoeg. Ideaal ook als je op reis gaat met kinderen die misselijk worden bij het lezen van deze achterbankboeken!
Eens de slechterik is verslagen is, de twee jonge singles zijn getrouwd en Ariel, de geest van het eiland is bevrijd, is het tijd voor mijn volgende audio-avontuur: Het Rosie Project van Graeme Simsion. Een boek van acht cd's.
Het begin is even wennen. De stem die me het verhaal van Don Tillman en zijn Rosie gaat vertellen, is warm maar intonatieloos. Het duurt even voor ik doorheb dat hij spreekt zoals het hoofdpersonage, de autistische Don. Eens er andere personages beginnen meedoen, verandert de stem en ben ik er weer helemaal mee weg. Dit keer inclusief handtas. Don vertelt zijn verhaal. Hij heeft het over zijn "anders zijn" en ik begin hardop te lachen bij het stuk over zijn presentatie voor een klas autistische jongeren. Daarna vertelt hij over zijn vriendschap met de dementerende Jasmin, voor wie hij bijna dagelijks een bos Jasmijnen ging kopen, zodat ze telkens opnieuw het gevoel had jarig te zijn. Ik geef toe dat mijn ogen daar op de E314 even waterig worden. Dat komt natuurlijk door de zon die door mijn voorruit schijnt! Ik raak in de ban door het verhaal van Don. En dan komt Rosie tevoorschijn…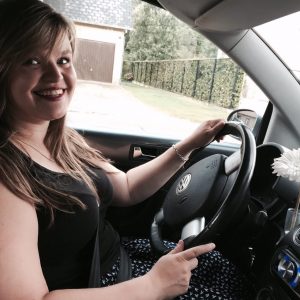 Tweede les bij het audioboek-luisteren: Hoe spannend het verhaal ook is, probeer geen volgende cd in te steken op de ring rond Brussel. Geloof me maar. Gewoon niet doen!
De vreemde vriendschap van de twee heeft ervoor gezorgd dat vroeg opstaan minder moeilijk wordt en dat ik zelfs af en toe 's avonds nog net iets langer in de auto blijf zitten dan nodig. Don, die op zoek is naar de perfecte vrouw, komt de chaotische Rosie tegen. Hij besluit al snel dat ze geen kans maakt in het "Echtgenotenproject", maar hij wil haar wel helpen bij het zoeken naar haar biologische vader. Deze zoektocht brengt hen van een romantisch kreeft-diner op het dakterras van Don, naar een klasreünie op een golfbaan tot helemaal in New York. Het is geweldig te horen hoe Don, zonder het zelf door te hebben, verliefd wordt op Rosie.
Hoe meer kilometers ik afleg met Don in de auto, hoe vaker ik de chauffeurs in de auto's naast me zonder het goed te beseffen een boze blik toewerp. Neen, ze hebben me niet bijna een hartaanval bezorgd, zoals die ene witte camion op de E17. Mijn boze blikken zijn op Rosie gericht. Het verhaal was begonnen als dat van een man die zijn "anders zijn" had geaccepteerd en die ondanks zijn onconventionele gewoonten, zoals hij dit zelf noemde, erin slaagde nieuwe vriendschappen op te bouwen, danslessen te volgen en een aanbieding kreeg om mede-eigenaar te worden van een cocktailbar. Hoe meer cd's ik in de lezer steek, hoe meer het verhaal echter verandert in dat van een man die moet veranderen om de liefde van een vrouw te winnen.
Derde les bij het audioboek-luisteren: Als je luid begint te grommelen tegen je radio, is dat erg amusant voor de kinderen in de auto naast je.
Intussen is het verhaal van Don en Rosie afgelopen. Na een bezoekje aan de bibliotheek ben ik erachter gekomen dat veel audioboeken eigenlijk de verkorte versie zijn van het papieren boek. Ik ben erg blij met mijn volledige exemplaar. Ik had niets willen missen van Don die naar een gala-avond gaat in een 18de eeuws kostuum of van de andere kandidates in het echtgenotenproject!
Vierde les bij het audioboek-luisteren: Hoe aangrijpend het verhaal ook is, vergeet niet te letten op de weg. Er is namelijk niets zo irritant als door een put of over een hobbel in onze Belgische wegen te rijden, waardoor je een stuk moet missen.
Kalibaan, Ariel en Miranda van De Storm en Don, Rosie en Gene uit Het Rosie project, waren goed gezelschap voor in de wagen. Mijn volgende audioboek ligt al klaar op de passagierszetel. Tijd om te vertrekken!"
PS. Wist je dat Barbara er stiekem van droomt om audioboeken in te spreken?
PPS. Wij koppelen wel vaker boeken aan lezers. Zo gingen Lies, Kristien en Bart Bérénice voor!