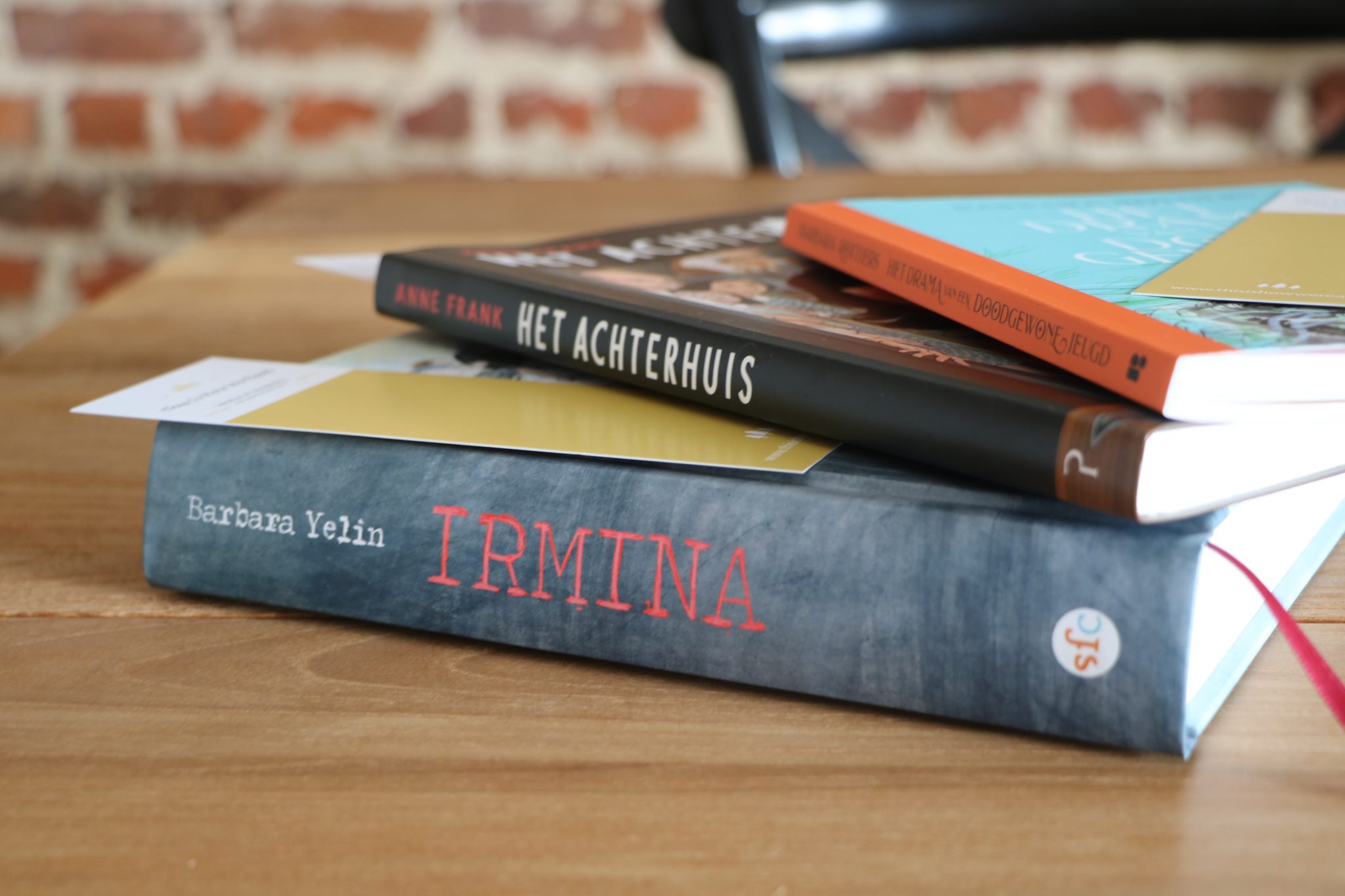 Het oog wil ook wel wat, een graphic novel bijvoorbeeld, óf onze eigen This Is How We Read-bladwijzer! Of doe maar allebei! Ik las afgelopen maand twee graphic novels van evenveel Barbara's en zit – aan de bladwijzer te zien – ondertussen ook al over de helft van de stripbewerking van het dagboek van Anne Frank. Hieronder lees je alvast wat ik vond van Irmina en Het drama van een doodgewone jeugd. Maar even over die bladwijzers dus. Op de redactie waren we op zoek naar nieuw promomateriaal voor de blog. En wat is het ultieme gadget voor de boekengeek? Een bladwijzer, inderdaad. Op www.drukzo.be vonden we een template,  een uurtje Photoshoppen later waren de bladwijzers besteld en een week later vielen ze al in de bus. Vlotjes!  En het resultaat mag er zijn… Wil je ook graag zo'n This Is How We Read-bladwijzer? Kom dan op 14 april naar het sfeervolle boekenmarktje aan het water in Aarschot. Ik verkoop er boeken aan zachte prijzen en steek er meteen een bladwijzer tussen!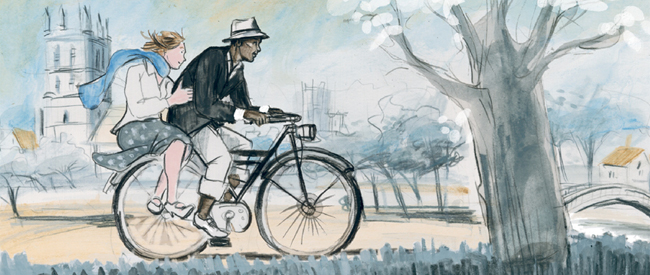 Irmina van Barbara Yelin (Soul Food Comics)
Een middagje op de zetel met Irmina, de dikke graphic novel van Barbara Yelin? Na het lezen van haar intimistische De zomer van haar leven mijn manier om een paar dagen skivakantie in te zetten. Een pre-ski, of hoe noem je zoiets?
In dit op ware feiten gebaseerde verhaal onderzoekt de Duitse Yelin waarom en hoe haar grootmoeder Irmina van een dappere jonge vrouw die op haar eentje naar Engeland reisde, veranderde in de stilzwijgende echtgenote van een SS'er. Ze doet dit met kleurpotloden, krijtjes en aquarelpotloden, gomt stukken weg, gaat er met water en verf overheen, gomt weer een beetje…
En voilà de typische stijl van Yelin die resulteert in dromerige grijze tekeningen die wel lijken te verdwijnen achter sluierwolken.
Tussen al dat grijs volgen we Irmina's levenspad. We reizen met de eigenzinnige whiskydrinkende jongedame naar Londen. Genietend van de vrijheid wordt ze er verliefd op de zwarte Howard, een verboden relatie in een conservatieve omgeving waar racisme bon ton is. De subtiele dialogen van de jonge geliefden zijn heerlijk veelzeggend en illustreren de fijngevoelige gelaagdheid van deze strip. Financiële problemen doen Irmina echter terugkeren naar Duitsland, waar de nazi's oprukken. Maar Irmina is niet politiek geïnteresseerd en volgt haar eigen pad. Haar enige doel? Zo snel mogelijk terug herenigd zijn met Howard. Net als ze op het punt staat om opnieuw de oversteek te maken, krijgt ze één van haar brieven aan hem ongeopend terug: adres onbekend. Het breekt Irmina. Ze geeft haar levensdromen op, vestigt zich in Berlijn en huwt met een nazi-architect. Dan breekt de tweede wereldoorlog uit…
In het laatste deel van deze graphic novel kruipen we in het hoofd van de bejaarde Irmina. De vergelijking met De zomer van haar leven is hier niet veraf. Oma heeft een identiteitscrisis en vraagt zich af hoe het allemaal toch zo is kunnen lopen. Wie is ze echt: die dappere jongedame van vroeger of de 'laffe' vrouw van daarna? Met deze thematiek heeft Yelin een actueel onderwerp beet.
Hoe zouden wij reageren in extreme omstandigheden, als alles en iedereen om ons heen xenofobie ademt, zouden wij dan wel dapper blijven?
Yelins portret van haar grootmoeder ontwijkt de duistere waarheid niet. Barbara oordeelt echter niet en nestelt zich (mede dankzij haar dagboeken en brieven?) zo diep in de ziel van de overleden Irmina, dat het resultaat toch vooral een menselijk en liefdevol levensverhaal is van een vrouw die dapper begon, en gaandeweg werd opgeslorpt door het systeem. Voor de liefhebbers van de collaboratiethematiek van Wil van Jeroen Olyslaegers. En goed om weten, al telt dit boek 288 bladzijden, die bladwijzer heb ik maar één keer nodig gehad. Dit lees je in vliegende vaart.
Het drama van een doodgewone jeugd van Barbara Rottiers (Polis)
Zou ik van de achterbankruzies met mijn broer en zus (ze kwamen wel op mijn helft van de achterbank, terwijl ik rustig aan het lezen was) een boek kunnen maken? Zou je van de achtertuinen uit mijn kindertijd grappige illustraties kunnen creëren en zijn de kaartleesconflicten van mijn ouders slapstick comedy (niet erg voor mij dat ze soms wat omreden, zo raakte mijn hoofdstuk tenminste af)? Als het van radiopresentatrice en creatieve duizendpoot Barbara Rottiers afhangt, is het antwoord ja. Van het 'drama van haar doodgewone jeugd' maakt zij een hilarisch herkenbare graphic novel. In een collage van tekst, foto's, notities, sms'jes en illustraties keren we terug naar de doodlopende straat waar haar kindertijd zich afspeelt. Die is bevolkt door grootouders met knalgele auto's waarin WC-rolhoedjes slingeren, door goede en ietwat saaie rapporten en door weinig inspirerende pogingen tot rebellie en weglopen.
Barbara's jeugd is een herkenbare tijd waarin handgemaakte poppenhuizen, vadertje en moedertje spelen en overleden katten nooit een Instagram-story zullen zijn maar waarin vakantiefoto's zorgvuldig in scène worden gezet.
Maar later zal het beter en grootser worden, toch? Helaas. Terwijl Barbara als kind steevast idealistische visioenen koestert over haar volwassenen leven wordt een imaginaire relatie met Paul Mc Cartney een romantisch hoogtepunt. En als haar vader komt te overlijden, raakt de familie in de ban van een banaal en tragikomisch mysterie:
"Een vraag die ons erg bezighield, was de volgende: wat deed hij toch met de ratten? In heel mijn jeugd heb ik nog nooit één rat gezien, en al zeker niet in onze tuin. Maar in de maanden na zijn dood begonnen de eerste exemplaren op te duiken… Maar als de ratten er nu ineens waren, dan moest iemand – onze vader – er vroeger voor gezorgd hebben dat ze verdwenen. Uit zijn mond hebben we er nooit iets over gehoord. We hebben niet één vergiftigde rat kronkelend over het gras haar laatste adem zien uitstoten, noch vonden we er een terug met een ingeslagen hersenpan. Met andere woorden: mijn vader liet die beesten sereen verdwijnen. Iets wat nog niet zo simpel blijkt te zijn, kwamen wij al gauw te weten."
Nu, als Barbara's leven niet glorieus is, dan mag haar begrafenis wel prachtig worden. Nauwgezet opent en eindigt de schrijfster deze graphic novel vol zelfspot met een reeks zelfrelativerende instructies voor haar nabestaanden. Zelfs de bestelling van de frituur voor de wakenden aan haar sterfbed zit erbij.
Het drama van een doodgewone jeugd is een grappig en teder kleinood om cadeau te doen aan die mensen waarmee je in je analoge kindertijd met een chocoladesnor poseerde naast een half afgebrokkeld zandkasteel. Of hoe je van iets doodgewoons iets bijzonders kan maken en hoe in de herkenning de meeste humor zit. En, nee voor dit dunne boekje heb je geen bladwijzer nodig, tenzij je de mooiste pagina's wil markeren, dan kan je wel een pakje gebruiken!