Column op woensdag: Ode aan de liefdesbrief
Een jaar geleden zaten we nog argeloos zij aan zij in de onvolprezen Barbóék. Social distancing was nog voorbehouden voor het betere dystopische kortverhaal en de winnaars van onze columnwedstrijd konden nog probleemloos door wildvreemden gezoend worden. Dit jaar ging dat feestje noodgedwongen niet door, maar Isabel De Wit -die in 2018 en 2019 een nominatie in de wacht sleepte- laat met Ode aan de liefdesbrief zien dat ze in afwachting van een volgende editie nog helemaal in competitieritme zit.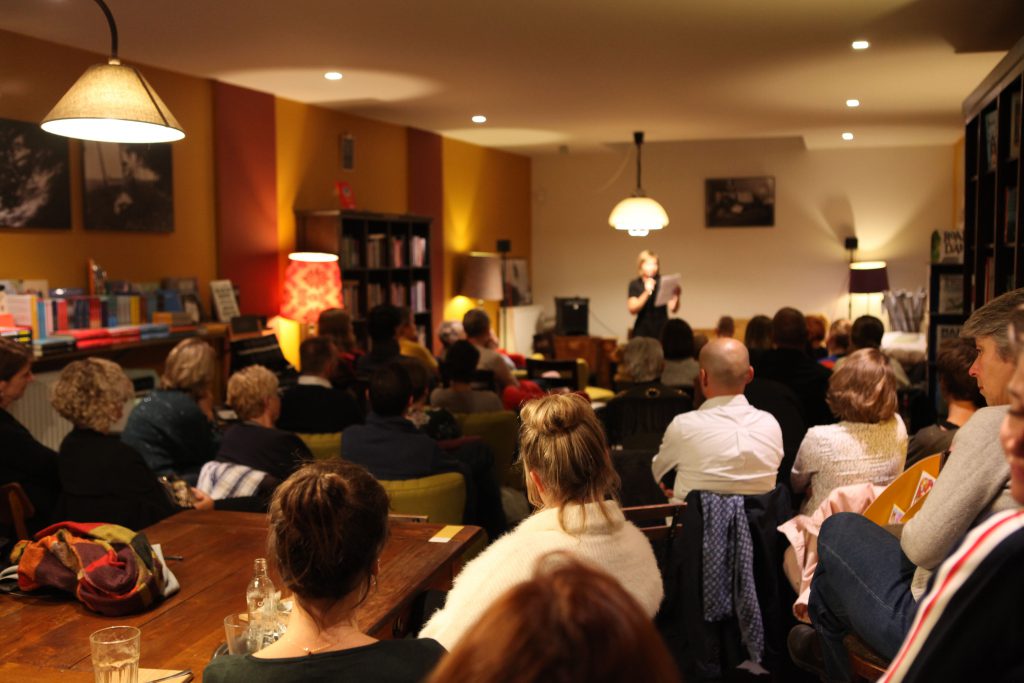 Het opruimen van mijn slaapkamer in de ouderlijke woning, het deed wat met me gisteren. Zo ook met de plaatselijke kringwinkel, de buurkinderen en de sterke ophalers van papier en karton. Marie Kondo zou alvast apetrots op me zijn. Al zijn er ook zaken die ik niet kon klasseren bij het oud papier. Old school liefdesbrieven, me dunkt. Ze lagen tussen mijn prikbordmuur en dressoir, ongelukkig doch met een zachte landing jaren geleden op de vloer terechtgekomen. Ze besloten er, ondanks met fluo duimspijkers en retro prikkers vastgemaakt, de brui aan te geven. Het zwaargewicht der liefde trok het niet meer.
Ellenlange liefdesbrieven. Ik las ze met een gevoel van melancholie en blijdschap. En vergaf zelfs de joekels van taalfouten, inclusief de geliefde dt. (Misschien is het daarom ook niets tussen ons geworden, in het grote 'later') 'Komen spelen' met twee o's? Oké dan. 'Schrijf gauw terug, lieve Isabel. Kusjes van je liefste B.' Als ik dat gisteren las, vergaf ik heel even de 'PS: Ik houdt van jou'.
Wat een geweldige tijden toch. Waar de man in z'n pen en niet in z'n schulp kroop.
Waar Tinder en Grindr instant zouden verbleken naast koningsblauwe inkt, vurige vulpennen, romantisch briefpapier en bijpassende hartjesstickers. Waar De Post nog overuren klopte om de juiste brief in de juiste gleuf te stoppen. Waar sierlijk handschrift, subtiele inktvlekken en artistieke tekeningen alom floreerden. Waar jongens mannen werden en mannen bléven, zich volop de liefde aan het afschrijven. Waar je de ware Jakob kon herkennen aan zijn nazinderend gedicht, zonder naar rechts te swipen enkel en alleen op basis van een gefotoshopt gezicht.
Waarom doen we wel maniakaal aan handlettering en bullet journaling maar keren we niet terug naar geparfumeerd briefpapier? Waarom maken de mannen van vandaag het zich zo gemakkelijk en sturen ze enkel een vaag WhatsAppbericht dat bol staat van de afkortingen? Waarom krijgen we – met een beetje geluk – tijdens ons huwelijk enkel een lelijk geschreven boodschappenlijstje met in drukletters 'wc-papier' en 'scheerschuim' erop?
Sta mee op de barricades en deel mijn vurig pleidooi voor de liefdesbrief. We kunnen het tij nog net keren. En sorry Marie Kondo, maar die lege kasten gaan we liefdevol vullen met al die Shakespeare-proza. Dus mannen, gedaan met die schermtijd. Kruip in jullie pen!
Isabel zet graag de puntjes op de 'i'. Zo krijgt ze het serieus op haar heupen van mensen die haar naam met een kleine letter of, erger nog, met 'le' achteraan schrijven. Bij Isabel is de liefde voor schrijven geen kalverliefde noch een knipperlichtrelatie: het is een eeuwig durende liefde zoals in de films. Geen enkel levend wezen is veilig in haar buurt en dat van haar geheime schriftje: over elke persoon of zelfs elk (huis)dier schrijft ze grote en kleine anekdotes, gedurfde gedachtes of intrigerende wist-je-datjes.
PS: Isabel scoorde in 2019 met Fushelhaar en in 2018 met Postvak Uit