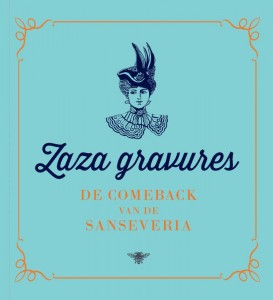 Vergeet de bomma achter de rij sanseveria's op de vensterbank. Hipsters en coole meiden nemen de plaats in van de glurende oma achter haar kamerplanten. Want de Sanseveria is weer helemaal in, back, terug. De kamerplant formerly known as suf staat in ons retro tijdperk te blinken in koffiebars, pop-ups, biotenten, co-work plekken en de chaotische kantoren van start ups.
Ook in de literatuur gaat de bloempot niet ongemerkt voorbij. ZaZa Gravures, de comeback van de sanseveria huldigt het oude met een kwinkslag. De voorpagina noemt het een 'antropologische studie van mensen en andere oude dingen'. Authentieke gravures werden afgestoft, opgeblinkt en van ludieke, schrijnende en puntige commentaar voorzien.
ZaZa staat bekend om zijn hilarisch cartoons en mocht De Morgen, Humo en het Nieuwsblad al volkribbelen. Na de Standaard is hij nu huiscartoonist bij Knack.
Zijn boek beslaat verschillende categorieën uit het huis-, tuin- en keukengebeuren maar gluurt ook over de haag richting sportveld, nautica, krijgskunst en biologie.
ZaZa is dapper en laat bekende Vlamingen commentaar leveren op zijn werk. Maggie De Block's favoriete gravure is die van 'Tututut, an apple a day…' Of 'a suikertaks a year'? Striptekenares Eva Mouton bewondert het vraagteken bij de gravure rond de 'ellebogen van tafel'.
Erg leuk is ook het hoofdstukje 'denksport'. Vul uw tijd op kantoor, in de file of aan de Costa Del Sol nuttig in met een rondje 'Waar is wally?', 'Zoek de zeven verschillen' en 'Welke schoen past niet in de rij?'.
Jaren Nillies humor plakken op werken die een paar eeuwen jonger zijn… De genialiteit!
Zaza Gravures, Zaza, De Bezige Bij, 2013
P.s.: nog niet uitgelachen? Met een portie Bill Bryson sla je geheid weer aan het gniffelen.