Om te voorkomen dat jullie leeslijstjes deze zomer droog komen te staan, tippen wij tussen alle columngeweld door nog flink wat boeken. Waaronder deze vijf. Pak aan!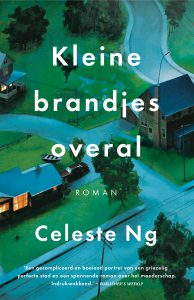 Kleine brandjes overal – Celeste Ng (Uitgeverij Signatuur, juni)
Shaker Heights moet zowat de saaiste plaats van de US zijn.  De stichters van het stadje hebben elk detail al voor je uitgedacht, tot de kleur van je gordijnen toe. Mensen die het wagen om hun gazon een paar dagen te laten doorschieten, krijgen een vriendelijke doch kordate aansporing van het stadsbestuur. Het is het natuurlijke biotoop van Elena Richardson, die naast vier kinderen en een succesvolle echtgenoot hoogstpersoonlijk het universum haar wil oplegt. Ze verzorgt haar karma door goedkoop een appartementje te verhuren aan mensen waarvan ze vindt dat ze die geste waard zijn. Zoals de vrijgevochten kunstenares Mia Warren en haar pientere tienerdochter Pearl. Wanneer het duo zowat door de familie wordt geadopteerd, knarst er al vlug zand tussen de gesmeerde tandwielen van het gezin Richardson. En wanneer Mia en Elena elk een verschillend kamp kiezen in een onfrisse voogdijzaak, gaan de vlammen door het dak.
Ik heb hem net uit, en dit is een van de beste boeken die ik dit jaar onder mijn neus heb gehad. Ng serveert haar thema's in luchtige laagjes en houdt het geheel bij elkaar met een slim doorweven plot. Dat de verhaallijn die zich afspeelt in het heden afstevent op een onoverzienbare kladderadatsch, weet je al vanaf de eerste zin: 'Iedereen in Shaker Heights had het er die zomer over: hoe Isabella, het jongste kind van de Richardsons, uiteindelijk was doorgedraaid en het huis had afgebrand.' Aanrader, van het type 'dikke vette'.
Lege harten – Juli Zeh (Ambo|Anthos, september)
Ik heb het meesterlijke Ons soort mensen nog maar pas verteerd en kijk: daar is alweer een nieuwe Zeh. Ik kijk ernaar uit, want in Lege harten doet Zeh waarin ze het strafst is: een maatschappelijk manco totaal uitvergroten en het op een paar personages loslaten die ze tot in de puntjes heeft uitgewerkt. In Het proces gebruikte ze daarvoor een sciencefiction element, in Lege harten blijft ze netjes in de tegenwoordige tijd en stript ze een paar mensen -Britta en Babak- van wat ethische beslommeringen. Het duo runt een kliniek voor mensen met suïcidale neigingen. De patiënten die slagen voor een soort toelatingsexamen waaruit blijkt dat ze zich écht van kant willen maken, brengen ze in contact met terroristische organisaties. De patiënten die voor het examen zakken vinden meteen hun levenslust terug. Hun mooi verdienmodel dreigt op de klippen te gaan wanneer er concurrentie opduikt die hun klantenbestand jat en daarmee ook zelfmoordterroristen op de markt brengt.
Neverworld Wake – Marisha Pessl (Uitgeverij Q, juli)
Ik ben uiterst nieuwsgierig naar nieuw werk van Marisha Pessl. Haar Calamiteitenleer voor gevorderden heeft veel inkt doen vloeien. Dat het een fris en eigenzinnig boek is, daar was iedereen het over eens. Of het leek op Donna Tartts Verborgen geschiedenis, daarover bestond onenigheid. Calamiteitenleer voor gevorderden is opgezet als een -lijvig- detectiverhaal, maar dat is maar schijn. Pessl laat schijnbaar met opzet gaten vallen in de plot en laat flink wat dingen onopgehelderd, alsof het narratief de aandacht niet mag afleiden van de spitsvondigheden van de excentrieke hoofdpersonages Blue van Meer en haar vader. Het boek bulkt van de intertekstualiteit -Blue en haar vader bekogelen elkaar zelfs met boeken bij het ruzie maken- en daar zijn wij natuurlijk niet vies van. Kortom, ik hoop dat Pessl met Neverworld Wake op dezelfde manier kan verrassen als met Calamiteitenleer voor gevorderden in 2006. In dit young adult boek krijgt Beatrice bezoek van een 'mysterieuze man, die haar heel nonchalant iets vertelt dat niet waar kan zijn'. En waardoor het leven van vijf vrienden op het spel staat. Lekker luguber. En daarmee… krijg je twéé leestips voor de prijs van één.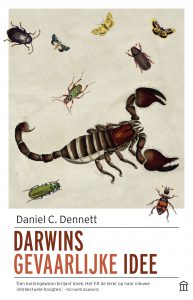 Darwins gevaarlijke idee – Daniel C. Dennett (Atlas Contact, juli)
Een streepje non-fictie? Voor sommigen de evidentie zelve, voor anderen pure blasfemie. Meer dan 150 jaar na het verschijnen verhit Darwins The Origin of Species nog altijd de gemoederen. Darwins theorie dat een genenpoel de meest wonderlijke wezens kan produceren als je er maar genoeg tijd -lees: een voor de menselijke geest niet te bevatten hoeveelheid tijd- over laat gaan wordt door sommigen beschouwd als the answer to the meaning of life, the universe and everything (*), maar Dennett laat ook andere stemmen horen. Niet alle tegenstanders zijn uit overtuiging tegen de theorie, ook sommige nuchtere biologen vinden dat survival of the fittest niet álles verklaart. Niet alleen machtig interessante duiding bij een boek dat al eens van wat context wordt gestript, maar ook meer dan voldoende ammunitie voor een motherfucker van een (wo)mansplanation op de volgende barbecue.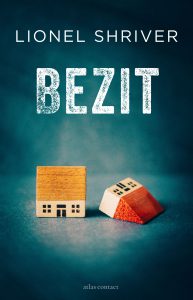 Bezit – Lionel Shriver (Atlas Contact, juni)
Shriver durft al wel eens een bottien tegen de hedendaagse mores zetten, dat wisten we al. Dat ze ook kortverhalen durft schrijven, dat is nieuws. Welkom nieuws, want ik blijf het kortverhaal een uiterst straf vehikel vinden, dus in mijn wereld betekent Bezit gewoon meer dosissen Shriver voor de prijs van één. Zeer efficient. Bezit zou geen Bezit heten als Shriver niet 'eigendom' als rode draad tussen de verhalen zou spinnen. Eigendom als destructieve kracht achter een anders hartstochtelijke relatie, bijvoorbeeld, of eigendom als het onbetwistbaar fundament van de maatschappij. Zeer benieuwd hoe het leest, zo een Shriver in schijfjes.
Suzie Ruzie gaat tekenen – Jaap Robben & Benjamin Leroy (Gottmer, september)
In dit rijtje aanraders mag een prentenboekfenomeen als Suzie Ruzie niet ontbreken. 'Suzie Ruzie zou je nog knuffelen wanneer ze net voor een smeulende krater heeft gezorgd op de plaats waar je huis stond', schreven we eerder, dus geen wonder dat we reikhalzend uitkijken naar een nieuwe dosis lieftallige destructie. Laat je vooral niet op het verkeerde been zetten door een ogenschijnlijk brave titel als Suzie Ruzie gaat tekenen, overigens. In een doorsnee gezin staat dit voor een uurtje vredige stilte, in het geval van Suzie Ruzie betekent dit dat haar kompaan Hond alvast met bevende poten de familiale verzekering belt. Bring it on, Suzie!
(*) terwijl iedereen weet dat het antwoord 42 is
PS: meer vers leesvoer, en wel van dit voorjaar? Hierzo.
PPS: boeken voor in de valies? Probeer eens deze en deze.
PPPS: nog veel meer leesvoer? Klik eens op onze leestips of boekentips tags!