Die ochtend in de Groene Waterman. Een grote vent schuift enkele prentenboeken over de toonbank. De ogen van de juffrouw aan de kassa lichten op.
'Ze zijn geweldig, die Suzie Ruzies. Toch?', zegt ze.
Flashback naar tien minuten eerder. Dezelfde man staat in de afdeling prentenboeken, een opengeslagen Suzie Ruzie in de hand. Hij slaat een eerste bladzijde om. Hij glimlacht bij het zien van een snurkende opa, die met een bril op zijn gezicht geverfd onderuit ligt in een slagveld van gemolesteerd speelgoed. Hij proest en bijt op zijn vinger om niet in lachen uit te barsten. Hij kijkt op. Niemand heeft het gehoord. Hij slaat een bladzijde om en leest 'Dat is niet het goede stankje!' Er verschijnen lachtranen in zijn ogen en diepe bijtsporen in zijn vinger. Hij slaat een bladzijde om. En nog een. Hij begraaft zijn hoofd in het boek, buigt voorover en blijft schokschouderend staan. De verbouwereerde klanten horen een gedempt 'woewoewoe!' opstijgen vanachter het kaft. Dat gaat zo een tijdje door. De man haalt uiteindelijk zijn hoofd uit het boek, veegt de tranen van zijn wangen en van de bladzijden, haalt een paar keer diep adem en wandelt naar de kassa.
'Mja, ze zijn best wel grappig', antwoord ik -want die grote vent, dat ben ik- met uitgestreken gezicht.
Suzie Ruzie is een tankbataljon vermomd als lief klein meisje. Samen met haar handlanger en favoriete slachtoffer de hond bestrijdt ze de verveling en iedereen die zich toevallig op de kortste weg naar haar doel bevindt. Suzie neemt nooit halve maatregelen. Een heel zwembad tegen zich in het harnas jagen en haar beste vriend te kakken zetten voor een duik in het diepe? Dat moet dan maar. Met behulp van een hongerig schaartje vernielingen aanrichten die voorbehouden zijn voor de betere blitzkrieg? Doet ze met de glimlach. De hond groen doen uitslaan bij het raden naar het stankje aan haar vinger? Makkie.
En toch … Suzie Ruzie zou je nog knuffelen wanneer ze net voor een smeulende krater heeft gezorgd op de plaats waar je huis stond. Uit die grote ogen straalt ongefilterde joie de vivre.
Als argeloze lezer beland je in een kruisvuur tussen de teksten van Jaap Robben en de illustraties van Benjamin Leroy. Ben je net bekomen van zinnen zoals 'Dan krijgt ze een goed idee. Het stinkt en kan drijven…' dan lig je meteen weer dubbel bij het beeld van de verongelijkt kijkende hond. Wij vermoeden bendevorming met voorbedachte rade bij deze driedubbele aanslag op onze lachspieren en vroegen de daders om tekst en uitleg.
Wat deden jullie voordat Suzie Ruzie jullie verbeelding op stelten kwam zetten? Waar kwamen jullie elkaar tegen?
Ze stormde ineens Jaaps hoofd binnen. Stel nou dat er een meisje is dat Suzie Ruzie heet. We hadden het erover en moesten allebei grinniken. Toen wisten we dat er veel met haar te beleven zou zijn.
Hoe kwam Suzie Ruzie op jullie pad? (met angstige stem) Bestaat ze echt?
Er bestaan heel veel Suzie Ruzie's. Vaak hebben ze hele nette jurkjes aan. En fietsen ze keurig op het fietspad. Maar je kunt het zien aan de ogen of iemand een Suzie is.
In het zwembad, thuis of op straat, Suzie laat een vrolijk spoor van vernieling achter. Zelf niet onbeslagen in kattenkwaad, herkennen wij hier de hand van de meester. Deden jullie praktisch onderzoek voor elk boek? Speelden jullie sommige scènes na?
Hahaha, vooral het zwembad is autobiografisch. Het gevoel dat je zooooveel zin hebt om te zwemmen, maar dat er eigenlijk helemaal niks mag. Verder waren wij allemaal hele brave jongetjes. Tenminste, dat vonden we zelf.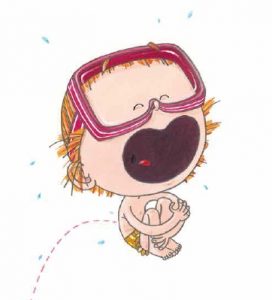 Hoe werken jullie precies samen om een nieuw avontuur van Suzie Ruzie te maken?
Helemaal samen. We beginnen met een stapel schetsen, een boel aantekeningen. Losse, kleine ideetjes. Dat een stroopwafel bijvoorbeeld in de cd-speler past. Of hoe logisch het voor een kind klinkt dat een schaartje kan praten en honger heeft om te knippen. Daarmee gaan we dan samenzitten bij één van ons thuis. Een paar dagen sluiten we ons op. Graven we door de ideeën heen. We schetsen, schrijven stukjes. Proberen er een groter verhaal uit te destilleren. Nog eens alles omgooien. Dan gaat we allebei weer een paar weken zelf nadenken, dan weer eens samenzitten met alle ideeën. Een storyboard maken. En daarin ontdekken we dan weer de zwaktes, die we dan weer gaan herdenken. Zo bouwen we langzaam verder. Met het storyboard van schetsen van Benjamin gaat Jaap weer aan de slag. En met die tekst gaat Benjamin weer de schetsen aanpassen en bijwerken. Tot een uiteindelijk boek. En dan weten we allebei niet meer welk idee van wie was. Daardoor zijn ze allemaal van ons allebei.
Suzie's side-kick de hond wordt geschoren, opgevoerd als zondebok en blootgesteld aan stankjes. En toch zijn die twee duidelijk onafscheidelijke vriendjes. Wat is het geheim van Suzie dat ze zomaar haar gang kan gaan, zonder ruzie?
Tja, Hond is een lief beest. Hij begint steeds weer met een schone lei. Hij denkt telkens:  'Ja, maar nu gaan we écht iets leuks doen.' En dan begint hij al te kwispelen.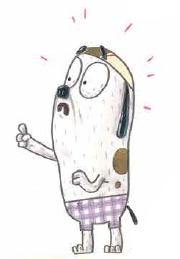 Hebben jullie tips voor kinderen die Suzie als rolmodel zijn gaan beschouwen? Bestaat er een noodlijn voor hun ouders?
Misschien zou een soort noodfonds heel goed zijn. Zoals na aardbevingen en orkanen. Maar ja, daar voelen wij ons niet verantwoordelijk voor natuurlijk…
Wanneer slaat Suzie Ruzie weer toe? En waar?
Een nieuw boek verschijnt in het voorjaar van 2018. Maar tussendoor kun je naar een speciaal Suzie Ruzie festival in de bibliotheek van Veghel op 24 juni. Of in Amsterdam in de Tolhuistuin op 21 mei. Helaas niet in België, maar wie weet komt Suzie daar binnenkort ook. We zijn benieuwd of ze dan de terreurdreiging meteen moeten verhogen.
(illustraties: Benjamin Leroy)
PS: Meer prentenpret? Eveline haalde onlangs een Mammoet in huis en de prentenboeken die Barbara hier tipt ga ik van haar lenen om ze zeker terug te geven.