Op vlak van bakboeken geen betere referentie dan Eveline. Vorig jaar liet ze ons meegenieten van deze overheerlijke kaastaart en in september bakte ze voor de winnares van de columnwedstrijd een waar kunstwerk bij elkaar. Zelf probeer ik zo vaak mogelijk gezond te koken. Ik ben geen echte zoetekauw (geef mij maar een voorgerecht) en voor het werk of met vrienden eet ik al zo vaak buitenshuis (lees niet altijd even gezond) dat ik dat thuis probeer te compenseren met overdosissen Pascale Naessens.
Ik was dan ook heel benieuwd naar de kookboeken van de Nederlandse Pascale, Rens Kroes. Deze voedingscoach met Friese roots is een hit op de sociale media en gelooft dat gezond eten leidt tot een happy life. Powerfood (Scriptum) barst van Instagramwaardige foodporn en laat ons zeggen dat je met een keukenkast vol havervlokken, quinoa en noten al een flink eind op weg bent om Kroes' recepten uit te testen.
Ik probeerde afgelopen weekend – na een weekje skiën in Italië met antipasto, primo piatto, secundo piatto en dolce, afgewisseld met aperol spritz –   een ontbijt, lunch en avondmaal van Rens uit en toon jullie hier hoe dat liep.
Eerst en vooral bakte ik de breakfastcake, een cake van voornamelijk eieren, banaan en havervlokken… en eigenlijk ook gojibessen, maar die vergat ik voor het bakken toe te voegen. Ik zei het al, op vlak van bakken, kan ik Eveline niet verslaan. Rens beloofde me een cake die perfect geschikt is voor een drukke week: je bakt hem in het weekend en elke ochtend snij je een stukje af voor on the road. Een concept naar mijn hart want 's ochtends moet het vaak snelsnel gaan! Dit noem ik nu eens instant ontbijten: lekker, vullend en gezond.
Als lunch koos ik voor de bietensalade met quinoa en feta. Over een explosie van smaken gesproken! Deze salade heeft nu al zijn plaats veroverd op mijn menulijstje. Wat kurkuma, gember, look, tijm en rozemarijn al niet kunnen doen!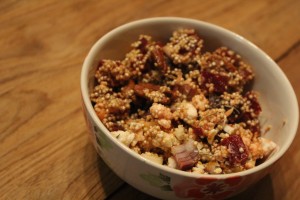 Tot slot maakte ik nog een vegetarische lasagnette van courgette. Overheerlijk. Sinds Pascale Naessens weet ik wel dat je volwaardige maaltijden kan maken met alleen maar groenten, maar dit gerecht is echt een topper. Nooit kreeg ik het gevoel dat ik maar een halve maaltijd op mijn bord had.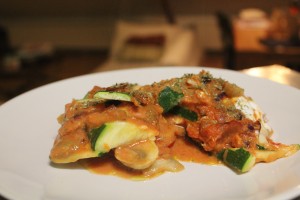 Kroes eindigt het boek met een lijstje ingrediënten en hun heilzame werking. Wist je bijvoorbeeld dat bananen helpen tegen een kater en dat je van pikante pepers minder snel verkouden wordt? Op basis van haar recepten stelt ze bovendien enkele uitdagende dagmenu's samen. Wat mij betreft, wat ambitieus. Ik zie me niet meteen én pannenkoeken, én cake én muffins bakken voor dezelfde dag en tegelijkertijd ook nog ijs draaien en onderstaande pasta bereiden. Maar regelmatig eens de dag eindigen met een feelgooddrankje met kurkuma en gemberpoeder of boerenkool chips knabbelen bij een film na één van Rens' maaltijdsoepen, dat zie ik wel zitten.
Superfoods hebben het imago van duur te zijn. Toegegeven, een zakje gojibessen kost al gauw 6 euro. Maar van mijn breakfastcake (zonder bessen overigens) kon ik een hele week eten. Voor mijn lasagnette gebruikte ik uiteindelijk geen kokos- maar gewone olijfolie en ook de biologische bouillonblokjes liet ik achterwege. Zo hoefde ik niet eens gek veel ingrediënten te kopen.
Mmm ik kijk al uit naar morgen want dan maak ik deze (spelt)pasta met zalm.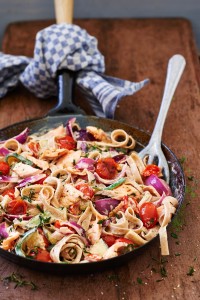 PS: Ook bij Goedele Leyssen vind je massa's gezonde lifestyle tips.