Een nieuw literair jaar, vol kersverse boeken, bundels en verhalen. Ikzelf en de redactie van Thisishowweread kijken we uit naar boeiende interviews, mooie literaire uitjes en bergen boekentips. Naast onze beste wensen voor het nieuwe jaar, beginnen we 2020 met een fijn nieuwjaarscadeautje.
Vol trots brengen we een teaser uit Daarzegger, het gloednieuwe debuut van Nederlands dichter Peter van der Graaf. Peter dicht met stijl, af en toe een vette knipoog en vooral, met jaren schrijfervaring op de kilometerteller. Als Peter niet dicht, is hij schrijfdocent en één van de drijvende krachten achter Schrijven en Schrappen, dat schrijfcafé's, cursussen en schrijfvakanties organiseert.
Thisishowweread schoof al mee aan aan de schrijverstafel in een ondergesneeuwd kasteel. Schrijfster Lore Mutsaers, die in 2019 debuteerde, is slechts één van de vele poulains van Peter en zat samen met ondergetekende achter de schrijfbanken. (Peter, als je het woord 'Poulain' gaat opzoeken in het woordenboek Vlaams-Nederlands, geen zorgen. Ik heb Lore geen kip genoemd. Poulain kan ook leerling betekenen. Het is maar dat je het weet.)
Peter's eigen schrijfdocent omschreef zijn stijl ooit eens als Faction, zo ergens tussen feit en fictie in. Peter omschrijft het zo:
Zelf vind ik het wel prettig om 'dun' te schrijven. Er moet staan wat er moet staan, en dat is het. Of zoals De Kift in een van haar nummers* zingt: 'Wie praat zo mager met de taal als ik?'. Ik kan genieten van het strakke maatpak van een sonnet of haiku, maar schrijf de laatste tijd vooral vrije verzen.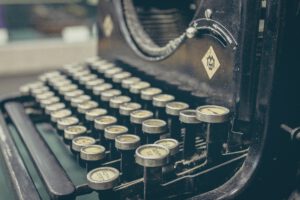 Jaren stond Daarzegger op Peter's longlist en pruttelde het onder zijn hersenpan. Eind 2019 werd de bundel voorgesteld en schrapte Peter 'Een subliem debuut schrijven' van zijn to do lijst. Er wordt zelfs gefluisterd dat hij aan een toneeltekst en een humoristische dichtbundel werkt. In afwachting daarvan kruipen wij met Daarzegger onder ons leesdekentje en kan u alvast genieten van deze teaser.
Lijst
'Papa, jij weet alles', zei je.
En natuurlijk knikte ik bevestigend.
Daar ben je tenslotte vader voor. Om
te weten. Om alles te weten.
En ik geloofde mezelf. Er waren
geen dingen die ik niet wist.
Maar plotseling sloeg de twijfel toe.
Wist ik wel alles. Wist ik alle antwoorden?
Ik liep al m'n kennis na, dacht,
deed spreekwoordelijke laatjes open,
kraakte, vond zelfs dingen waarvan ik
al niet eens meer wist dat ik ze wist.
Ik vond zoveel kennis dat het me duizelde.
Ik wist teveel. Ik wist zoveel dat ik niet
eens genoeg vragen had voor alle antwoorden.
Ik wist uitgebreide antwoorden
zonder dat ik in staat was er een simpele
of ingewikkelde vraag bij te stellen.
Stellingen, reeksen, jaartallen,
de Indonesische eilanden,
verboden vangmiddelen van de vogelwet.
ik lepelde ze moeiteloos op, maar
was niet in staat om de vraag of zelfs
maar de vragensteller aan het antwoord
te koppelen.
Teleurgesteld deed ik al m'n antwoorden weg,
wiste al m'n kennis, opruiming,
control-alt-delete.
Slechts één klein antwoord bewaarde ik.
Het was een belangrijk antwoord,
ik wist dat het paste bij alle vragen
van jou. Om aandacht, om antwoord.
Het was mijn antwoord
op een vraag van je moeder
het is altijd mijn antwoord
voor jou
'Ja'.
Zo, als u me nu wil excuseren, ik moet me de komende uren onder tafel verstoppen, want ik weet zeker dat schrijfjuf Peter straks in mijn mailbox zit met wat 'dingetjes' die rammelen aan deze blogpost. Slik.
P.s.: Daarzegger in huis halen? Dat doe je via deze link. Voor knusse leesdekentjes verwijzen wij u door naar de betere interieurzaak.
Daarzegger, Peter van der Graaf, ONZ. Vorm Taal, 15€