Hij schreef over miserabele personages, maar logeerde zelf op de beste adresjes. De Franse schrijver Victor Hugo is maar één van de vele illustere gasten die ooit verbleven in Hotel Damier te Kortrijk. Afgelopen week was het de beurt aan This Is How We Read! Verslag vanuit het oudste hotel van ons land…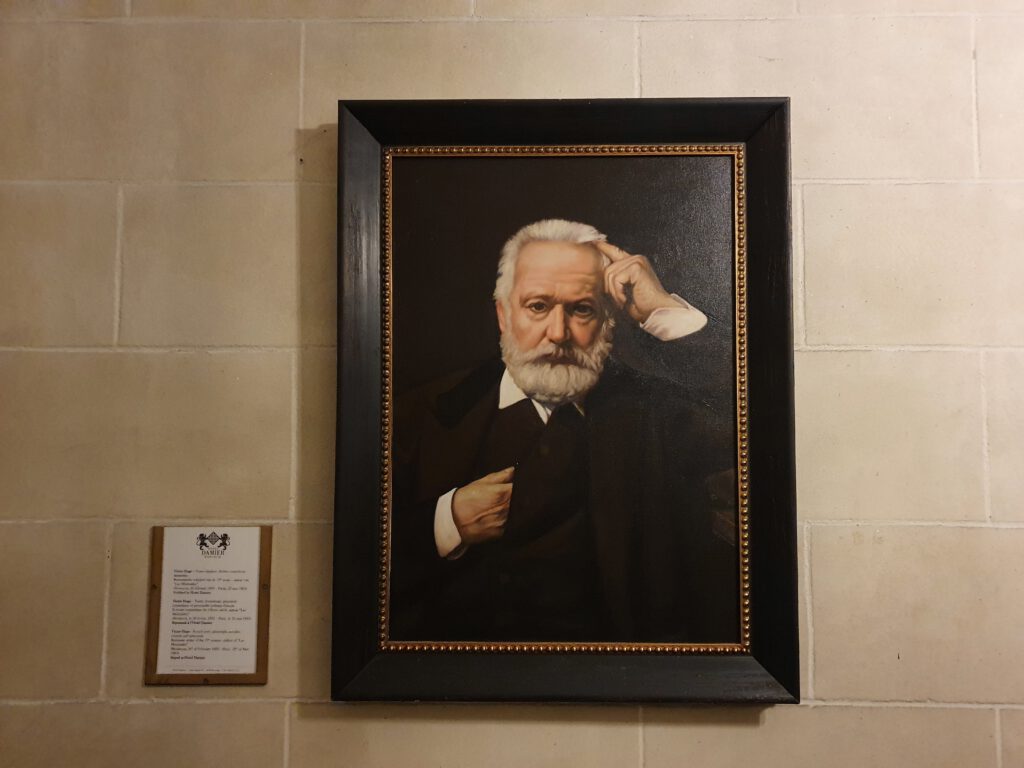 Barbara (naam en geschiedenis): Mixing business and pleasure... Als de gelegenheid zich voordoet, gaan wij ervoor. Dus toen Katrien en ik vorige maandagochtend in Kortrijk werden verwacht voor onze lezing met boekentips, boekten we er meteen een overnachting bij van zondag op maandag. Kwestie van uitgeslapen op het appel te verschijnen en een beetje friends time in ons schema te schuiven. "Zeg, hoe spreek je die hotelnaam eigenlijk uit?" vroeg ik nog in de auto. "Rijmt Damier op plié of op mier?" Toen ik het hotellogo zag, wist ik meteen het antwoord. Twee leeuwen houden een dam- of schaakbord vast. Yep,
bij z'n opening in 1398 heette de Kortrijkse herberg "het Scaek". Dat werd in de 17e eeuw "het Daemberd" en onder Franse invloed, vanaf 1795 "Hotel Damier".
Achter de gevel van het hotel op de Grote Markt gaat een rijke geschiedenis schuil. "Kijk," zeg ik bij het binnenkomen, terwijl ik wijs op een glazen gedenkplaat. "Keizer Jozef II, President George Bush en Margaret Thatcher hebben hier allemaal gelogeerd." Twee stappen verder vallen de geschilderde blikken van Victor Hugo (rechts) en Koning Leopold I (links) op onze schouders. De twee voormalige gasten zijn allebei afgebeeld met hun hand op het hart. 19e eeuwse grandeur! Romantiek! Waar kunnen we inchecken?
Katrien (interieur): De statige witte gevel met gouden versieringen en de klassieke houtwerklobby van de hand van de Kortrijkse De Coene broers ademen grandeur. De traditionele kamers baden in dezelfde sfeer. Maar wij gaan de andere kant uit: we logeren in een executive room in de nieuwbouw.
De kamerhoge ramen, de door Mondriaan geïnspireerde glazen scheidingswand tussen slaap- en badkamer en de vele gouden en marmeren accenten vormen een eigentijdse vertaling van het historische karakter. De inrichting is strak, elegant en praktisch.
Elk detail is precies goed. Zo laat de glaswand wel licht door, maar is ze verder discreet (hoera!). Frivole kussens, een fluwelen zeteltje en royaal veel marmer maken dan weer dat de moderne kamer allesbehalve kil aanvoelt.
Dat we nog wat extra foto's nemen van de geslaagde set-up van de badkamer omdat er binnenkort verbouwingen op het thuisfront gepland staan, is veelzeggend.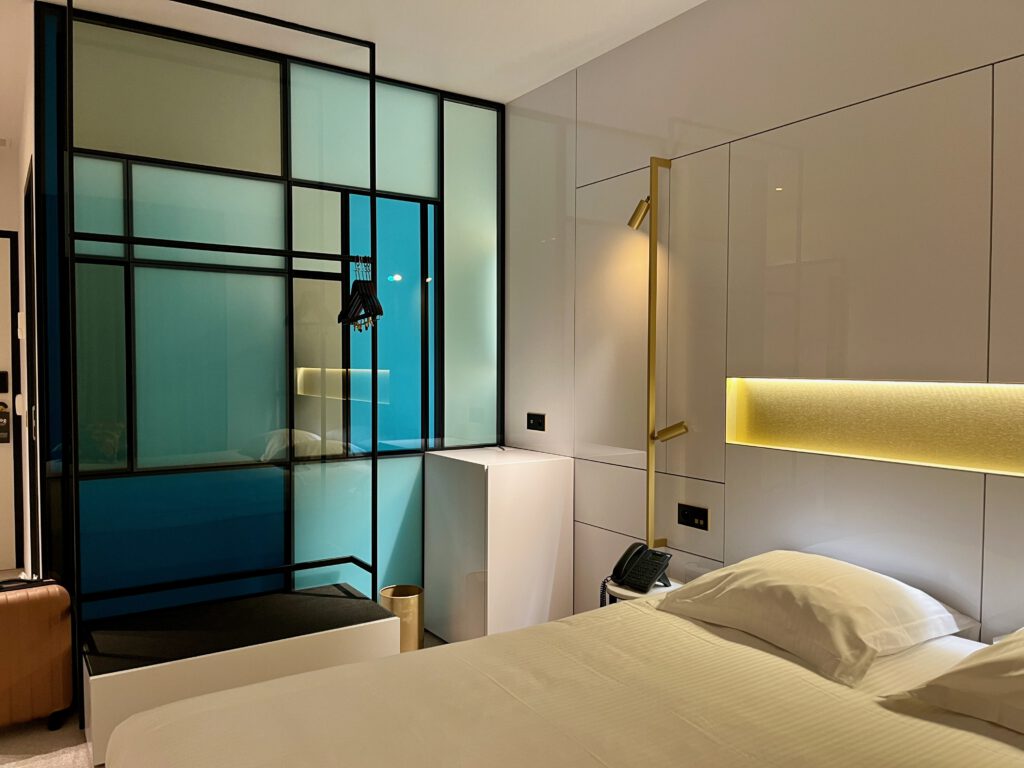 Barbara (cocktailbar La Sprezza): Het is niet omdat ik de volgende ochtend moet spreken en intussen al bijna een jaar geen alcohol meer drink, dat je mij niet meer blij maakt met een mooie cocktailbar. Integendeel.
Bij het binnenkomen van La Sprezza (Italiaans voor 'bestudeerde nonchalance', een eigenschap die noodzakelijk was voor elke hoveling, volgens Baldassare Castiglione, een vroege 16e eeuwse schrijver in dienst van de graaf van Mantua) ben ik op slag genezen van mijn zondagavond-dipje. Waar is die kaart met drankjes en finger food?
In deze fluwelen zeteltjes, onder weelderig neerhangende nepbloemen en sfeerlampen met een kap van struisvogelveren, hou ik het vast nog een paar uurtjes vol! De champagne mocktail bevalt me uitstekend en de jeugd – Kortrijk is een studentenstad – druppelt binnen. Ik ga overstag voor het motto op de drankkaart: It doesn't matter if the glass is half empty or half full. There is clearly room for one more.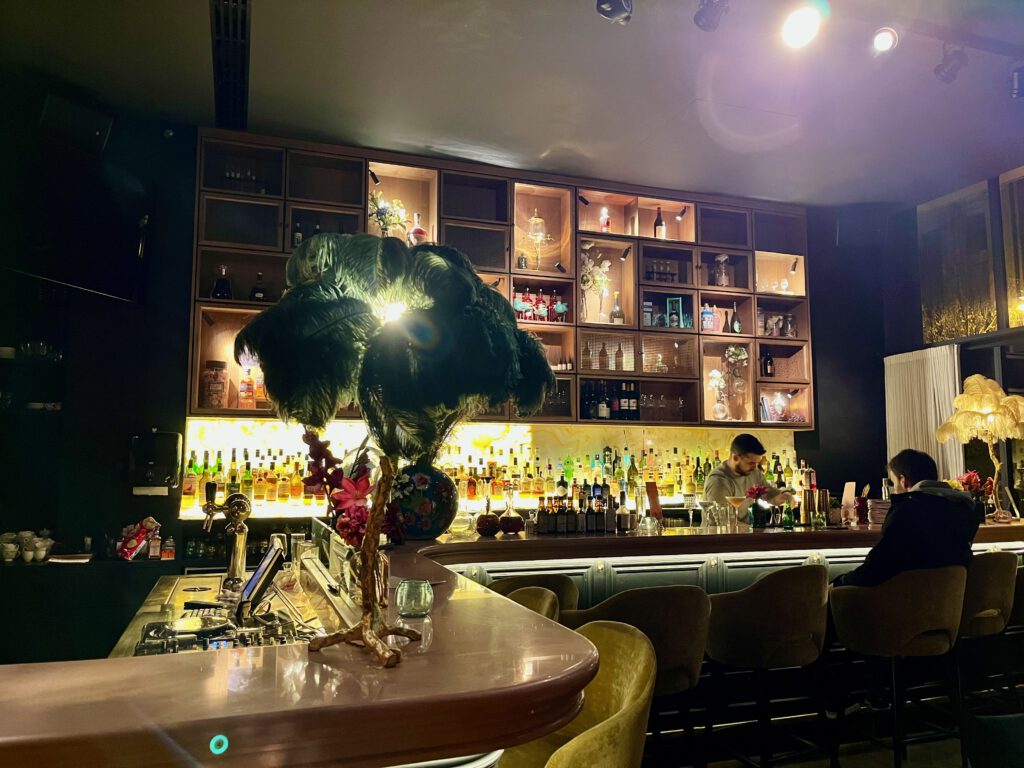 Katrien (ontbijt): Rustig en uitgebreid kunnen ontbijten op locatie voor we een groep mogen opwarmen voor De Literatuur… Het is een luxe. Zeker als dat ontbijt onder de vorm van een uitgebreid buffet komt, waarbij je warm eiergerecht à la minute aan tafel wordt geserveerd. Barbara is blij met haar favoriete Griekse yoghurt met perensmaak, mijn hart maakt een sprong voor het royale aanbod aan kazen. Bij een extra kop koffie – hadden we al gezegd hoe relaxed het is om de ochtendspits richting Kortrijk niet te hoeven trotseren – nemen we het majestueuze wit-goud-groene interieur van het restaurant in ons op. Van het visgraatparket, over de kroonluchters, tot de fluwelen zitbanken. Ook hier is de combinatie van oud en nieuw meer dan geslaagd.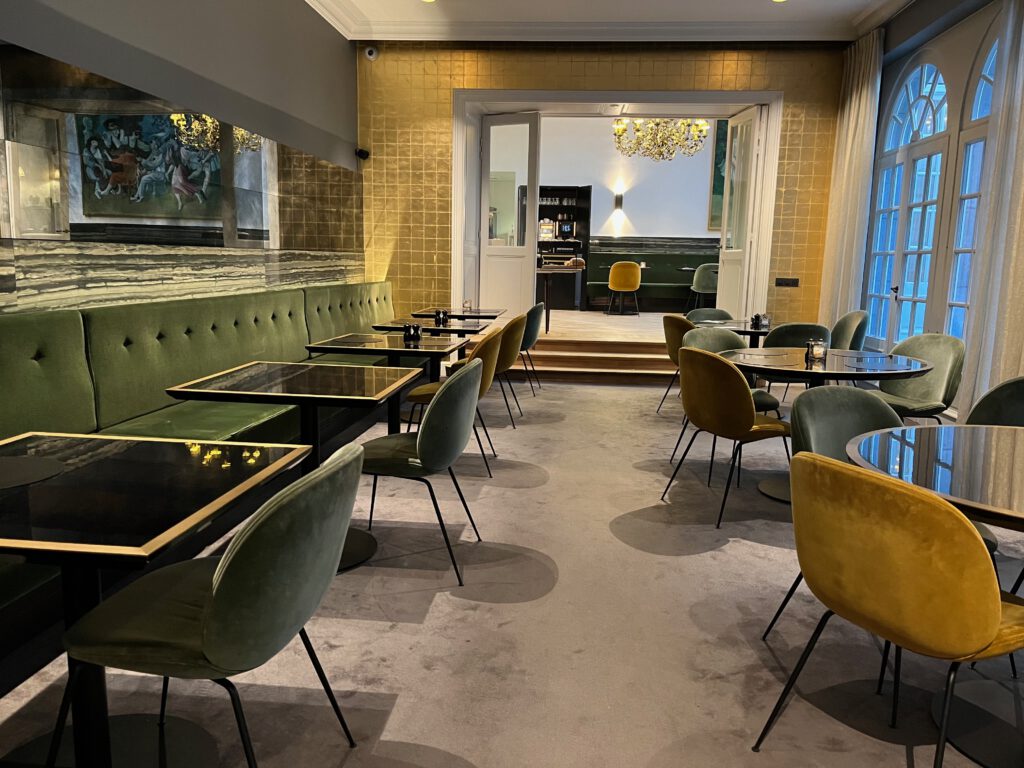 Barbara: Dit hotel telt veel details die ik zo in mijn interieur zou willen integreren. (En laat ons eerlijk zijn: wat een upgrade zou dat zijn voor ons huis!) De glas-in-lood ramen in de traphal, de sporadische gouden wandtegels, de bolle spiegel die lijkt weggelopen van Jan Van Eycks 'Portret van Giovanni Arnolfini en z'n bruid'…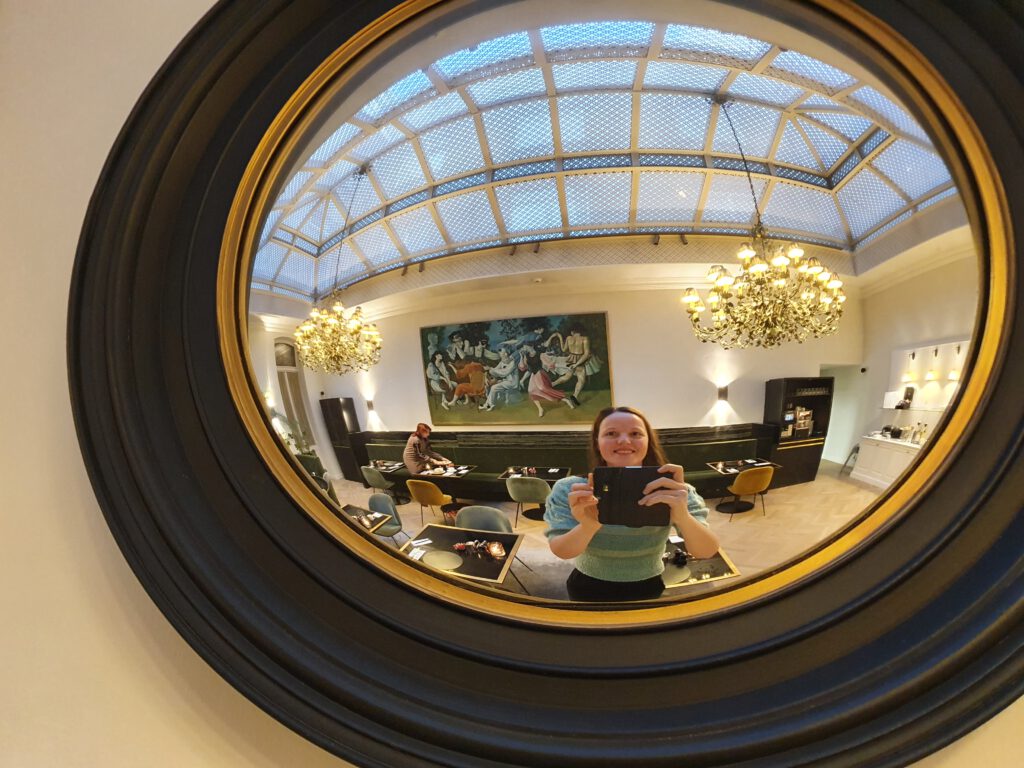 Het grote schilderij in Commedia dell Arte thema in de ontbijtzaal fascineert me ook. Het is wellicht een té sterk statement stuk voor een gewone woonkamer, maar ik lees er een boodschap in van het universum voor onze Job van de Dag.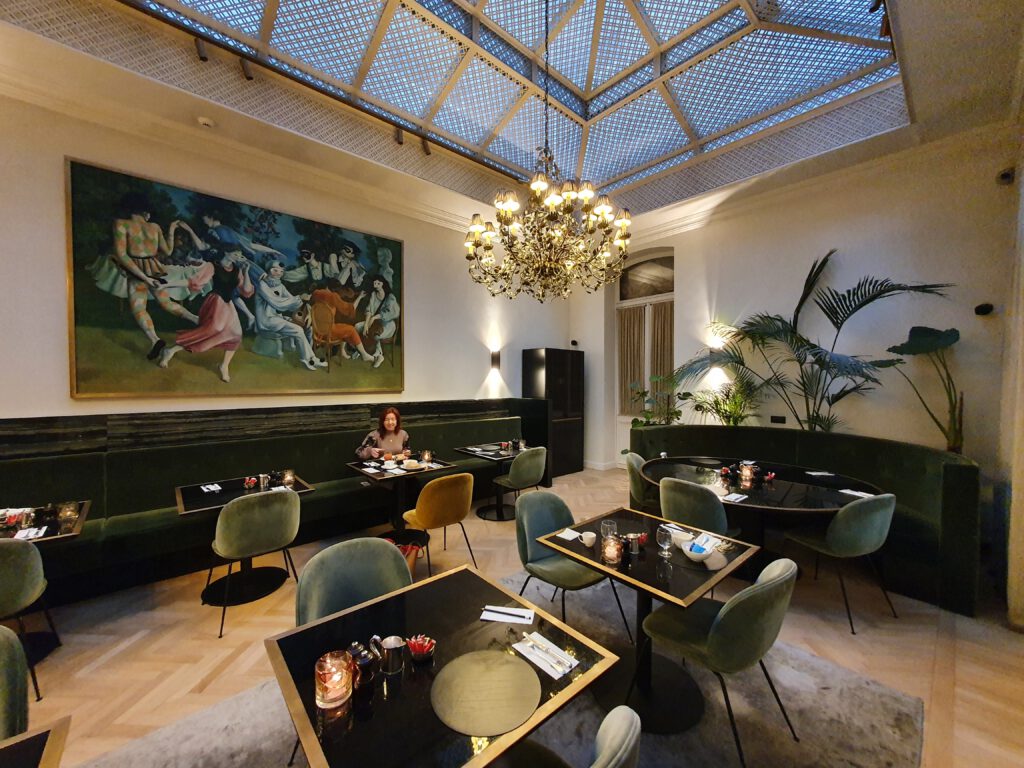 De Commedia dell Arte, dat waren opvoeringen zonder al te strikt scenario, met humor en een uitgestoken hand naar het publiek. Drink die koffie op, Katrien, we hebben een missie!
Katrien: Tot slot, waarom zou je nu naar Kortrijk komen? Eerlijk? Er is natuurlijk het historische argument. Wie Het verhaal van Vlaanderen volgt, heeft het nog eens kunnen opfrissen en ook in Kortrijk 1302 leer je alles over de Guldensporenslag.
Erg leerrijk, maar ik vind Kortrijk misschien nog wel interessanter omwille van de manier waarop 'het Dallas aan de Leie' ambitie toont op vlak van moderne architectuur en stadsplanning.
In 2019 schreef ik daar deze stadsgids over in opdracht van Elle Deco. En zo zie je maar: de mix van oud en nieuw wordt overal doorgetrokken, van Hotel Damier tot de stad als geheel.
PS. Een bezoek aan Kortrijk is natuurlijk nooit compleet zonder een stop in Boekenhuis Theoria.